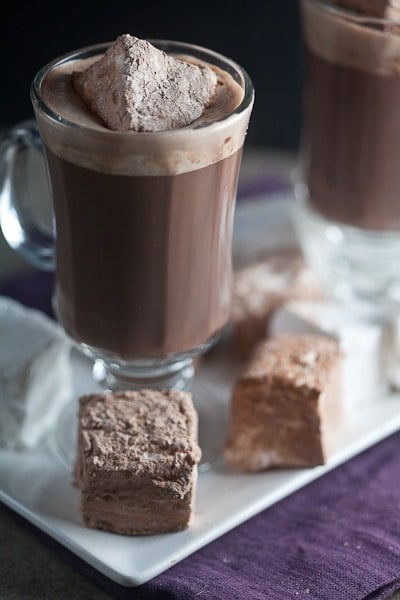 Is there anything better than coming inside on a blustery cold, snowy day and sipping a hot chocolate? It's been on of my favorite things about winter ever since I was a little kid. This year I'm taking it to the next level with rich, spicy cocoa made extra frothy in a Mr. Coffee Latte (see my review and a coupon code at the end of this post) and topped with soft, squishy homemade marshmallows.
Homemade marshmallows might seem intimidating, but they're actually super easy to make and can be whipped up in about a half hour. They can be customized in an endless number if ways and also make great holiday gifts – try wrapping up a packet of homemade marshmallows and some cocoa mix inside a cute mug.
Tips for making homemade marshmallows
1) Use pasteurized eggs (or dehydrated egg whites) – especially if you plan of giving these as a gift. While there are plenty of recipes that call for regular eggs, its always better to be safe than sorry! You can also forego the egg whites completely, but I really like the extra spring and light texture of ones that include them.
2) Powdered sugar/cocoa powder helps absorb moisture and dries the outside of the marshmallows as they set – they can turn into a sticky mess otherwise! Be generous when coating your pan and be sure to coat the sides too. I love using my OXO dusting wand for this because it helps me get a nice even coat without having to use tons of sugar. On a similar note, be sure to grease everything that will come into contact with the unset marshmallows (bowl, beaters, spatula, etc).
3) I made chocolate-hazelnut marshmallows, but customizing yours is very easy. Use a different syrup or try infusing herbs like lavender into the sugar mixture (strain before adding to the gelatin). You can also make boozy marshmallows by replacing 1/3 cup of water with your favorite liquor in step 1 – try amaretto! You can also use fruit puree instead of some of the water, like I did in these raspberry hibsicus marshmallows.
4) Do the dishes right away! As long as everything is greased well and the marshmallow is still wet, clean up is pretty easy. Once it dries out though is an entirely different story!

[mv_create key="72″ title="Chocolate Hazelnut Marshmallows
Hot Cocoa + Chocolate Hazelnut Marshmallows" thumbnail="https://www.healthy-delicious.com/wp-content/uploads/2018/11/chocolate-hazelnut-marshmallows.jpg" type="recipe"]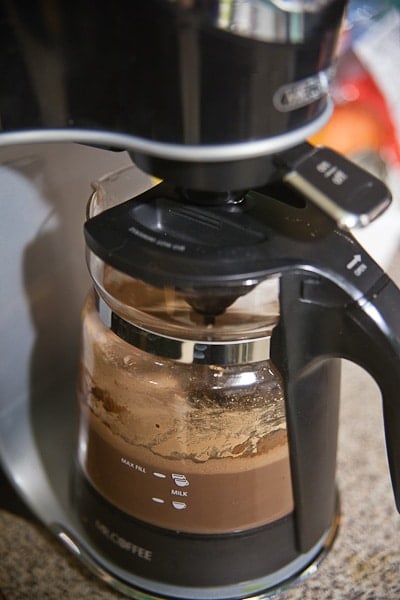 A few weeks ago I received a
Mr. Coffee Latte
to try out. You probably already know that I'm pretty obsessive about coffee, and while there are definitely positives and negatives to this machine I can honestly say that I love it. I've been going through milk like crazy this month!
My initial reaction to taking my Mr. Coffee Latte out of the box was surprise at how small it was. I was expecting something big and clunky, but this is nice and compact and definitely takes up less counter space than any other coffee pot or espresso machine that I've owned. It's easy to use and prepares lattes very quickly. The concept is pretty simple: the carafe plugs into the bottom of the machine to warm and froth the milk (there's a little wand that extends down into the pot) while the coffee brews from above.
There's an option to turn off the coffee brewing portion of the machine so you can use it to make hot cocoa or tea but unfortunately there isn't an option to turn off the frothing portion of the machine – this wasn't designed to replace your everyday coffee pot or to brew drinks that aren't milk-based. I have found that you can simply not put milk in the pitcher if you just want a cup or two of coffee, but it's not recommended and I don't know if doing so will have a long-term impact on the device. It also only uses a 4 cup filter, so if you drink a ton of coffee or frequently have guests over you may find yourself needing to brew several pots.
Different types of milk (whole, fat free, almond, soy, etc) can all be used but will produce different amounts of froth so it can take a little experimenting to figure out what works for you in terms of amounts. I've found that one serving of skim milk froths really nicely but two servings doesn't get quite as foamy. My ideal latte uses one serving of milk and two servings of coffee, so this is fine for me if I'm only making one. Of course, a double batch still comes out great – it just has slightly less foam (the cocoa shown above was prepared as a double serving; a single serving generally makes enough froth to make something closer to a dry cappuccino.)
The other thing worth pointing out is that this isn't an espresso maker in the sense that it doesn't use pressure to force the water through packed grounds – it works the same way as a standard drip coffeepot to brew strong coffee. While the final drink is great, some purists might balk at it being called a "latte."
All in all, I'm definitely a big fan and this machine has earned a spot on my counter. Ive been using it often and am considering packing my old coffeepot away, although I haven't made that jump yet simply because I drink plain coffee more often that lattes or cappuccinos. If you drink a lot of lattes or are an infrequent coffee drinker, you should definitely consider checking out the Mr. Coffee Latte.
Disclosure: I was provided with a Mr. Coffee Latte to review for free but was not compensated in any other way for this post. All opinions are my own.