Aquafaba meringues are light, airy, and perfectly crisp. You'll love this easy vegan recipe! I flavored my 5-ingredient meringue cookies with chopped pistachios, but you can swap in your favorite nut, use mini chocolate chips, or leave them vanilla flavored.
I've been wanting to share an aquafaba meringue recipe here ever since tasting it at a photography retreat back in 2015.
When we made them, we weren't fully convinced the recipe would work. Imagine how surprised we were when, not only did it work, but the meringues took on a subtle cappuccino flavor!
Pistachios are one of my favorite nuts, and I think they're totally underrated. I first fell in love with them as a kid. I remember going Christmas caroling as a kid with a pocket full of pink pistachio nuts. But then end of the night, my fingers were bright red and I was so happy!
When I was in Italy last fall, I couldn't get enough pistachio pastries for breakfast. My love was rekindled.
Remembering that coffee flavor that aquafaba meringues take on, I thought pistachio meringue cookies would be perfect. They're light an crisp and remind me of those Italian breakfasts.
You'll love them, too. And you'll never believe how easy they are to make!
What is aquafaba?
Let's cut right to the chase. Aquafaba means bean water.
I know, it doesn't sound good at all. But trust me.
Something magical happens when you whip aquafaba. It turns into voluminous white fluff that looks like a cloud and doesn't taste like beans at all.
Promise.
When you add cream of tartar to stabilize your meringue, sugar, and a touch of vanilla it tastes just like cotton candy. I couldn't stop eating it straight from the bowl.
You can pile it on top of a lemon meringue pie and torch it, or bake it off into meringue cookies like I do here. If you want to get really fancy, you can even use it to make vegan macarons.
My friend Meggan is a complete genius when it comes to cooking with aquafaba, and vegan baking in general, so definitely check out her blog if you want more ideas or a really in-depth overview of how to use aquafaba!
How to make aquafaba meringues
To make these easy vegan meringues, start by gathering your ingredients.
You'll need a can of chickpeas (or liquid from cooking your own beans from dried), cream of tartar, sugar, vanilla, and pistachios. I used vanilla bean paste because I love those little flecks of color it adds to recipes, but you can use any vanilla extract.
To start, drain the chickpeas. You should have about 3/4 cup of bean water. Save the chickpeas themselves for making something else, like creamy chickpea soup or spiced chickpeas with feta.
Add the liquid and cream of tartar to a bowl and whisk for about 10 minutes, until stiff peaks form. You'll definitely want to use either a stand mixer or an electric mixer for this!
Whisk in the sugar a tablespoon at a time until the mixture is glossy. Finally, stir in your vanilla.
At this point, it will be hard not to eat all of the meringue. It's ok if you do, but then you want have any cookies!
Line two baking sheets with parchment paper or a silicon baking mat. Then drop tablespoons of meringue onto the sheet, leaving a little room between them.
Sprinkle your vegan meringues with finely chopped pistachios (or crushed candy cane, mini chocolate chips, or whatever you have on hand. Whatever you use, you'll want to be sure to chop it very finely. Meringue is very fragile and anything too heavy can cause it to deflate. (Have you ever wondered "do pistachios go bad?" Check out this link for some great advice!)
If it does deflate, it totally ok – it will still taste just as good!
Bake your meringues in a low oven until they're dry and firm to the touch. They'll still be very much stuck to the pan when they're warm, but should release from the parchment easily once they cool off.
Your aquafaba meringues will be crisp on the outside and light, airy, and slightly chewy in the middle. They're so good!
FAQs
What does aquafaba meringue taste like?
It tastes just like regular meringue made with egg whites, except with a very subtle coffee-like flavor.
How long does aquafaba meringue last?
Stored properly, vegan meringues will last about a week.
How should I store meringue cookies?
Meringues will lose their crispness if thy come into contact with moisture, so you want to make sure to store them in a very dry, airtight container. A ziptop bag works fine for this. I add a paper towel to mine to absorb any moisture for humidity that might sneak in.
My meringue isn't getting fluffy….
Be patient and set a timer. It really does take a full 10 minutes for the meringue to reach the stiff peak stage, and that can feel like a really long time.
You also want to be sure to start with VERY dry equipment. Any moisture of fat that gets into your mixture could cause issues. For extra insurance against a weepy meringue, wipe your bowl and whisk down with white vinegar before starting. This will help dissolve and fat residue that might be left form your last cooking project.
Looking for more vegan desserts? Try my Mexican Hot Chocolate Cream Pie, Cranberry Oatmeal Bars, or Dairy Free Cheesecake Parfaits.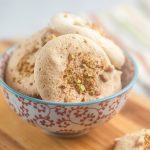 Ingredients
¾

cup

aquafaba

¼

teaspoon

cream of tartar

⅔

cup

sugar

1

teaspoon

vanilla extract

⅛

cup

pistachio nuts

very finely chopped
Instructions
Heat your oven to 250 degrees. Line two sheet pans with parchment paper.

Add the aquafaba and cream of tartar to a very dry mixing bowl. Whisk with an electric beater on medium-high for 10 minutes, or until the mixture is voluminous and fluffy and holds stiff peaks. It should resemble whipped cream.

Stir in the sugar one tablespoon at a time, until the meringue is glossy.

Fold in the vanilla.

Drop tablespoons full of meringue onto the sheet pans. Sprinkle with chopped pistachios.

Bake for 90 minutes, or until the cookies are firm and dry.

Let cool completely before removing from the baking sheet.

Str cooked up to 1 week in a dry, airtight container.
Nutrition Facts
Pistachio Aquafaba Meringues
Amount Per Serving (1 cookie)
Calories 15
% Daily Value*
Sodium 2mg0%
Carbohydrates 3g1%
* Percent Daily Values are based on a 2000 calorie diet.