Almond thumbprint cookies are such a treat! They feature a sweet almond-flavored cookie base topped with a pool of tart fruit preserves. These delightfully chewy cookies are naturally gluten- and dairy-free and the small-batch recipe makes just 6 cookies — perfect for a mid-afternoon snack.
Meet my new favorite cookies.
They're:
perfectly crisp on the outside
thick and chewy on the inside
topped with the perfect puddle of sweet-tart jam
naturally gluten-free and dairy-free
And they bake up just 6 at a time so you can't get into too much trouble eating them.
Of course, you can definitely scale the recipe up if you're cooking for a crowd!
Most almond thumbprint cookies are made with buttery shortbread dough. I took a different approach, using traditional Italian ricciarelli (soft amaretti) cookies instead.
Ricciarelli are made with almond flour, so they're gluten-free. They also don't use any butter or shortening, which means you don't need to wait for butter to soften before you make them.
Talk about a win-win!
On their own, these soft almond cookies are delicious. They're thick and chewy, with crispy tops and a soft, marzipan-like middle.
But I took things a step further and topped each cookie with a dollop of apricot or tart cherry preserves.
WOW.
The contrast between the sweet almond cookie and the tart jam is out of this world.
I'm absolutely obsessed. If you're looking for an elegant cookie recipe to serve with tea or espresso, I just know you'll love them too. You might also want to give these whipped shortbread cookies or gluten-free white chocolate chip cookies a try! Church window cookies are also a beautiful addition to any cookie platter.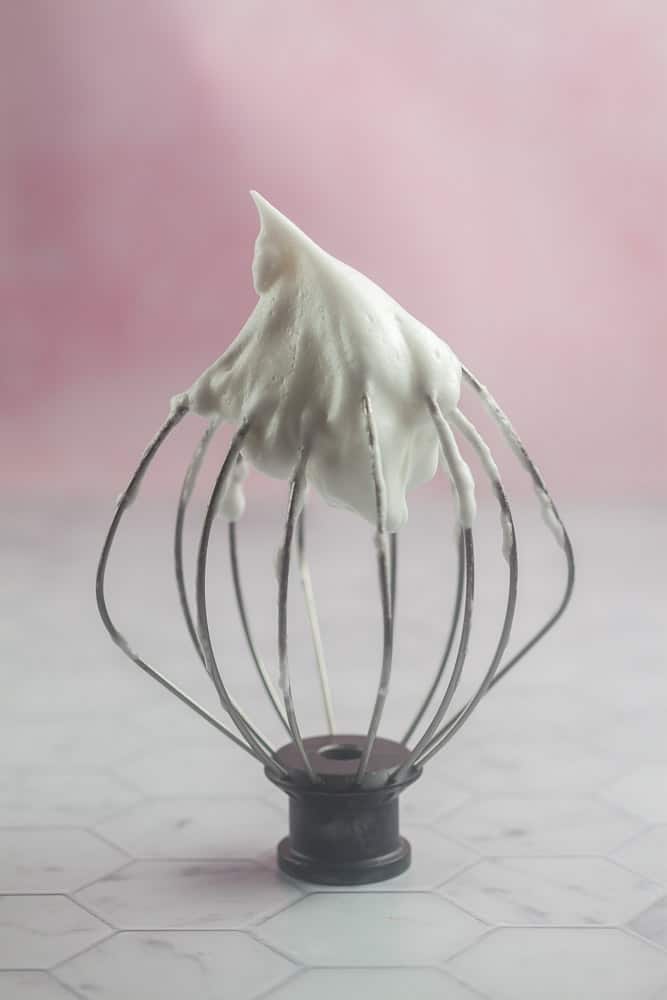 How to make almond thumbprint cookies
To make these small batch thumbprint cookies, you'll start by whipping egg whites with cream of tartar until they get white and frothy and hold soft peaks.
I prefer using a handheld mixer for this step since the volume of egg white is so small, but a stand mixer works too. Be patient — it will take about 8 minutes for the eggs to whip up.
Pro Tip: Cream of tartar is an acidic white powder that helps stabilize whipped egg whites. If you don't have any, you can substitute bottled lemon juice.
One the egg whites are light and fluffy, stir in some vanilla and almond extract. These will add extra oomph to the flavor of the cookies.
Next, whisk together almond meal, sugar, and salt in a mixing bowl. Be sure to use finely ground almond flour, which is softer than almond meal. I used almond flour from Trader Joe's.
Now, fold the egg whites into the dry ingredients.
The dough will be pretty dry, so you'll need to work it to get everything to incorporate into a sticky dough. It's totally ok if the egg whites deflate!
Finally, divide the dough into six equal portions. Dampen your hands and roll each dough portion into a ball. Roll each ball in a little confectioner's sugar (powdered sugar). This helps dry the outermost layer of the dough.
Press your thumb into the top of each dough ball to slightly flatten it and create a shallow crater. Spoon 1/2 teaspoon of jam into each cookie.
Then bake at a low temperature until they're done! The cookies will still be very pale. You'll know they're finished baking when the tops are firm and the bottoms are very lightly browned.
I made 3 thumbprint cookies with apricot jam and 3 with tart cherry preserves. Both were incredible and I'd have a hard time picking a favorite but, if I absolutely had to, I'd give the cherry cookies a slight edge.
Here are some more gluten-free dessert recipes you'll love:
Be sure to check out my complete collection of healthy dessert recipes!
Ingredients
1

egg white

¼

teaspoon

cream of tartar

¼

teaspoon

vanilla extract

¼

teaspoon

almond extract

¾

cup

almond flour

½

cup

sugar

¼

teaspoon

kosher salt

2

Tablespoons

confectioners sugar*

1

tablespoon

fruit preserves

tart cherry and/or apricot
Instructions
Heat your oven to 300°F. Line a baking sheet with parchment paper.

Add the egg white and cream of tartar to a mixing bowl. Use a hand mixer to beat the egg white until it's fluffy and holds soft peaks.

In a second bowl, whisk together the almond flour, sugar, and salt. Mix in the beaten egg whites to form a sticky dough — it's ok if the eggs whites deflate while mixing.

Sprinkle the confectioner's sugar onto a cutting board or plate.

Divide the dough into 6 portons. Dampen your hands to eep the dough from sticking to them, then roll each piece of dough into a ball. Roll the ball over the confectioner's sugar to coat it lightly, then place it on the prepared baking sheet.

Press your thumb into the top of each cookie to create a divot. Fill each divot with 1/2 teaspoon of preserves.

Bake for 21-23 minutes, or until the tops of the cookies are firm and the bottoms are very lightly browned.
Notes
*Be sure to check the label of your confectioner's sugar to ensure it's gluten-free, if that's a concern for you or your guests. Many brands include additional starches that may contain gluten.
Nutrition Facts
Small Batch Almond Thumbprint Cookies
Amount Per Serving (1 cookie)
Calories 169
Calories from Fat 63
% Daily Value*
Fat 7g11%
Sodium 99mg4%
Carbohydrates 25g8%
Protein 4g8%
* Percent Daily Values are based on a 2000 calorie diet.