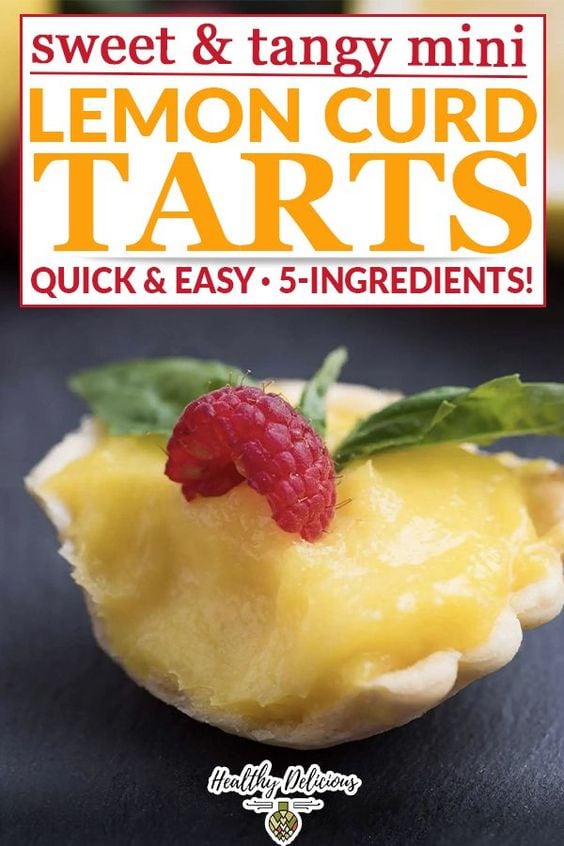 Mini lemon curd tarts are a sweet and tangy treat to end your day. The buttery pastry dough comes together easily with just 5 ingredients!
I have a soft spot for anything lemon flavored. From lemon yogurt to lemon pasta to lemon tarts, I can't resist.
If I'm at a restaurant and there's a lemon dessert on the menu it's a pretty safe bet to assume that's what I'll be getting. And if it involves lemon curd? It's not even a question.
If you love lemons too, you need to try these mini lemon tarts! They're perfect for brunches and bridal showers, potluck cookouts, or simply as a sweet way to end your night.
These tartlets are bite-sized for built-in portion control and they're cute as can be!
Mini tart ingredients
These lemon curd bites are made with a buttery pastry dough that comes together easily. You'll love how tender they are!
Unsalted Butter. Whenever you're baking, you'll want to be sure to grab unsalted butter unless the recipe specifically calls for something else. Nothing is worse than an accidentally salty dessert!
Flour. Whole grain flour can have an overpowering flavor, so use all-purpose flour for these delicate lemon tarts. You can use a gluten-free flour blend if you want though!
Vanilla. I add a splash of vanilla to this buttery dough. It really enhances the flavor and gives it a touch of sweetness.
Lemon Curd. I filled these mini tarts with homemade lemon curd. It's delicious, plus I love that it allows me to control the ingredients and the amount of sugar. If you don't want to make your own, store bought lemon curd definitely works, too! I like Dickinson's, which is relatively easy to find at most grocery stores.
Tips for making mini tart shells
If you have a food processor, it's worth it to pull it out for this recipe. It makes the dough come together so quickly! If you don't have a food processor, you can make it by hand by cutting the butter into the flour using a pastry blender or two knives. Note that if making this dough by hand, you may need an extra tablespoon or two of water, depending on the humidity. Add more if needed, but go slowly and add just enough to help the dough come together.
Make sure you "dock" the dough by using a fork to poke a few holes in the bottom of each one. You'll also fill the dough with pie weights, dried beans, or lentils. This prevents the dough from puffing up while it bakes so the tart shells keep their cupped shape.
If you have individual tart molds, it's helpful to place them on a baking sheet. This makes them easier to transport and ensures they sit evenly on the oven rack while they bake.
To prep these lemon tartlets ahead of time: These mini tarts will keep for a day or two in the refrigerator, but the crust can begin to soften over time. For the best presentation, fill the tarts the same day you plan to serve them. The prepared lemon curd will keep in the refrigerator for about 1 week and the unfilled shells will keep for several days in an airtight container at room temperature.
Pro Tip: These tarts are absolutely adorable when you make them in tiny tart pans, but if you don't have any, you can make these shells by pressing the dough into a mini muffin tin.
Substitutions and Variations
For gluten-free tartlets: To make this recipe gluten-free, swap the flour for your favorite cup-for-cup gluten-free blend. I like the flour blends from Trader Joe's and King Arthur. DO NOT attempt to use all almond flour — the dough won't come together the way it should.
For extra lemon flavor: For extra puckery lemon flavor, mix 1 Tablespoon of fresh lemon zest into the lemon curd before filling the tarts
Switch up the filling: I absolutely love the bright, tangy flavor of lemon curd but you can also fill these mini tart shells with preserves for a pie-like flavor, chocolate ganache for a super-rich treat, or your favorite pudding or mousse.
Play with garnishes: Fresh berries look so cute on these tarts. Raspberries, blackberries, and blueberries all pair nicely with the lemon flavor. You could also top these with candied lemon peel or a dollop of meringue or toasted marshmallow.
More sweet bites
Here are some more bite-sized dessert recipes that you'll enjoy!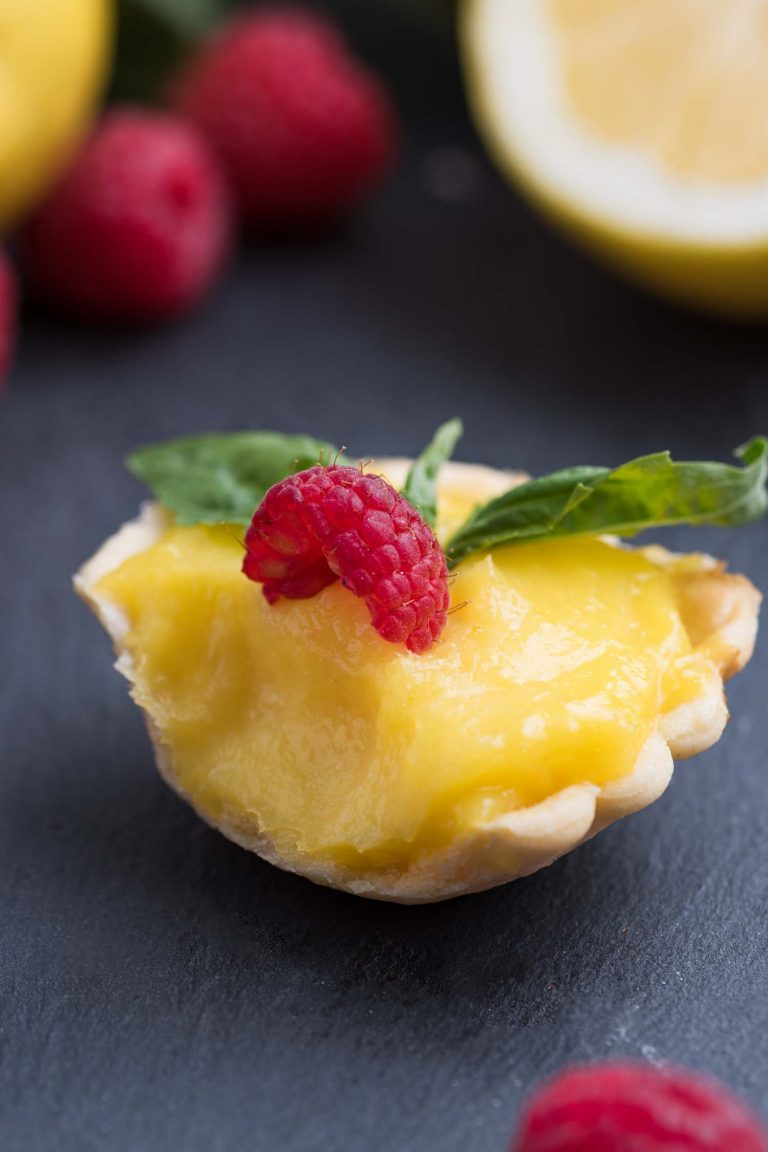 Ingredients
1 ¼

cups

flour

6

Tablespoons

unsalted butter

¼

teaspoon

salt

5

Tablespoons

cold water

¼

teaspoon

vanilla

1

egg yolk

¾

cup

lemon curd

preferably homemade

Fresh berries

for garnish, if desired
Instructions
Add the flour, butter, and salt to a food processor. Pour in the cold water and pulse 3-5 times, to form a crumbly dough that you can easily mold with your hands.

Place the dough on a floured surface and roll it into a ball. If the dough is too dry to come together, add more water 1 Tablespoon at a time.

Wrap the dough in plastic wrap and refrigerate it for one hour.

Once the dough is chilled, heat your oven to 350°F.

Working on a floured surface, roll the dough to 1/8-inch thickness. Place your tart shell tins underneath the dough and press down on the dough (or roll over it with your rolling pin) to
get a perfect cut for the shell.

Use a fork to dock the shells by poking them 2-3 times. Line the inside of the shells with dried beans or pie weights.

In a small bowl, whisk together the egg yolk and 1 Tablespoon water; set aside.

Bake at 350°F for 25 minutes then, remove the weights and foil and brush the shells with the egg wash. Bake for another 15 minutes, or until the shells are golden brown and cooked through.

Cool completely on a wire rack.

Spoon 1 Tablespoon of lemon curd into each tart shell. Garnish with fresh berries, if desired.




By