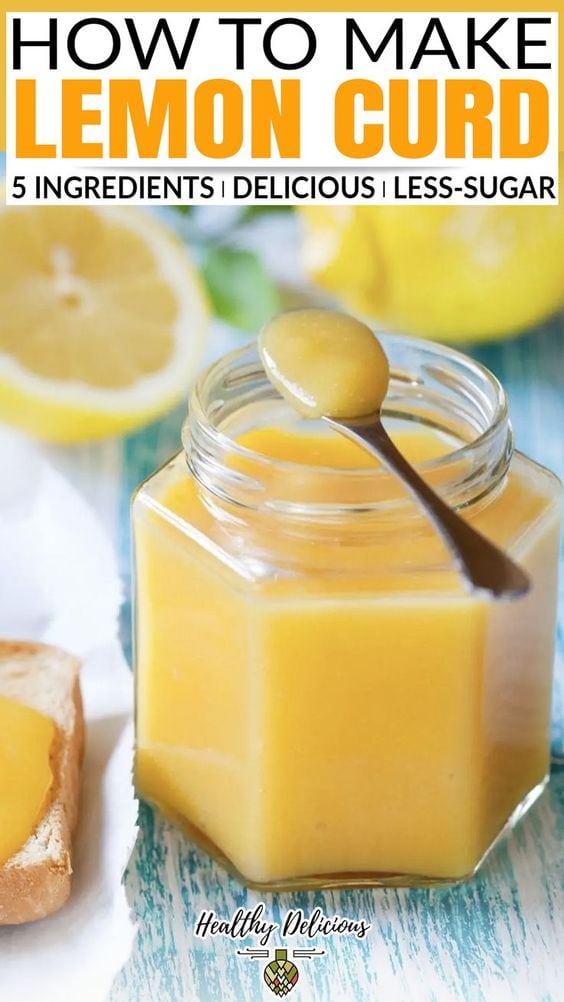 Silky smooth lemon curd is easy to make at home with just 5 ingredients! This recipe has less sugar than traditional lemon curd, but it still has that great sweet and tangy flavor you know and love.
---
Fresh Flavor. Made with real lemons, this healthier lemon curd boasts a vibrant, tangy taste that's so refreshing
Cost-Effective. By making your own lemon curd, you can save money compared to purchasing pre-made versions, all while enjoying a fresher and more flavorful result.
5 Simple ingredients.
Lemon curd is so delicious, but it can be difficult to find in grocery stores — not to mention pricey! I recently had a craving for lemon tarts and decided to take matters into my own hands by making my own curd.
Butter and lemons both happened to be one sale, which meant that this homemade lemon curd costs just pennies per serving.
And since I was making it myself, I was able to reduce use less sugar than store-bought versions. This is definitely still a once-in-a-while treat, but I do feel better knowing this lemon curd recipe made from simple ingredients.
Ingredients
Lemon curd might seem fancy, but it's made from surprisingly simple ingredients. To make it, you'll need:
Eggs. Fruit curds are similar to cooked custards and use eggs to create their thick base. Most recipes call for yolks only, but I use a combination of yolks and whole eggs. I find that the egg white help stabalize this reduced-sugar recipe.
Lemon Juice. For the best flavor, you'll want to use fresh lemon juice to make this recipe.
Lemon Zest. Lemon zest helps amp up that lemon flavor! Use organic, unwaxed lemons for the best flavor. If you can't find unwaxed lemons, be use a warm, damp cloth to wipe the wax away before zesting them. The wax is food safe, but it can muddy the flavor of the zest.
Sugar. Lemon curd is traditionally a sweet dessert, so you'll need to blance out those tart lemons! This recipe uses just enough sugar to rbing everything together nicely without being overwhelmingly sweet.
Unsalted Butter. The major difference between curd and pie filling or cutard is the rich, smooth texture it gets from butter. Be sure to use unsalted butter for the cleanest sweet lemon flavor.
How to make lemon curd
It's important to cook lemon curd cooks over indirect heat so the eggs reach a safe temperature and thicken without scrambling. If you have a double boiler, now's the time to pull it out.
If not, use a non-reactive plastic or glass bowl set into a pot filled with a few inches of water. It might take a little experimenting to get the amount of water right: you want to use as much as you can without it touching the bottom of the bowl.
Start by whisking together the lemon juice, zest, eggs, and sugar. Then cook the mixture in the double boiler, stirring constantly, until it thickens and reaches 165 degrees. This process will take 10-20 minutes, but good things are worth the wait!
While the lemon curd is still hot, mix in the butter. This balances out the acid from the lemon and gives the curd its rich, creamy texture. The heat of the curd will melt the butter; just gently fold it in until it's fully melted.
Pro Tip: If your lemon curd isn't as smooth as you want it to be, or if any of the eggs solidified or scrambled, you can pass it through a fine-mesh strainer to separate out the lemon zest and any other lumps.
Substitutions and Variations
For a "clean eating" lemon curd, you can use honey in place of the sugar. You can also use half honey and half sugar. Note that this will impact the flavor of the curd, but if you like lemon and honey together as much as I do, you'll still love it.
For low carb or keto lemon curd, replace the sugar with Serve confectioners sweetener.
Make it vegan by using your favorite plant-based butter.
Use other citrus fruit juice or pureed berries to create your own variations. You can also add aromatic herbs, like basil or thyme. I love making grapefruit-thyme curd, and blackberry and guava curds are always popular, too!
How to use lemon curd
I love eating lemon curd on an English muffin — or straight from the spoon! But it's also great in a ton of sweet and savory recipes. A few of my favorite uses for lemon curd include: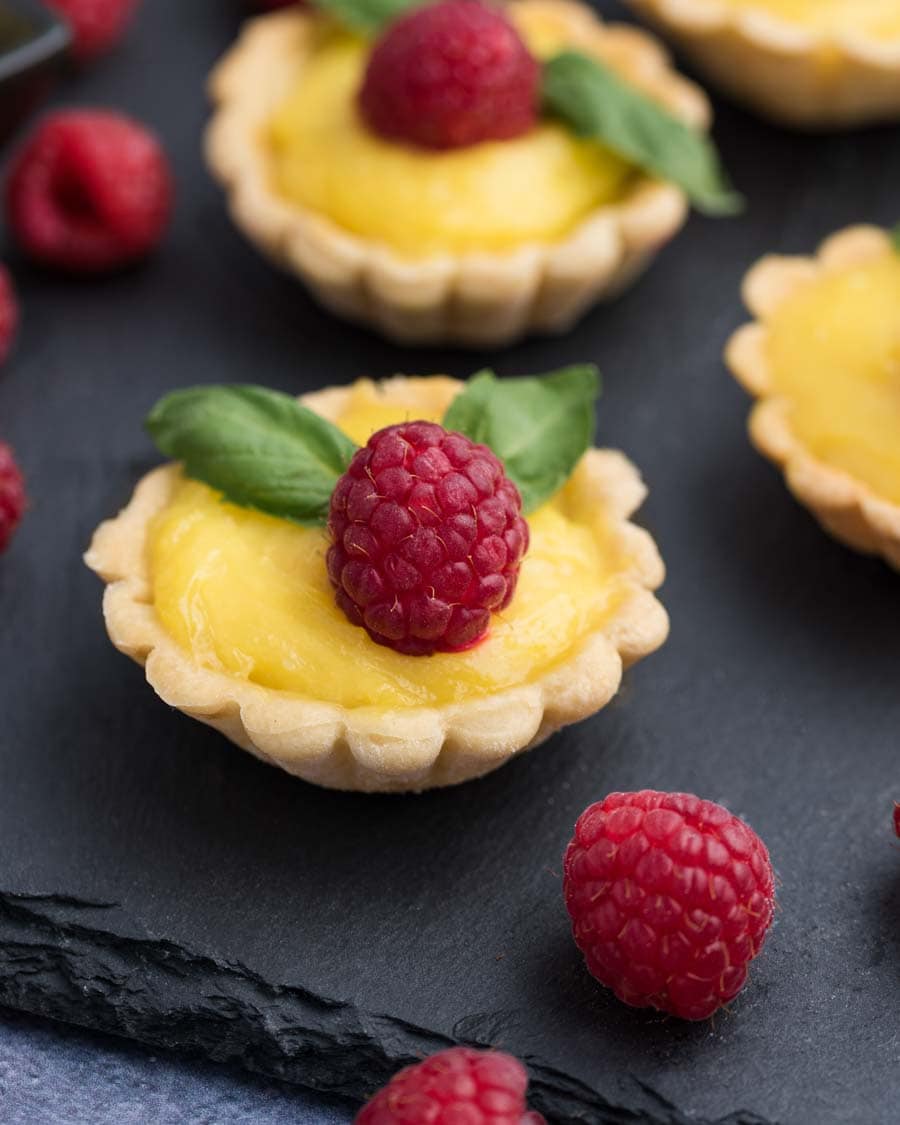 Ingredients
5

large egg yolks

2

large eggs

¾

cup

fresh lemon juice

from about 3 lemons

Zest of 1 lemon

⅔

cup

sugar

1

stick unsalted butter

diced
Instructions
Fill a saucepan with some water and place a large bowl on top of it, making sure it's not touching the water. Bring the water to a low simmer.

Add the lemon juice, zest, egg yolks and whole eggs, and sugar to the bowl. Whisk to combine, then continue to stir constantly as the curd thickens. Take your time – if you cook the curd too quickly, you could end up with scrambled eggs and nobody wants that. Keep stirring gently until the mixture reaches 165°F and is thick enough to coat the back of a spoon. This process will take 10-20 minutes.

Remove the bowl from the heat and fold in the butter. Keep mixing until the butter is fully melted.

If desired, run the hot curd through a fine-mesh strainer to remove any lumps.

Refrigerate for 1 hour. The lemon curd will continue to thicken as it cools.
Nutrition Facts
Lemon Curd
Amount Per Serving
Calories 81
Calories from Fat 45
% Daily Value*
Fat 5g8%
Cholesterol 72mg24%
Carbohydrates 7g2%
Protein 2g4%
* Percent Daily Values are based on a 2000 calorie diet.