Fluffy white cupcakes filled with tart lemon curd and topped with marshmallow frosting and toasted graham cracker crumbs.
I'm not going to lie – these cupcakes take a little more effort than most of my recipes. They're worth every last dish they'll dirty though. They're my new gold standard for cupcakes.
The white cake is light, fluffy, and has the most delicate crumb I've ever experienced in something homemade. The cake is mild and sweet – similar to angel food cake – making it the perfect backdrop for the shocking tartness of lemon curd hidden inside. Each cupcake gets topped off with a dollop of sticky-sweet marshmallow frosting and a sprinkle of graham crackers before it gets toasted to perfection under the broiler, giving them a subtle campfire taste.
If you haven't already planned your Easter dessert, these cupcakes will be perfect. (Plus, if you're like me and forgot to buy white eggs to dye instead of instinctively grabbing an extra carton of brown ones, you're in luck because this recipe uses about a million egg whites. If you're feeling ambitious, you can use the yolks to make your own homemade lemon curd for the filling.)
These cupcakes were inspired by a recipe for lemon s'mores that I found on Pinterest. I'm obsessed with lemon (have you checked out my lemon love board yet?), so lemon curd and toasted marshmallow sandwiches between graham crackers seemed even more amazing to me than the traditional chocolate. And as smitten as I was with the original concept, it seemed to be screaming to be made into a cupcake.
The ingredients are simple: flour, sugar, milk, egg whites, butter, vanilla, and cream of tarter. The cream of tarter helps stabilize the eggs whites to make the cake extra light and fluffy. It also gives the cake that elusive "birthday cake" flavor that always seems to be missing in cakes made from scratch.
Since I've been making an effort to use more whole wheat and whole white wheat flour in my savory recipes lately, I've been really into buying these little 2-pound bags of Gold Medal all purpose flour to use for baking. Whole wheat flour just won't work in a recipe like this and I love that the small bags last a while but don't take up too much room in my cabinet.
Once the cupcakes are cooled, they get filled with lemon curd. This is my favorite part of the recipe! I used a sharp paring knife to cut out a cone shape from the center of each cupcake, then spoon in a little curd before replacing it. Don't worry if it doesn't look perfect – it'll get hidden under the frosting anyway.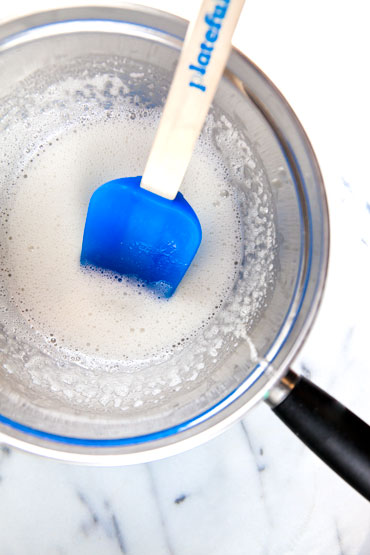 For these cupcakes, you'll have to whip egg whites twice – once for the cake and then again for the frosting. If you plan ahead, you can use the same bowl both times and save yourself from having another dish to wash. Just make sure to grab a heat proof bowl when you're whipping the eggs whites for the cake!
This frosting is so good. It tastes like marshmallow fluff, but it's way easier to make than marshmallows (plus you don't need gelatin, just egg whites and sugar). It's pretty sweet, but like the cake it goes really well with the lemon curd. Plus once it gets toasted, it's just about the best thing ever!
Ingredients
For the cupcakes
2 ⅓

cup

Gold Medal® all purpose flour

2 ¾

teaspoon

baking powder

¼

teaspoon

salt

1 ¾

cup

sugar

¾

cup

unsalted butter

softened

1

teaspoon

vanilla

1

cup

reduced fat milk

5

egg whites

¼

teaspoon

cream of tarter

½

cup

lemon curd
For the frosting
6

egg whites

1 ½

cups

sugar

½

teaspoon

cream of tarter

pinch

salt

3

whole graham crackers

crushed
Instructions
To make the cupcakes:
Heat oven to 350ºF. Line 2 cupcake pans with 24 liners.

Sift together the flour, baking powder, and salt. Set aside.

In the bowl of a stand mixer or a medium mixing bowl, beat the sugar and butter until light and fluffy. Beat in the vanilla and 1/2 cup of milk until just blended. Add half the flour mixture and mix on low speed until combined. Add the remaining milk; mix until combined. Add the remaining flour and mix until just combined.

In a second bowl, add the egg whites and cream of tarter. Beat with an electric mixer on high until the egg whites are glossy and form stiff peak when the mixer is lifted. Gently fold the egg whites into the batter, one quarter at a time.

Divide the batter between the prepared cupcake pans. Bake 20-25 minutes, or until a toothpick inserted into the center of a cupcake comes out clean. Remove from the oven and let cool completely.
To make the Icing:
Fill a pot with 1inch of water; bring to a simmer. Combine the egg whites, sugar, cream of tartar, and salt in a heatproof bowl. Set the bowl over the pot and cook for 3-4 minutes or until the mixture reaches 160ºF, whisking constantly. Remove from heat and whisk on high for 7-10 minutes, or until the frosting holds stiff peaks.
To Assemble:
Heat broiler on high.

Use a paring knife to cut a cone out of the center of each cupcake. Spoon 1 teaspoon of lemon curd into the hole, then replace the cake that you removed.

Spoon or pipe 1 tablespoon of frosting onto the top of each cupcake. Sprinkle with graham cracker crumbs and place on a baking sheet.

Broil for 1-2 minutes, or until graham cracker crumbs and marshmallow frosting are golden and toasted, but not burned (keep a close eye on them!)
Nutrition Facts

Lemon S'mores Cupcakes

Amount Per Serving

Calories 357

Calories from Fat 74

% Daily Value*

Fat 8.2g13%

Protein 3.7g7%

* Percent Daily Values are based on a 2000 calorie diet.

This post was sponsored by Gold Medal Flour. Thank you for supporting the brands that keep me inspired in the kitchen!

By