These two-bite potato skins stuffed with blue cheese, hot sauce, and cheddar are the ultimate game day snack!
Yeah, so these mini buffalo-blue potato skins happened… and they're every bit as awesome as I hoped they'd be!
We went out for lunch at my favorite diner the other day and for some reason the loaded potato skins caught my eye. I haven't had potato skins in years, but after seeing them on the menu I just couldn't get the idea of them out of my head. I just had to have them. And then I needed to put my own spicy spin on them and shrink them down to a two-bite treat that's perfect for snacking.
To make these delicious treats, I started by precooking some small potatoes in the microwave. Then I sliced them in half, scooped out the middles, and brushed the insides with Marzetti® Simply Dressed® Blue Cheese Salad Dressing and baked them until they were crispy on the outside but still tender in the middle. Then, add hot sauce and shredded cheddar and bake them until the cheese gets all melted and gooey. I went through a few variations on the method as I was testing this recipe and, believe me, that first step of baking the potatoes with just the dressing is crucial. Something magical happens during that step: the edges of the potatoes get super browned and crispy and the blue cheese flavor permeated the whole potato. When I tried adding the toppings all at once, the potatoes didn't get that beautiful golden color and the flavor was much flatter. Serve with more dressing for dunking and additional hot sauce for any guests who really want to turn up the heat.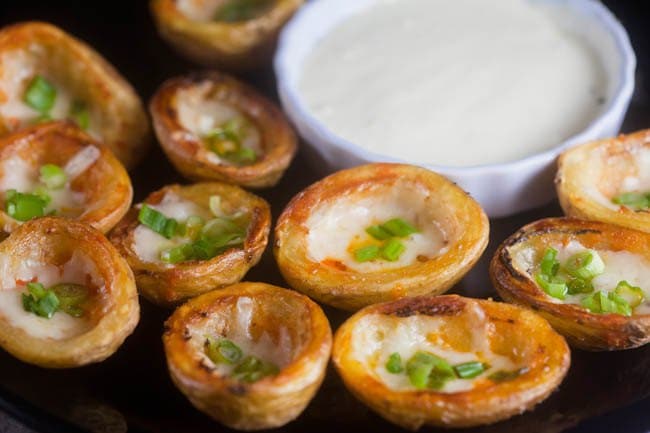 Disclosure: I have been invited to participate in a Marzetti® ambassador program. This post is sponsored by Marzetti and product has been provided by them. The opinions and ideas expressed here are my own. Thank you for helping support the brands that keep me inspired in the kitchen.