These chocolate pumpkin donuts topped with brown sugar buttercream and chopped pecans are so tasty, you won't even notice that they're baked instead of fried!
Show up to a dinner party with these chocolate pumpkin donuts with brown sugar buttercream in hand and you'll definitely be met with smiles (and maybe even some delighted squeals.) They may be impressive, but the beauty of cake donuts is that, since they don't need to rise, they're really quick to make.
The hardest part was deciding what flavor I wanted to go with. (I debated my options for hours!)
Like always, I used Gold Medal flour. I love the history of the brand and enjoyed learning more about it when I visited them in Minneapolis last month. Did you know that the name comes from the fact that they actually won a gold medal? I mean, duh, but that had never actually occurred to me before. It turns out that way back in 1880 their flours won the gold, silver, and bronze medals at the International Millers' Exhibition. Pretty impressive! I might have been in an oddly nostalgic mood, but using such an iconic brand to make such an iconic dessert kind of gave me chills.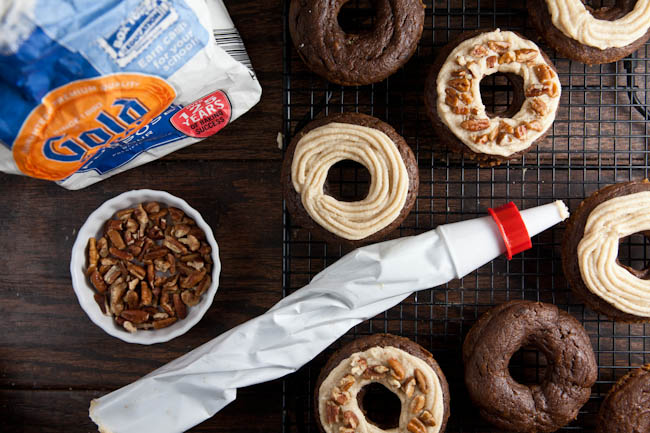 Pumpkin puree keeps these donuts really tender and rich, and gives them a subtly earthy flavor that goes really nicely with the chocolate. They taste more chocolate-y the first day, but as they sit overnight the pumpkin flavor becomes more pronounced.
Since the brown sugar buttercream that is super sweet, I intentionally went a little easier on the sugar in the cake. On their own, the donuts definitely need a little something extra, but once you frost them and add a few pecans for crunch they're kind of amazing. So amazing, if face, that I completely forgot to tell people that they were baked – and they didn't notice.


This post was sponsored by Gold Medal Flour. Thank you for supporting the brands that keep me inspired in the kitchen.