Grilled fish tacos topped with fresh, spiced coleslaw, creamy avocados, and tart lime juice are the answer to the question "What's for dinner?"
Thank you to WhatsForDinner.com for sponsoring this post and letting me share their recipe.

A while back, I heard a story about a restaurant called "I don't know." I thought it was pretty brilliant. More often than not, when Shawn asks me what I want for dinner, that's my answer – I don't know.
Unless I have dinner planned in advance, I can be pretty hopeless when it comes to coming up with ideas of what to eat. And the hungrier I am, the more impossible and overwhelming it gets. I usually browse my own archives for easy weeknight dinners or Shawn's favorites, but even looking there or at my favorite blogs for inspiration doesn't always help – depending on how hungry I am, either everything looks good or nothing looks good.
I used to be really good at sitting down every Saturday morning and planning out my menu for the week, but that hasn't been happening as much lately. I still love to cook and play around in the kitchen, but I can't think about it all the time like I used to. Life got busy and I'd rather spend the little free time I have on weekend mornings doing things like sleeping in, visiting the pottery studio, or just hanging out and relaxing (<– real talk).
I take some comfort in knowing that I'm not alone in this. I have no idea how my friends who are moms get everything done. Between birthday parties and baseball practices and the thirty thousand other things they always have going on…well, I'm exhausted just thinking about it.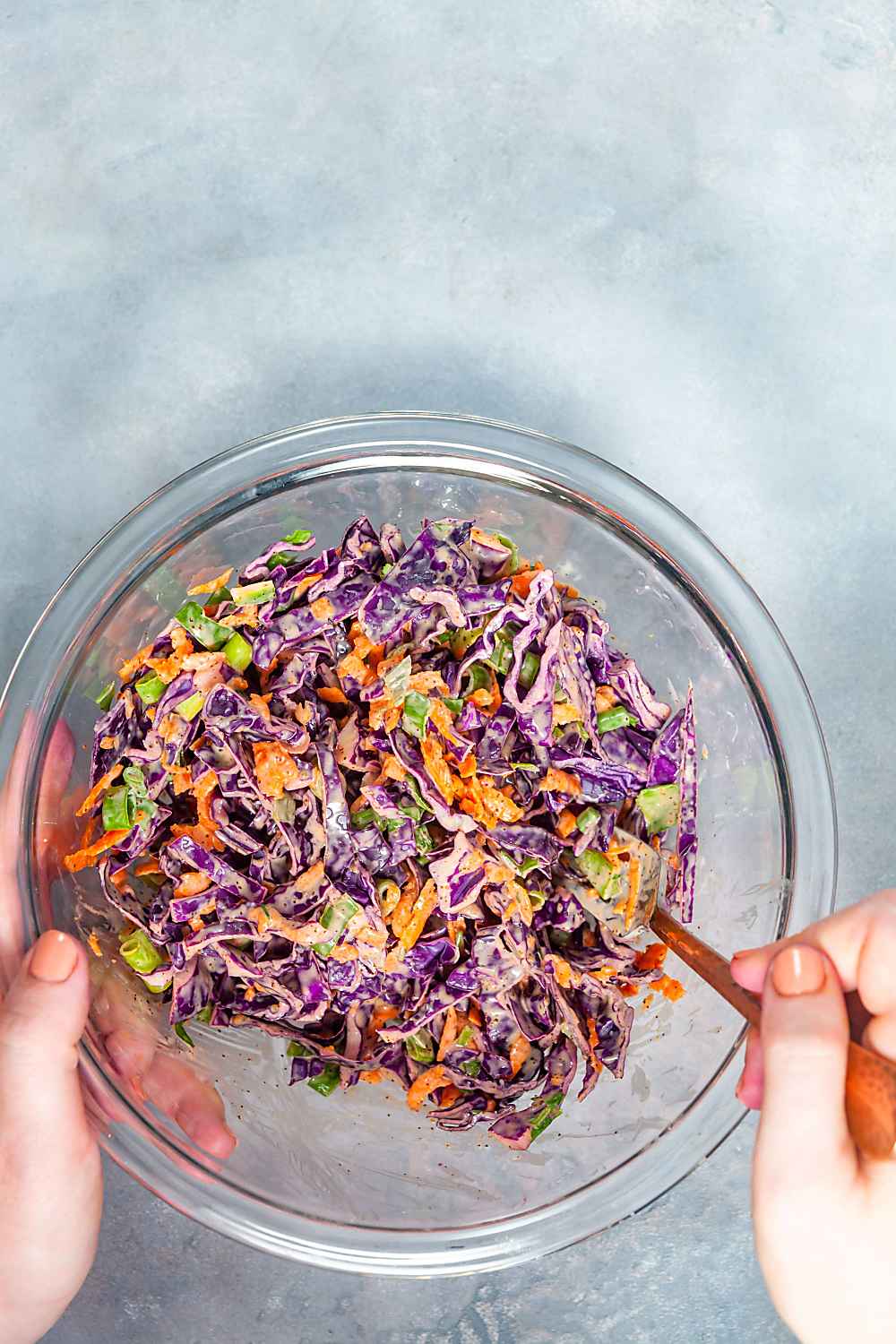 A new website just launched a new website that looks like it will be helpful on overwhelming nights where you have no plan but still need to get a better-for-you dinner on the table. At What's For Dinner? you can browse recipes normally, or you can take a short quiz and have one suggested to you. The suggestions they send back are easy, flavorful, and creative. They're also tailored to the amount of time you want to spend in the kitchen, so you don't need to spend all day in there if you don't want to.
Depending on your mood, these grilled fish tacos are one of the recipes the site might suggest to you. If it does, you should definitely take the suggestion – they're delicious and super easy!
Cod filets are generously seasoned with spices, then grilled outside or on a grill pan until they're tender and flakey.
The fish gets piled in charred tortillas and topped with an amazing slaw made with fresh vegetables, Marzetti original slaw dressing, and even more spices. Shawn doesn't usually like coleslaw, but he loved this one and thought the flavor in it really made the dish. It's crispy, creamy and has just the right amount of heat. Plus the fresh vegetables add great crunch and texture to the tacos.
Be sure to visit What's for Dinner? for the recipe and others like it. You can also check out some great ideas on their Pinterest page and save your favorites. Hopefully, it'll make those hungry nights just a little bit easier.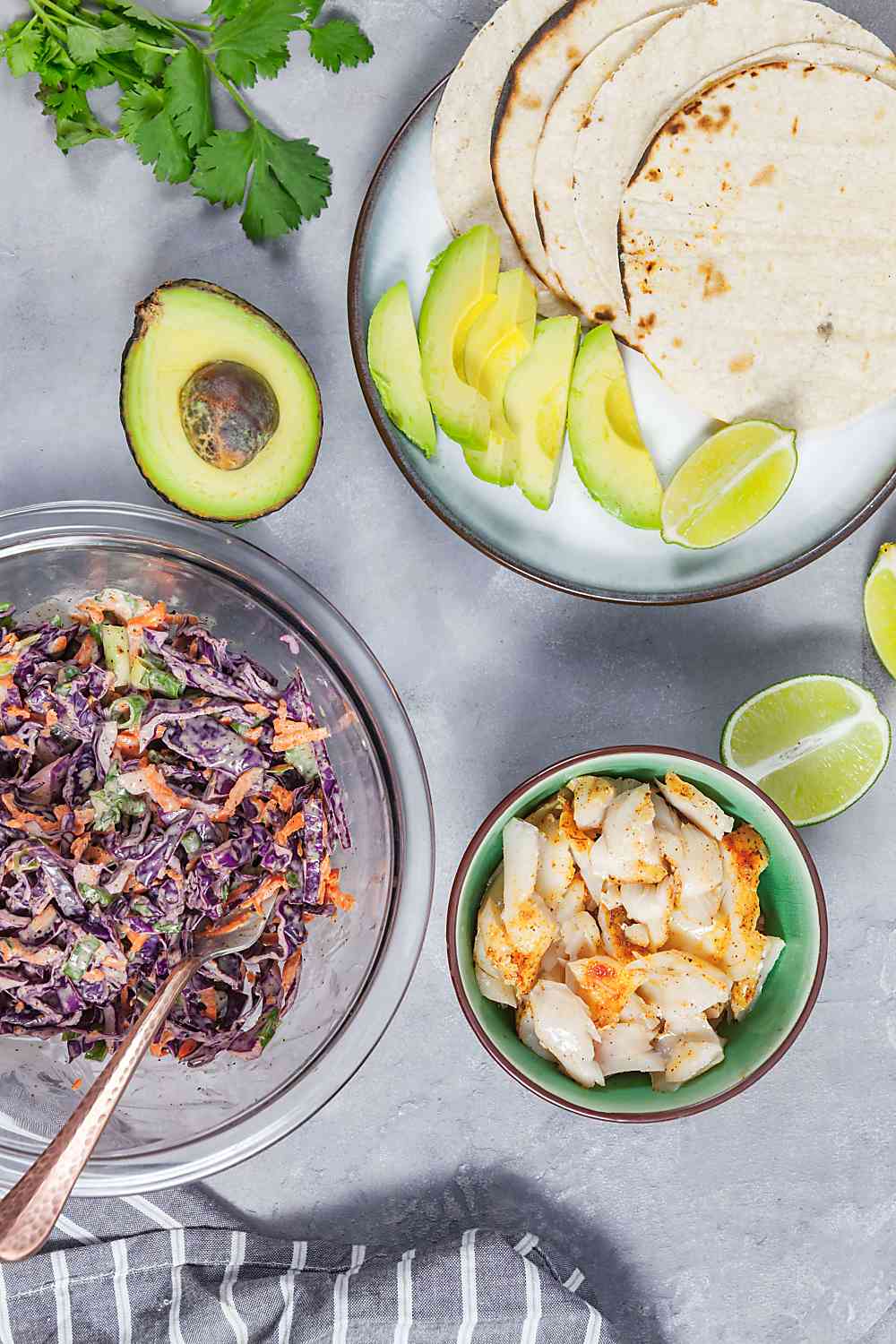 Ingredients
!For the Dressing
½

cup

Marzetti® Slaw Dressing

¼

head red cabbage

shredded

1

large carrot

grated

3

green onions

chopped

1

teaspoon

cumin

1

teaspoon

chili powder

½

teaspoon

black pepper

Juice of 1 lime

2

teaspoons

cilantro

finely chopped
!For the tacos
4

cod filets

2

teaspoons

olive oil

1

teaspoon

paprika

1

teaspoon

chili powder

2

teaspoons

salt

1

teaspoon

black pepper

8

corn tortillas

1

avocado

sliced

Lime wedges

for serving
Instructions
Preheat outdoor grill to high heat.

To make the dressing, combine 1/2 cup Marzetti Slaw Dressing with the cumin, chili powder, black pepper, lime and cilantro. Store dressing in the refrigerator while you prepare the slaw and the fish.

To prepare the slaw, shred the cabbage, grate the carrot, chop the green onions and combine them in a large bowl. Set bowl aside while you cook the fish.

Pat fish dry with paper towels. Drizzle both sides of each filet with olive oil. Sprinkle each side with paprika, chili powder, salt and pepper.

Grill fish on a hot, clean, oiled, outdoor grill for about 5 minutes on the first side, or until the fish looks opaque. Flip the fish and grill until the fish is firm.

Flake the fish for the tacos and heat up the corn tortillas by warming them in the microwave or tossing them on the grill for a few
seconds. Toss the slaw with the dressing. Assemble the tacos and serve with sliced avocado and lime wedges.
Nutrition Facts
Grilled Fish Tacos
Amount Per Serving
Calories 1761
Calories from Fat 477
% Daily Value*
Fat 53g82%
Cholesterol 397mg132%
Sodium 4140mg180%
Protein 187g374%
* Percent Daily Values are based on a 2000 calorie diet.