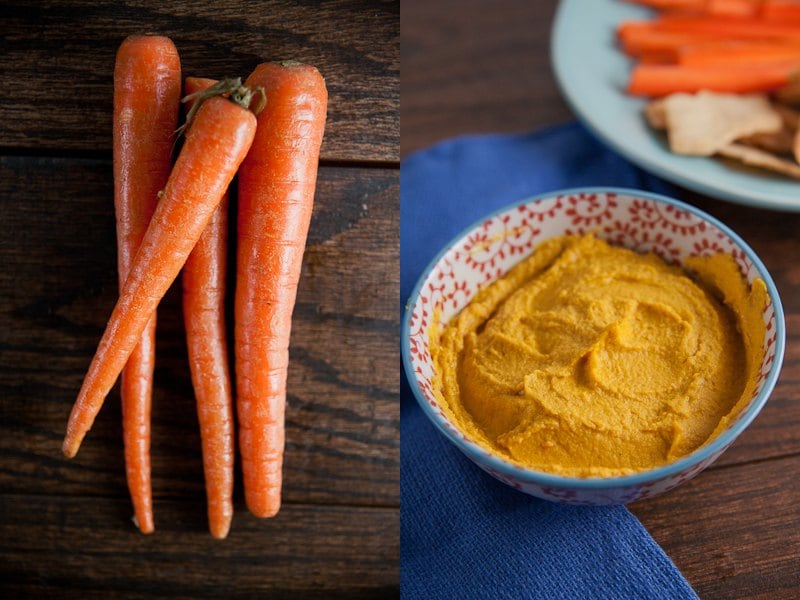 A few months ago, carrot hummus seemed to be everywhere. It intrigued me, but it stayed on my "things to make" list for far too long. Even after thoroughly enjoying it as an appetizer at one of my favorite restaurants and exclaiming that I really needed to make it at home… I just never got around to it.
But I went back a few weeks ago, and the menu had changed with the seasons. No more carrot hummus. What a tragedy! It all turned out for the best though, because I was finally forced to take matters into my own hands and make it myself. Now I'm kicking myself for waiting so long. It's cheap, only takes a few minutes to make, and is the perfect mid-afternoon pick-me-up.
I've seen a few recipes for carrot hummus that don't include chickpeas: this isn't one of them. I wanted a more traditional hummus, with just a hint of earthy sweetness from the carrots. The carrot flavor is less intense that way, which means the dip can be enjoyed on pita chips and on carrot sticks (probably not a way you'd want to eat a dip made entirely of carrots). As an added bonus, using both ingredients means you'll get a wider variety of nutrients – plenty protein and fiber from the chickpeas and loads of vitamin A from the carrots.
I based this recipe very loosely on the hummus in Jerusalem: The Cookbook. I bought this book a few weeks ago and pretty much haven't put it down. It's absolutely beautiful and, with the exception of the chopped liver, I want to make every single recipe. We had the conchiglie with yogurt, peas, & chili the other night; it was unlike anything I've ever had. I ate way too much, and gave myself a pretty serious stomachache. I can't wait to cook from it some more!
All that to say, don't be surprised if you see a lot more Middle Eastern and North African cooking around here – I'm totally obsessed! (I'm also currently obsessed with Korean food. So random, but so good.)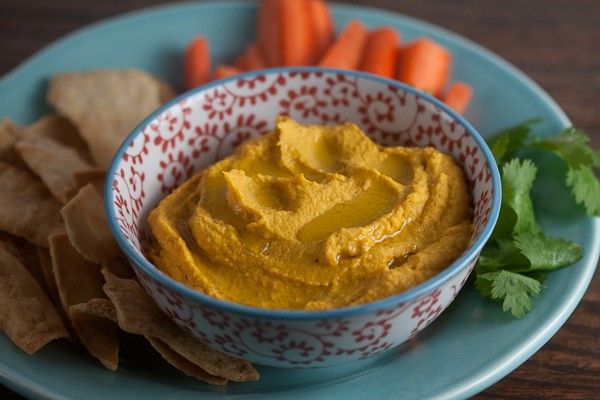 Note: This post contains affiliate links. If you make a purchase through the link, the cost to you will be the same but I'll earn a few cents to help cover the costs of this site.