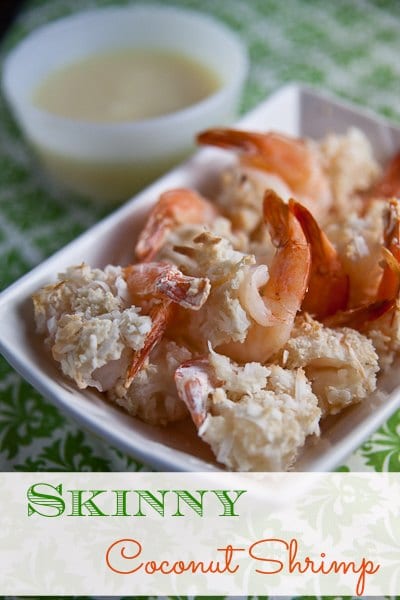 A few weeks ago, Shawn and I went to Red Lobster to grab a quick dinner before we saw a movie. I spent all day thinking about how excited I was to get the coconut shrimp, which I haven't eaten in years. Then we got there and I looked at the menu. 880 calories before you even start thinking about sides? I don't think so!
I swear, living in a county that requires chains to put calorie counts on the menu is both a blessing and a curse. For the most part I love it, and I've been pleasantly surprised to learn that some things aren't' nearly as bad as I would have guessed. Other times the number is so outrageous that even if I was planning a splurge I just can't do it.
I ended up getting the garlic-grilled shrimp, which were a much more reasonable 370 calories (and were really tasty – I recommend them!) but I couldn't get those coconut shrimp out of my head. So I made them myself. And healthified them, of course.
This version shaves off almost 350 calories and a whopping 43 grams of fat per serving. Not too shabby! Even better is that they still taste like a splurge.(Especially the pina colada dipping sauce. Which, let's be honest, bears a strong resemblance to frosting and wouldn't be totally out of place used as a glaze on a cupcake or sweet bread.)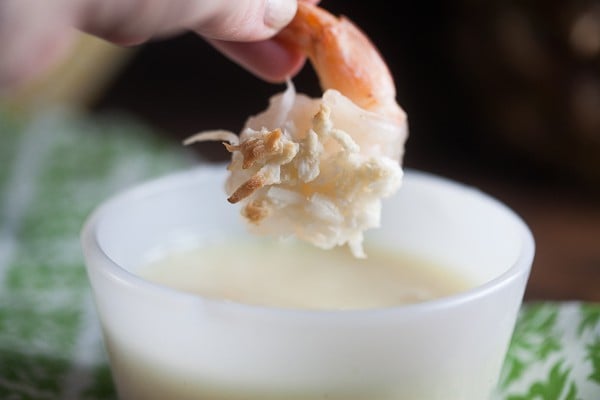 Ingredients
For the Shrimp:
1

pound

Peeled Shrimp

1

cup

Shredded Coconut

1

cup

Panko Breadcrumbs

¼

cup

Cornstarch

½

cup

Light Coconut Milk
For the Sauce:
½

cup

Light Coconut Milk

8

ounce

can Crushed Pineapple

2

Tablespoons

Powdered Sugar

1

teaspoon

Cornstarch

3

teaspoons

Water
Instructions
Heat oven to 425F. Spray a baking sheet with olive oil spray (or line with parchment).

Mix the coconut, breadcrumbs, and 2 Tablespoons of cornstarch in a shallow dish. Pour the remaining cornstarch into a second dish; pour the coconut milk into a bowl.

Dip the shrimp into the cornstarch, then into the coconut milk. Dredge in the coconut-panko mixture. Arrange in a single layer on the prepared baking sheet; spray the tops of the shrimp with olive oil spray. Bake 10 minutes. Turn and bake another 8-10 minutes or until coconut begins to toast.

Combine the coconut milk, pineapple, and sugar in a small saucepan over low heat; simmer 10 minutes.

In a small bowl, whisk together cornstarch and water to create a slurry. Whisk the slurry into the sauce; cook 3 minutes. Remove from heat and let cool to room temperature.