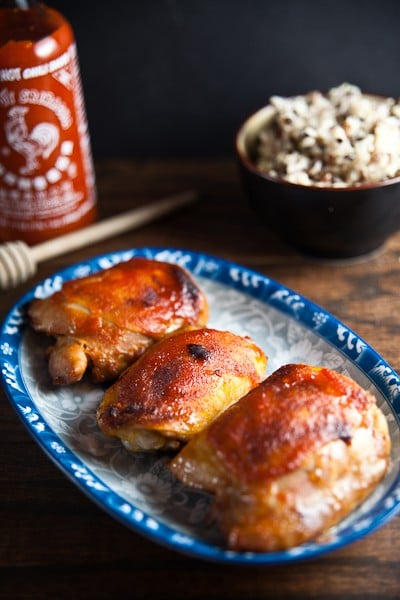 It took me a few tries to get this recipe for honey and sriracha chicken just right. I'll be honest – the first time I tried it, it was downright bad. We each took about two bites of the chicken before tossing it and ordering take-out. I loved the flavor of the sauce though, and I was determined to make it work. In the end, I'm glad that I persevered because this chicken is delicious and easy enough for even the most hectic weeknight.
This recipe is sort of like roast chicken meets buffalo wings… with an Asian twist. The sticky-sweet sauce has a good kick to it, the skin is nice and crisp (and beautifully charred in some places), and the meat itself is moist and flavorful.
The entire feel of the dish can be changed by simply swapping out the sides: wild rice pilaf and sauteed green beans give it a homey elegance; baked waffle fries make it a more casual, fun meal.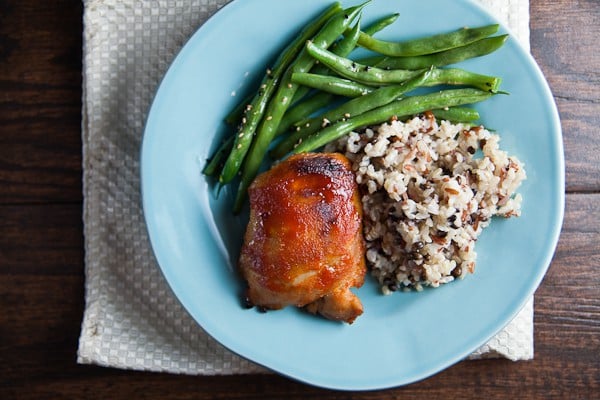 Throughout my attempts to perfect this recipe, I discovered a few things that really make a big difference.
First, whatever you do, don't attempt to get a head start on your week by letting the chicken marinate overnight. Because the sauce is so acidic, it will do crazy things to the texture of the chicken, leaving the meat sort of gelatinous and preventing the skin from crisping up the way it should. If that seems too crazy to be true, just think about the effect that acid has on fish when you make ceviche. Believe me, it's not worth the extra few minutes that you'll save at dinnertime.
My multiple attempts at perfecting this recipe also reinforced my belief that it's definitely worth spending a few extra dollars on natural or organic chicken whenever you're working with skin and bone. Natural and organic chicken tends to be leaner, and since it doesn't take as long for all of the fat to render out, the skin will crisp up faster. As an added bonus, the meat itself seems to be darker and more flavorful – when I made these with conventional thighs, the meat was almost pure white and they tasted like flabby fat. (Conventional is fine when you're using something like boneless, skinless chicken breasts, but if you're making legs, thighs, or a whole chicken I really do think organic tastes the best.)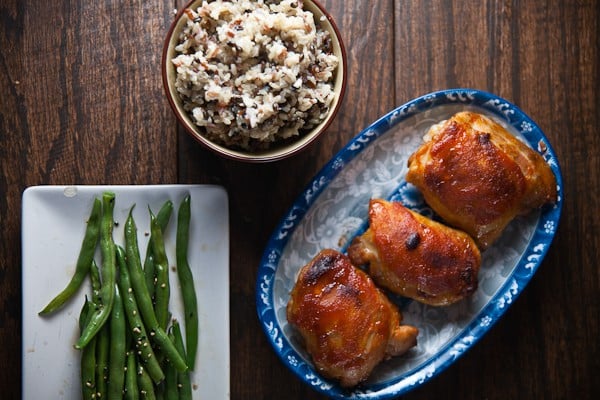 Honey + Sriracha Chicken Thighs
These sweet and spicy chicken thighs are like a cross between roast chicken and hot wings. For the best results, use organic or all-natural chicken.
Print
Pin
Save
Saved!
Ingredients
4

bone-in Chicken Thighs

about 2 pounds

¼

cup

Sriracha

¼

cup

Honey

1

teaspoon

Low Sodium Soy Sauce

½

Lime

juiced (about 2 Tablespoons)

¼

teaspoon

Ground Ginger
Instructions
Heat oven to 425*F. Arrange the chicken thighs skin-side up on a baking sheet. Bake 15 minutes.

Meanwhile, mix together the remaining ingredients in a small pan set over medium-high heat. Cook for 3-5 minutes, or until reduced to a thin glaze – a spoon dragged through the sauce should leave a trail in its wake.

Spoon the reduced sauce onto the chicken thighs, covering the skin generously. Return to the oven and cook an additional 15-20 minutes or until the skin is crisp and begins to char and the juices run clear when the thighs are cut into with a knife.

Remove from the oven and tent with foil; let rest 5 minutes before serving.