Mix up your summertime grilling routine with these easy lamb tacos filled with bold North African spices and cool cucumber salsa. With just 30 minutes of active cooking time, they're perfect for a weeknight!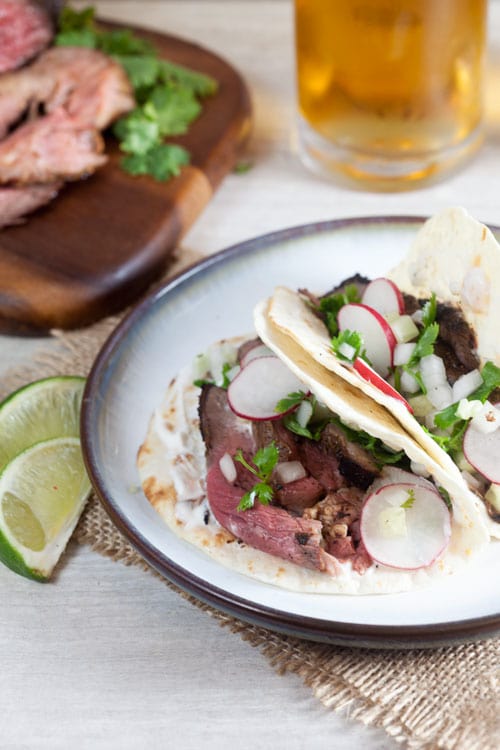 By this point in summer I usually start to feel a little "meh" about dinner. It's still gorgeous and I love the ease of throwing something on the grill, but I start to get a little tired of steaks, hot dogs, and my other weeknight standards.
When the American Lamb Board asked me to help participate in their Brews + Ewes grilling contest, it was like a lightbulb went off in my head. I adore lamb and make it pretty frequently in the colder months (broiled, braised, in soup, you name it and I probably have a recipe for you) but I don't tend to think of it in the summertime. Which is a real shame, since American lamb is delicious on the grill and doesn't take any longer to cook than a thick steak.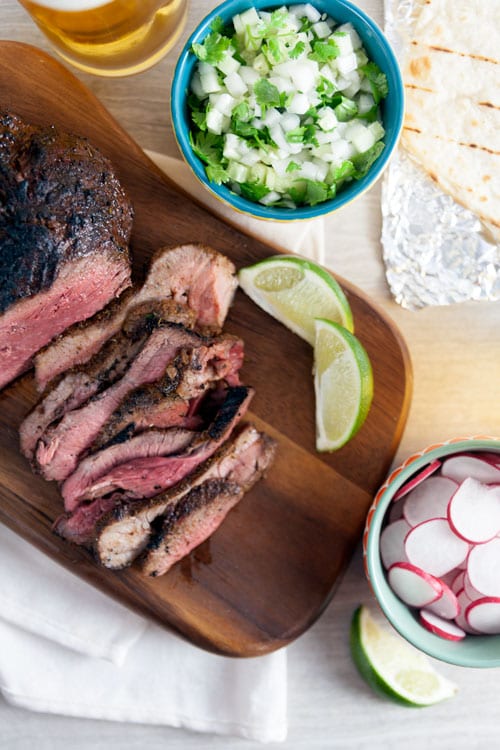 I picked up a gorgeous piece of boneless American leg of lamb for under $20 and used it to make these grilled lamb tacos, which ended up being a really nice departure from traditional beef tacos. Instead of going with traditional Mexican flavors, I gave them a little North African twist by coating the lamb in a sweet and smokey ras al hanout spice rub, adding some cool cucumber to my favorite onion and cilantro salsa, and swapping out sour cream in favor of Greek yogurt.
I also marinated the lamb in beer to keep it extra tender. The lamb marinates quickly, so pour another beer for yourself and put your feet up for a few minutes or use the time to get caught up on dishes – whichever you prefer. I'll let you guess which I chose. You could also use the time to pop on over to the ALB's page to vote on your favorite Brews + Ewes grilling recipe (including this one!) and enter for a chance to win the ultimate lamb grilling package.
Pair these lamb tacos with a beer that's crisp to contrast with their richness, but that also has enough flavor to keep it from being overpowered by their bold flavor – I like a kolsch or lager served in a frosty-cold glass.
Ingredients
2

Tablespoons

Moroccan seasoning

ras al hanout

1

Tablespoon

kosher salt

1

Tablespoon

brown sugar

1

Tablespoon

dried oregano

1

small boneless leg of lamb

about 3 pounds, trimmed

12

ounces

kolsch or lager beer

12

flour tortillas

1

white onion

diced

1

cucumber

diced

1

bunch fresh cilantro

chopped

1

lime

juiced

Plain Greek yogurt

sliced radishes, and lime wedges, for serving
Instructions
In a small bowl, mix the Moroccan seasoning, salt, sugar, and oregano. Rub onto the lamb, coating it evenly. Place the lamb in a deep bowl; pour in the beer. Let marinate at least 20 minutes.

Heat your grill to medium and prepare it for indirect grilling. Grill the lamb over indirect heat, turning it occasionally, until it's cooked to your liking (20-30 minutes for medium rare). Heat the tortillas on the top rack for a few seconds, or until they're slightly toasted but still pliable.

Transfer the lamb to a cutting board and let rest 10 minutes. Meanwhile, prepare the cucumber salsa by mixing the onion, cucumber, cilantro, lime juice, and a pinch of salt.

Slice the lamb thinly across the grain.

Serve the lamb in the warmed tortillas with Greek yogurt, cucumber salsa, and radishes. Squeeze the lime wedges over the lamb, if desired.
I crated this recipe for my client,
The American Lamb Board.
Thank you for supporting the brands that keep my inspired in the kitchen – and at the grill.