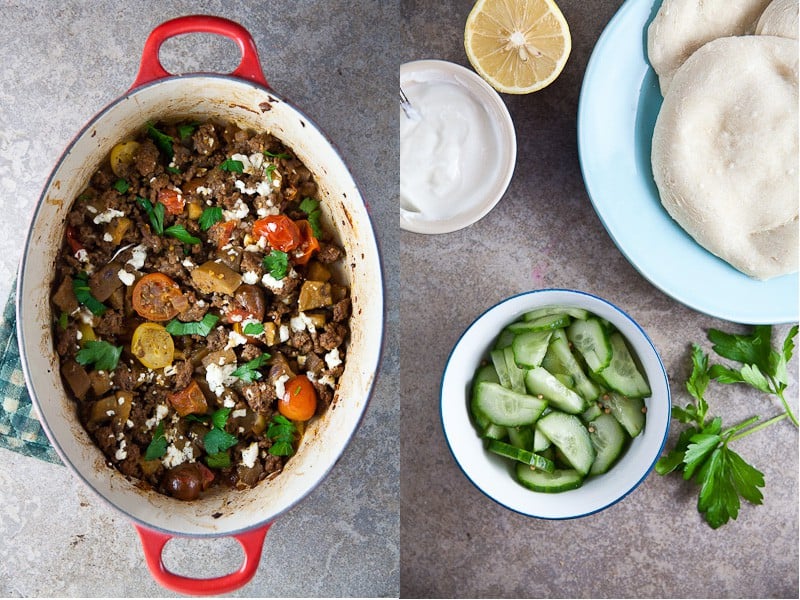 I'm so excited to finally share this braised eggplant with ground lamb with you all – I made it almost a whole month ago and I haven't stopped thinking about it since!
The recipe came out of a craving for eggplant… for days, all I wanted was eggplant that was cooked until it was so tender that it collapsed in on itself. I had no idea what I wanted the rest of the meal to be, but once I got the image of that eggplant in my head I just couldn't shake it. The end result – tender, braised eggplant and tomatoes cooked with richly spiced lamb and topped with cool yogurt sauce and tangy cucumbers – ended up being perfect and is one of my favorite meals of 2012.
I've been tempted to publish it a few times since then, but I really wanted to save it for my first post of 2013.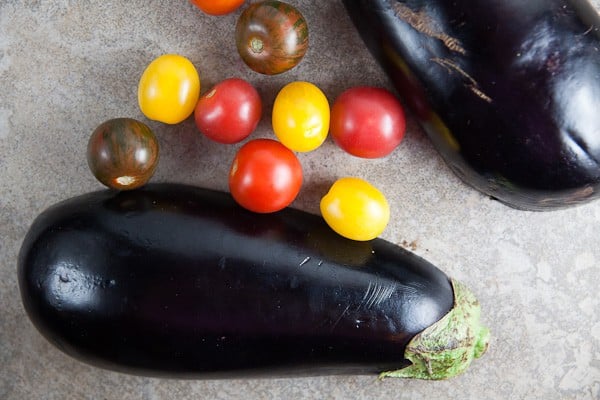 You may have seen sneak peeks of this recipe already – I've been using the image at the top as my Facebook cover photo and as my twitter background for a few weeks.
This recipe symbolizes everything that I want this blog to be this year: first, and most importantly, it's absolutely delicious. It's simple, but all of the components work together in harmony to create a thoroughly enjoyable meal. It was fun to cook, and to eat, as is one of those meals that reminds me how much I love being in the kitchen.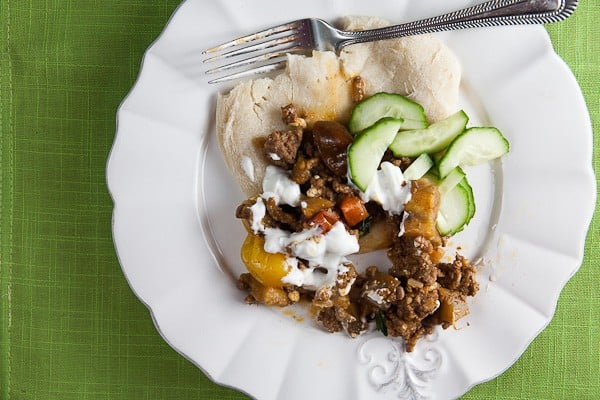 This is also one of the first (if not the very first, it's easy to lose track) nights that I was brave enough to take my camera of AV mode and shoot in manual. I was incredibly inspired by Bree when she spoke about photography at Mixed earlier in the month, and took her advice of reading the book Understanding Exposure. This book makes everything about photography make so much sense! (Bree also took my new headshot, which I'm completely in love with!)
I'm still not finished with it, but it's already made a huge difference in my photos. It takes me less time to get the shots that I want, so I have more time to play around and be creative with them. I've also been able to perfect them more in the camera, so I spend less time processing them on the computer – just a few small tweaks and they're good to go! I'm really proud of all the photos I took last month and I'm excited to learn more.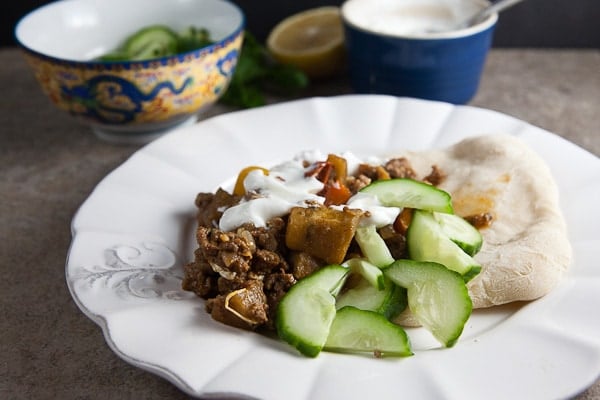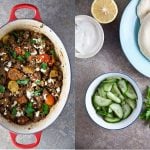 Braised Eggplant with Ground Lamb
Braised Eggplant with Ground Lamb Ras El Hanout is one of my favorite spice blends. It's warm and earthy, with cinnamon, cumin, ginger, and turmeric and I especially love it with lamb. In fact, I can't remember the last time I made lamb without it! It used to be difficult to find, but now that McCormick makes a blend it can be found in most grocery stores. Instead of making tzatziki to go with the lamb, I made a simple yogurt sauce and did a quick pickle with some English cucumber and coriander seeds, which add a really nice floral element. While the pickles may seem like an afterthought (and in many ways, thy were), they really completed the meal. Don't skip them!
Print
Pin
Save
Saved!
Ingredients
1

cup

Plain

Fat Free Greek Yogurt

1

Lemon

juiced

½

English

seedless Cucumber, cut in half lengthwise and thinly sliced into half moons

1

Tablespoon

Red Wine Vinegar

¼

cup

White Vinegar

½

teaspoon

Coriander Seeds

1

Tablespoon

Olive Oil

2

Garlic Cloves

crushed

1

Eggplant

peeled and cut into 1-inch cubes

2

cups

Mini-Heirloom or Grape Tomatoes

halved

1

Tablespoon

Olive Oil

1

pound

Ground Lamb

1

Tablespoon

Ras El Hanout

1

Tablespoon

Double-Concentrated Tomato Paste

½

cup

Water

2

ounces

Feta

crumbled

¼

cup

loosely packed Fresh Parsley

torn

Fresh Pita Bread

for serving
Instructions
In a small bowl, mix together the yogurt and lemon juice. Season with a pinch of salt. Cover and set aside. In a second bowl, combine the cucumbers, vinegars, and coriander seeds. Cover and set aside.

Heat oven to 400*F. Coat the bottom of a heavy, oven safe pot (like a dutch oven) with oil. Add the eggplant, garlic, and tomatoes. Cook, uncovered, for 20 minutes or until tomatoes begin to collapse in on themselves.

Meanwhile, heat the second tablespoon of oil in a large skillet set over medium heat until it begins to shimmer. Add the lamb and ras el hanout. Cook, breaking the meat up with a wooden spoon, 10 minutes, or until browned and almost cooked through. Drain off and discard the fat.

Add the cooked lamb to the pot of vegetables. Stir in the tomato paste and water. Cover and cook 20 minutes, or until the eggplant is very tender and most of the liquid has cooked off. Sprinkle with feta and parsley. Serve with yogurt sauce, pickled cucumbers, and fresh pita.