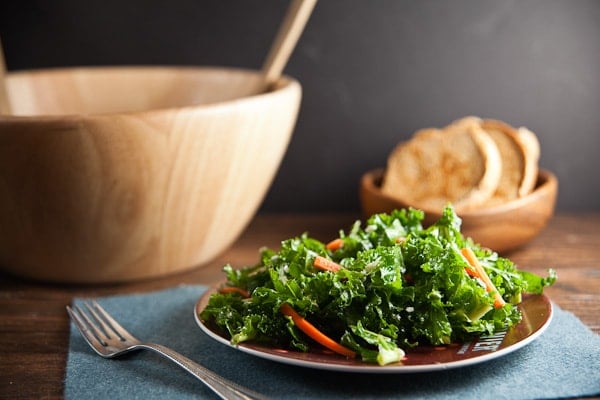 When you go out to eat, do you ever get into a rut where you always order the same thing? I'm definitely guilty of that – especially at the City Beer Hall. We eat there relatively frequently, and I almost always get the 518 burger, which I've deemed the best burger in town.* The last time we went though, I was craving something a little healthier and ended up getting the kale salad.
It was love at first bite and I couldn't shut up about how delicious it was. I was still thinking about it days (and weeks) later and knew that I'd have to try making it myself.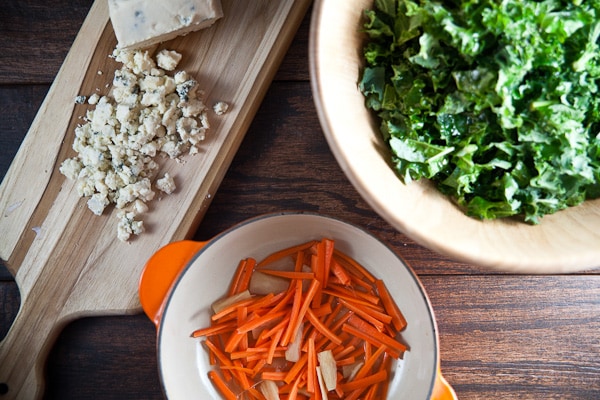 The salad is really simple, but the flavors are absolutely perfect together: It's just kale, blue cheese, pickled carrot, and a balsamic vinaigrette. The Beer Hall also adds some cooked Farro and a little bit of lettuce (or maybe it was spinach) to theirs, which added some nice texture, but I skipped both because 1) I'm lazy and 2) I'm cheap and didn't feel like buying two kinds of greens. (I also used about 90% less blue cheese.)
Really though, this salad is all about the pickled carrots. They're a little bit sweet, a little bit spicy, and are like little rays of sunshine that brighten up the earthy kale. Even if you don't like the idea of the salad, I urge you to make these carrots. Actually, make a double or quadruple batch of them – they keep well in the refrigerator and are great on all sorts of salads, with noodles, and on their own as a little snack.
I served this as a simple dinner with some garlic bread. We demolished the salad and left almost all of the bread uneaten.
* I know, I'm just as surprised as you are that a place that gives away free pizza with every beer and has a mechanical bull also has one of the best menus (featuring local ingredients, too!) in town. I guess you can't judge a book, or a bar, by its cover. As for the second best burger in town? I say The Point, but Shawn is torn between them and New World.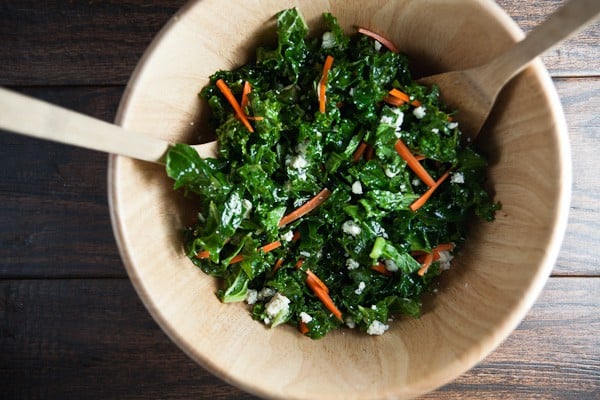 Kale Salad with Blue Cheese + Pickled Carrots
The gingery pickled carrots are the highlight of this simple salad. They only take a few minutes to make, but ar even more delicious if you make them ahead of time and refrigerate them in the pickling liquid overnight. I also like to save time by buying a big bag of chopped kale, which is usually very cheap, rather than taking the time to remove the center stalks and chop it on my own. One big bag will make about 4 dinner-sized salads.
Print
Pin
Rate
Ingredients
¼

cup

Rice Vinegar

1-

inch

piece of Ginger

peeled and sliced into thin slabs (see photo above)

2

Carrots

cut into matchsticks

6

cups

Kale

center ribs removed and torn into bite size pieces

3

Tablespoons

Olive Oil

3

Tablespoons

White Balsamic Vinegar

2

ounces

Crumbled Blue Cheese
Instructions
Put the rice wine vinegar, ginger, and carrots into a small pot set over medium heat; bring to a boil. Remove from heat and allow to cool to room temperature, about 15 minutes.

Remove and discard the tough center ribs from the kale; cut or tear the leaves into bite-sized pieces and put in a large salad bowl. Pour the olive oil and white balsamic over the kale; toss a few times so that the leaves are coated. Let sit 10 minutes to allow the kale to soften.

Just before serving, drain the carrots and discard the ginger. Toss the kale with the carrots and blue cheese.
By