Doughnut Week continues with sweet and salty peanut and honey doughnuts – and a giveaway for a deep-fryer!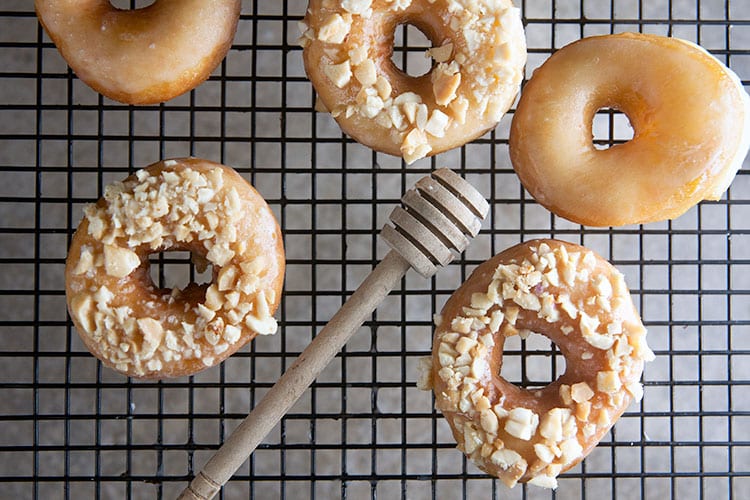 These doughnuts right here? This is what doughnut week is all about! They're crisp on the outside but fluffy and light as air inside. Sticky sweet and just a little bit salty. They taste just like my favorite doughnut shop doughnuts – I can't believe I made them in my own kitchen!
On Monday, I kicked off Doughnut Week with healthy-ish fritters made with bananas and whole wheat flour. Today, all bets are off. These babies are loaded with butter, sugar, and white flour. And, trust me, they're worth every bight. (If you get recipes by email, make sure you click over to see my spiced banana donut holes. For some reason, that emails seems to have gone into a lot of people's spam folders. I wouldn't want you to miss them or the Keurig giveaway that was included in that post!)
Since these salted peanut and honey doughnuts are made with a raised yeast dough, they take a little more time to make than the banana donut holes. Luckily they're crazy easy to make and the raw dough will keep in the refrigerator for about a week, meaning you can fry up a doughnut or two any time you want. (After about 5 days, you can stick the dough in the freezer, where it will stay fresh for several months.)
I topped my doughnuts with a honey-based glaze and chopped peanuts, which turned out to be delicious, but the actual doughnut is pretty basic so you could very easily mix it up up with a maple or vanilla glaze. You could also leave the nuts off entirely or swap them for something else, like sprinkles. Or crumbled bacon!
Maybe you can get some inspiration from the other amazing doughnuts that my friends shared today. I'm completely blown away by their creativity!
Grapefruit Cake Doughnuts
Strawberry Glazed Valentine Doughnuts
Chocolate Chocolate Doughnuts
Blood Orange Cream Cheese Filled Chocolate Glazed Donuts
Peanut Butter Chocolate Dipped Doughnuts
Doughnut Monte Cristo Sliders (I KNOW, RIGHT?!)
Maple Doughnut Breakfast Sandwiches
Baked Chocolate Doughnuts with Chocolate Glaze & Cherry Kool Aid Powder
Raspberry Beignets
Donutmisu
Today's Doughnut Week giveaway is definitely a treat: a Waring Professional Deep Fryer! I know, not the typical giveaway item here, but a fun one nonetheless. Don't forget there's still time to enter Monday's Keurig giveaway, too. (I may or may not have a few more fun surprised up my sleeve for next week!)