These pumpkin pie sticky buns are a delicious twist on a classic pastry. The soft, sweet buns are swirled with pumpkin pie filling, then topped with pumpkin syrup and chopped hazelnuts. One bite and you'll be hooked!
A few years ago, I went on a pumpkin rampage. I made everything from homemade pumpkin ravioli to pumpkin chili. I must have overdone it, because I hardly used any pumpkin at all for the next few years. This year, I'm ready to tiptoe back into the world of pumpkin.
I've been in the mood to bake lately, and have spent the past few weekend in the kitchen perfecting some new pastry recipes. These pumpkin pie sticky buns were an immediate favorite – they're perfect as an easy breakfast along with a cup of steaming hot coffee.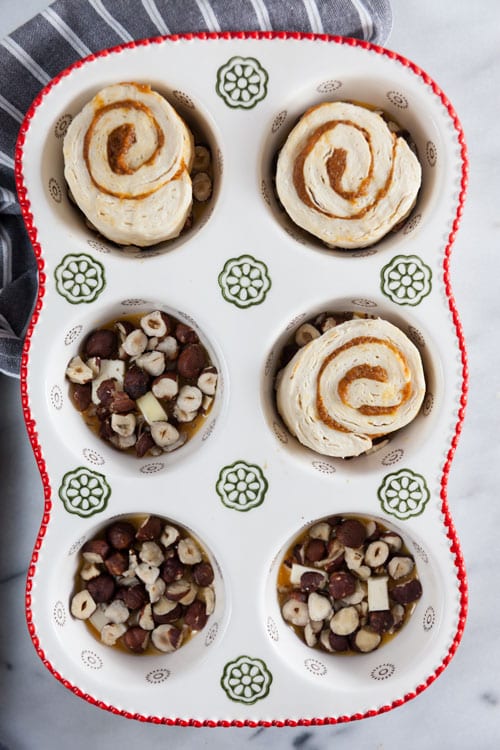 When I first started dreaming up this recipe, I thought I would use pumpkin in the sweet dough and fill them with a classic cinnamon roll filling. After giving it some more thought, though, I decided to keep the dough plain and make an easy pumpkin pie filling for the rolls instead. I couldn't be happier with my choice! The custardy filling gives the buns loads of pumpkin flavor and eliminates the need for any butter in the filling.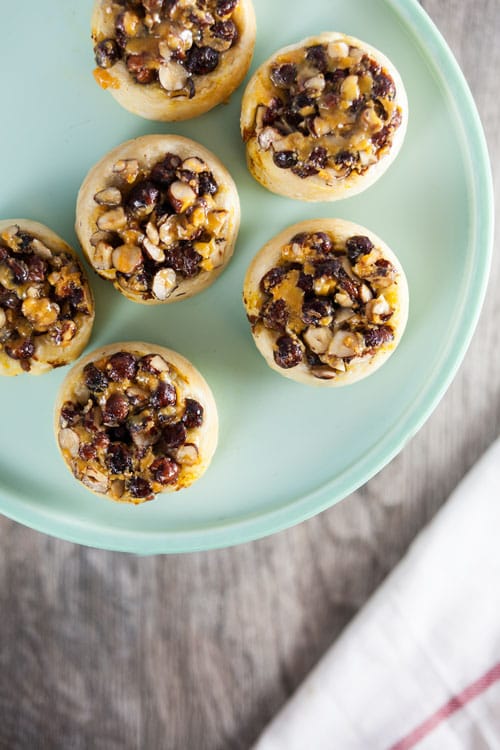 I topped the pumpkin pie sticky buns with chopped hazelnuts and Amoretti Crema di Pumpkin Pie syrup. I love the way the sweet, buttery hazelnuts pair with the pumpkin-pie flavor but, if you prefer, you can also use pecans for a more traditional sticky bun. Whichever you choose, be sure to completely cover the bottom of your pan with chopped nuts – they'll form a barrier between the syrup and the dough, ensuring you'll get that nice, sticky topping that's so important in a sticky bun.
Amoretti Crema di Pumpkin Pie Syrup made the perfect sticky topping without having to mess around with boiling sugar.It has a great pumpkin pie flavor – I can really taste the nutmeg in it – and I love that it's made from all natural ingredients. It's richer and more concentrated than other flavored syrups, without being as cloyingly sweet. You can buy it on Amazon here.
I've been enjoying the syrup in my coffee for the past few weeks (it's delicious in hazelnut coffee, which is where I got the idea to use them instead of pecans on these buns) but since a little goes a long way, there's plenty in the bottle to use in culinary experiments, too (call me crazy, but I really want to try it in baked beans. I think it would be fantastic!)


I developed this recipe for my client, Amoretti. For more information about their products, visit them on Facebook, Twitter, Instagram and YouTube. Thank you for supporting the brands that keep me inspired in the kitchen.