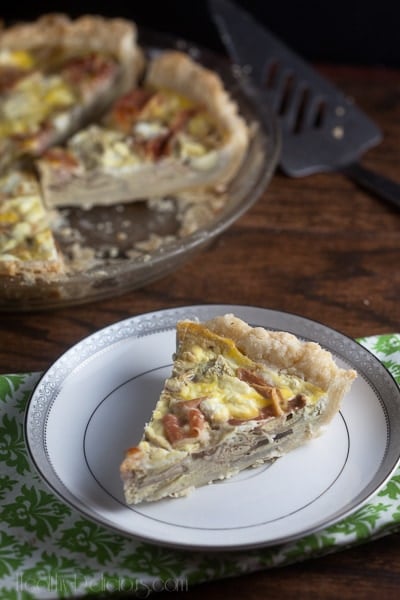 The best pizza I've ever had was at a little neighborhood restaurant in Paris. It was the kind of place where, rather than letting me order a second glass of wine to meet the credit card minimum, they trusted me to go to the ATM across the street and come back to pay. The pizza, which I later learned is called Pizza Quattro Stagioni (or Four Seasons Pizza), was topped with salty prosciutto, earthy mushrooms, delicate artichoke hearts, and briny kalamata olives.
I've been pretty uninspired in the kitchen lately. I blame the weather. I want it to be spring. It's supposed to be spring. I want to eat vegetables and drink lemonade and go outside to take pictures where the light is good. But it's still freezing cold. There's snow on the ground and the grocery store is stocked with that same old boring produce that's been there all winter. I'm over it. And honestly, I'm kind of over food in general. I won't lie: last night, I had toast with peanut butter for dinner.
Since I new I'd be even less in the mood to cook during the week, I decided to make a few dishes over the weekend that I could just home home and reheat after work. I thought a quiche would be nice, but I wanted something a little different than my standard bacon, spinach, and cheddar version. I thought prosciutto and goat cheese would be nice and, remembering that pizza, I added mushroom and artichoke hearts to the mix. It was the highlight of my week! The texture was light and fluffy and the flavors were delicate and spring-like.
This would be a great addition to Easter brunch, or as an easy dinner any night of the week. (To reheat, cover the quiche with foil and bake at 350 for 30 minutes. 10 minutes in the microwave will also do the trick!)