I have a new favorite pancake recipe – and this is it! Raspberry Oatmeal pancakes are delicate and fluffy, with perfectly crisp edges. Top off a tall stack with raspberries, toasted hazelnuts, and honey for an amazing brunch that's ready in under 30 minutes!
I'm so excited about today's recipe! Not only because this is my new favorite way to make pancakes, but also because today is the kickoff to Brunch Week! We've been working on this for months, and it's going to be amazing. 32 bloggers are participating and for the next week (May 5 through May 11) we'll be sharing tons of recipes to celebrate Mother's Day and kick of the summer brunching season. Terri of Love and Confections and Susan of The Girl In The Little Red Kitchen did an amazing job at organizing everything and lining up sponsors for a completely epic giveaway. (Read about the sponsors and get all of the giveaway details here.)
In addition to today's recipe, I'll be sharing a great salad on Wednesday and a great, brunch-worthy cocktail on Friday. But for now, let's get back to those pancakes.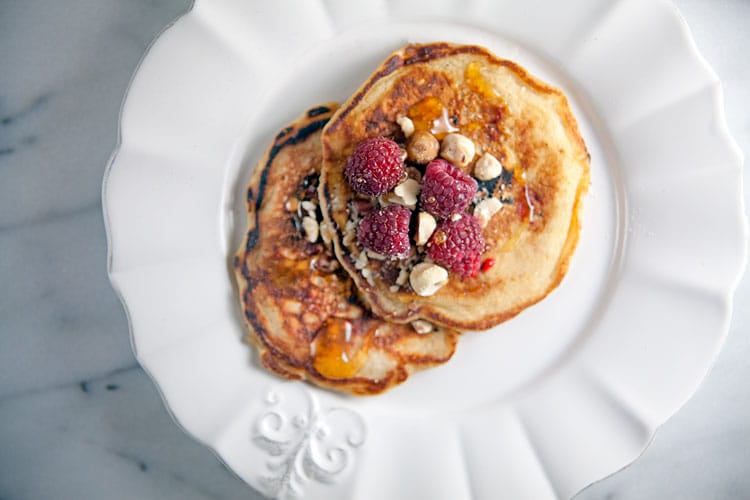 These Raspberry Oatmeal Pancakes are hands-down the best pancakes I've ever eaten. The batter is flavored with vanilla, buttermilk, and just a touch of brown sugar. The texture is spot-on: fluffy in the middle, with crisp, buttery edges. Ground oats keep the pancakes light and give them a subtle nutty flavor that really compliments the raspberries.
I was originally planning to add dark chocolate chips to the batter, but at the last minute I decided to leave them out. Instead, I topped them with toasted hazelnuts, more raspberries, and a drizzle of honey. It was definitely the right choice – I can't imagine eating these any other way.
(If you're not a fan of raspberries – or if they're not in season – these pancakes are also delicious with strawberries ot thinly sliced peaches. You can also make them without any fruit at all, and serve them traditionally with butter and maple syrup.)


***
Don't miss the rest of today's Brunch Week recipes!
Beverages:
Brunch Eggs:
Main Brunch Dishes:
Brunch Breads and Sides:
Brunch Fruit and Vegetables:
Brunch Desserts:
California Walnuts, Bob's Red Mill, Oxo, Dixie Crystals, Whole Foods Market Doctor Phillips, Grimmway Farms, Woot Froot, Vidalia Onion, Baloian Farms, Stemilt and Bonne Maman are providing the prizes free of charge. I received several product samples related to these brands to use for #Brunchweek. For this recipe, I used samples of rolled oats from Bob's Red Mill and brown sugar from Dixie Crystals. All opinions stated are my own.