Creamy almond meal polenta topped with roast mushrooms and poached eggs is a cozy meal that's perfect for a winter brunch.
A lot of times when people hear that I like to cook, they assume that means I'm good at all sorts of domestic tasks. Unfortunately, that couldn't be further from the truth. I'm much better at making messes than cleaning them up and we've been in the middle of redecorating our bedroom for the better part of a year.
If you follow me on facebook, you might already know that I cleaned my kitchen a few weeks ago. It was an all day event (I even organized the inside of my cabinets!) and I was super proud of the results. I didn't take a before picture but let's just say the being able to see your countertops is a very nice thing. What I didn't mention on facebook was that while I was tidying the kitchen, Shawn was working on the living room.
Miraculously, we've managed to keep both clean since then. We actually didn't realize how nice our house was without all of the clutter – now we don't want to leave! Which is very conducive to lazy weekends spent at home. And to brunch.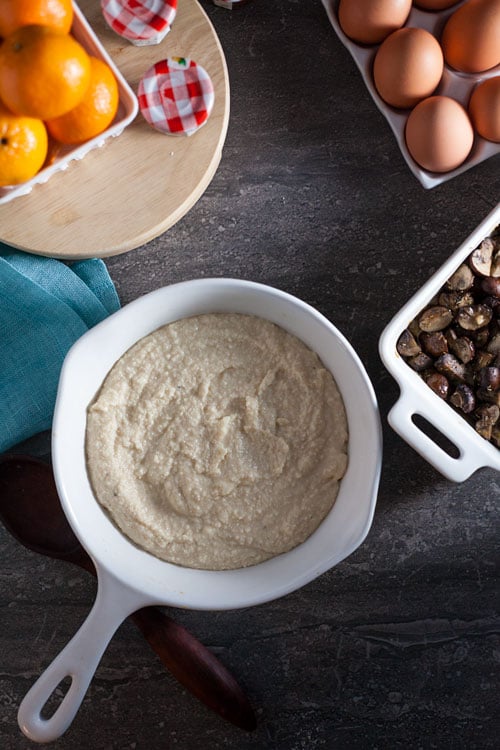 This almond meal polenta topped with roast mushrooms and poached eggs is the perfect meal for a cozy winter weekend at home.
I love using Bob's Red Mill Almond Meal when I bake. I mostly buy it to make macarons, but its nutty flavor is also a delicious way to add great texture and a little extra protein to chocolate chips cookies or banana bread. Then, I got a crazy idea: I decided I wanted to use it in a savory recipe.
The gritty texture reminds me a lot of cornmeal, so I immediately had the thought to try using it in a polenta-like dish. It took a little bit of experimentation to get the recipe just right, but I'm really happy with the result.
The almond meal polenta has a very delicate flavor that's milder and slightly sweeter than cornmeal polenta. Since the almonds read a little bit sweet, I played up the savory aspects by cooking it in chicken stock and stirring in some soft goat cheese. A pinch of hot Hungarian paprika is really nice in it too, although it isn't completely necessary. (I usually love vegetable stock, but unfortunately it doesn't work well in this recipe because it adds too much sweetness. If you don't want to use chicken stock, water is a good substitute.)
The polenta delicious on it's own, but it also really lets the flavors of the roast mushrooms shine. I roast them with a drizzle of olive oil, thyme, and crushed rosemary. As Shawn says they taste "very French." The mushrooms will release some liquid as they cook – don't let it go to waste! If you spoon the liquid over the polenta, it will add a hint of delicious mushroom flavor to every bite.


I created this recipe for my client, Bob's Red Mill. Thank you for supporting the brands that keep me inspired in the kitchen.