Is there anything better than piping-hot pumpkin spice donut holes, fresh from the air fryer? Whether you roll them in cinnamon-sugar or drizzle them with glaze, this donut recipe will definitely put a smile on your face. This easy recipe is dairy-free and made without refined sugar. They can also be made gluten-free!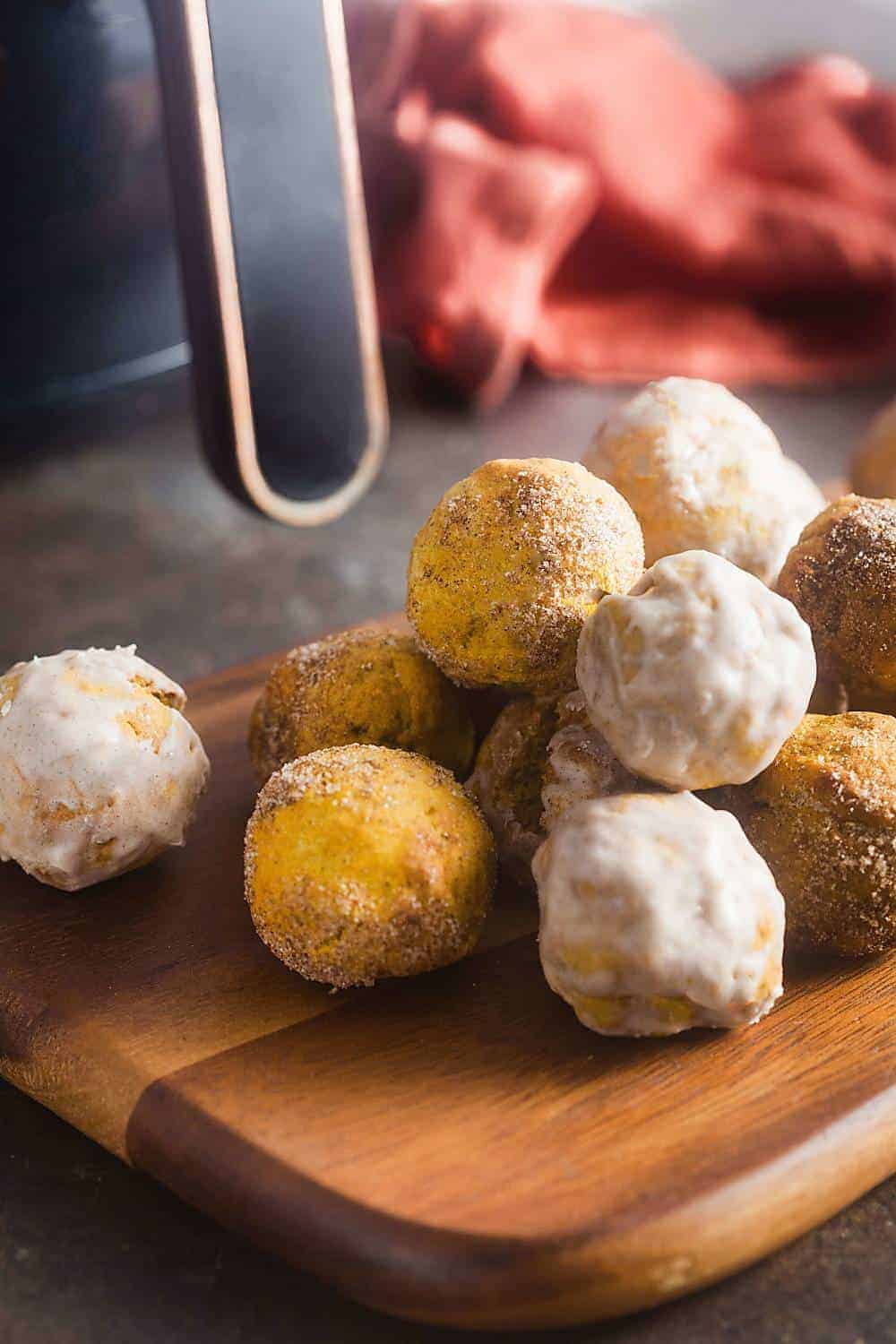 Air Fryer Pumpkin Spice Donut Holes Recipe
Fall is in the air and all of a sudden I'm craving soup, squash, and pumpkin everything. There's nothing that makes me happier right now than sitting down with a steamy cup of coffee and a few of these air fryer pumpkin spice donut holes.
It took me a few tries to get this recipe perfect, but it was well worth the effort (and even the rejects were still super tasty!). These air fryer donut holes hit all the right notes. They're:
✔️Crispy on the outside
✔️Fluffy and cakey on the inside
✔️Yeast-free
✔️Ready in under 30 minutes
You can even make them with whole wheat flour! They do come out a little fluffier with white flour, but they're 100% delicious either way. I love these donut holes rolled in cinnamon sugar, but you can also glaze them if you prefer them a little sweeter.
Looking for something a little more unique? Give my chocolate pumpkin baked donut recipe a try! You'll also love this pumpkin dump cake or keto pumpkin cheesecake.
Can you make donuts in an air fryer?
Absolutely!
Most air fryer donut hole recipes use a yeast-based dough or biscuit dough since it's sturdier and won't lose its shape. But you can make cake donuts too as long as you use a thick dough.
No fussing with hot oil or yeast is definitely a win-win in my book!
If you want to try your hand at yeast-risen donuts, this recipe from Cooking Light is excellent.
How to make air fryer donut holes:
Making these pumpkin spice donut holes is so easy! Start by mixing together flour, coconut suagr, baking powder, pumpkin puree, warm spices, eggs, and milk into a soft dough.
The dough should be very soft, but still firm enough to easily roll into balls. If you need to, add more flour one tablespoon at a time until the dough is easy to work with. If your house is very warm, you can also pop the dough into the refrigerator for 15 minutes to help it firm up.
Next, roll tablespoon-sized pieces of dough into balls. They'll look a little small, but they'll puff up and rise when they cook so don't make them too big now! I like to use a small cookie scoop to ensure the donuts are all the same size.
If you want, roll the donuts in cinnamon sugar now. Unlike with traditionally fried donuts, you'll need to do this before they cook – they sugar won't stick to them after.
Finally, spray your air fryer basket with cooking oil – I love using either coconut oil or ghee. Add a few donuts holes to the basket and cook at 370 degrees for 9 minutes.
Be sure to let these pumpkin spice donut holes cool for a few minutes after you take them out of the air fryer – they'll be very hot inside!
If you want to glaze the donuts, you'll want them to cool completely first.
Can I make my own pumpkin pie spice?
You can buy premixed pumpkin pie spice at the store, but if you don't want to commit to that quantity you can also make your own from spices you likely already have.
Just mix together 1.5 Tablespoons cinnamon, 1 teaspoon ginger, 1 teaspoon nutmeg, 1/2 teaspoon allspice, and 1/2 teaspoon ground cloves.
Use what you need for this recipe, then keep the rest in an airtight container. I love sprinkling it over my morning cappuccino!
Can I make these Gluten Free?
Yes! They come out great when made with measure for measure gluten-free flour blends. I personally love the ones from Kind Arthur and Trader Joe's.
Air Fryer Pumpkin Spice Donut Holes
Is there anything better than piping-hot pumpkin spice donut holes, fresh from the air fryer? Whether you roll them in cinnamon-sugar or drizzle them with glaze, this donut recipe will definitely put a smile on your face.
Recipe updated 8/2021 to make these donut holes even softer and fluffier!
Print
Pin
Save
Saved!
Ingredients
1 ¾

cups

all-purpose flour

2

teaspoons

baking powder

2

teaspoons

pumpkin pie spice

¼

teaspoon

kosher salt

⅓

cup

packed coconut sugar

1

large egg

1

teaspoon

vanilla bean paste or vanilla extract

¼

cup

almond milk

or nondairy milk of your choice

⅔

cup

pumpkin puree
Instructions
In a mixing bowl, combine the flour, baking powder, ie spice, and salt. Mix well. Stir in the coconut sugar and mix until combined.

Stir in the egg, milk, and vanilla to form a batter, then mix in the pumpkin puree until fully combined.

Divide the dough into 24 tablespoon-sized balls, adding in additional flour 1 tablespoon at a time if necessary until the dough is thick enough to hold together.

Spray with olive oil. If desired, roll the balls in cinnamon-sugar.

Add the donuts to your air fryer in a single layer, be careful not to crowd the basket or let the donuts touch. Bake at 370F for 9 minutes. Repeat with remaining donuts.

If desired, let the donuts cool completely, then glaze with a combination of 1/2 cup powdered sugar or powdered sugar substitute, 1/4 teaspoon cinnamon, and 3 tablespoons nondairy milk.
Nutrition Facts
Air Fryer Pumpkin Spice Donut Holes
Amount Per Serving (1 donut hole)
Calories 46
Calories from Fat 9
% Daily Value*
Fat 1g2%
Cholesterol 9mg3%
Sodium 63mg3%
Carbohydrates 8g3%
Protein 2g4%
* Percent Daily Values are based on a 2000 calorie diet.