Bagel shop flavors from the comfort of your own kitchen! With a crisp outer crust and a chewy center, these homemade pumpkin bagels are ready in just about 30 minutes. Slather them with butter, cream cheese, or Nutella for super easy weekend breakfasts.
The first time I ever heard of a pumpkin bagel was a few years ago when I went to visit a friend in Ithaca.
I hadn't been to Ithaca in years, and it was so nice to go back and spend the day there. We went to lunch, visited the annual library sale (where I bought a few fun new cookbooks), walked around the commons, and ate cheese fondue.
It was pretty much a perfect day… except that I didn't get a pumpkin bagel. We had gone to the Ithaca Bakery for lunch and although my pear and blue cheese sandwich was amazing, I was jealous of Julie's toasted pumpkin bagel slathered with Nutella.
We went back a little later and I attempted to buy a few bagels to bring home, but they, unfortunately, had none left. It didn't take me very long to decide that I'd just have to make my own bagel recipe the very next day.
Luckily I've made homemade bagels before and it didn't take me long to come up with a delicious bagel recipe. But flash forward to this fall and I felt the nagging urge to improve it, make it easier, and adapt it to be made in the air fryer.
And wow was that a good idea.
If you love pumpkin as much as I do (and who doesn't?) then this easy recipe is for you. They're the perfect seasonal bagel, but you can definitely make them all year round.
---
A quick breakfast treat: These homemade bagels are yeast-free, so they don't need time to rise
Made in the air fryer: The air fryer gives these bagels an amazing crisp-chewy crust just like my favorite NYC bagels shops. But you don't need to mess with a huge pot of boiling water before they bake like traditional bagels require.
The house will smell like a dreamy, delicious fall bakery while these to bake.
Homemade Pumpkin Bagel Ingredients
All-purpose flour. You can use bread flour if you like, but I prefer the chewiness the good old all-purpose lends to these bagels.
Baking powder. These bagels are yeast-free, so they rely on baking powder to help them rise. Check the date on your and make sure it's fresh!
Kosher salt. The amount of salt in these seems generous, but it's vital for giving these bagels their classic flavor. Without it, they'll be bland and lack dimension.
Pumpkin puree. Canned pumpkin puree (not pumpkin pie filling) gives these bagels a delicious fall flavor and golden color.
Vanilla Greek Yogurt. The acid in yogurt helps relax the gluten and tenderize the dough, giving these bagels a great texture. I love the subtle sweetness that vanilla yogurt gives these pumpkin bagels. Be sure to use Greek yogurt; traditional French-style yogurt is too thin and your dough will be too wet.
Pumpkin Pie Spice (optional). If you simply can't imagine a pumpkin bagel that doesn't also have the familiar flavor of fall spices like cinnamon and other spices, go ahead and mix 1/2 teaspoon of pumpkin pie spice into the dough. I personally find that these spices overpower the natural pumpkin flavor and prefer to make them without it. They're definitely good either way though!
Egg. Brushing the bagels with egg before cooking them gives them a beautiful brown sheen.
How to make delicious pumpkin bagels in the air fryer
Strain the pumpkin. Let the pumpkin hang out in a fine mesh strainer for a few minutes so that any thin liquid drains out. This doesn't take long, but will help the puree thicken up and prevents your dough from being too wet. It should be roughly the same consistency as Greek yogurt.
Mix together the bagel ingredients. These are the dry ingredients – flour, baking powder, and salt. No yeast!
Add in the wet ingredients. Stir in the Greek yogurt and pumpkin puree until a sticky dough forms.
Lightly knead the dough. Turn the dough out onto a floured work surface and knead it 5 or 6 times, until it comes together in a smooth ball.
Form the bagels. Roll the dough into a log and use a sharp knife to cut it into 8 even pieces. Bring the two ends of each dough piece together and pinch to seal them into a bagel shape. The holes will look really big right now, but don't worry – once the bagels rise they'll fill in and look more normal.
Brush the bagels with a mixture of egg and water. This mixture gives the bagels a nice golden sheen and a crisper crust.
Bake them in the air fryer. Place each dough ball on the baking tray and cook for about 14 minutes at 325ºF, or until they have a crisp, golden crust and are cooked inside (an instant-read thermometer should register 190ºF.)
These delicious bagels are best served warm. Once they're done baking, slather them with cream cheese or butter and enjoy that delicious pumpkin flavor.
Handy tip
Instead of rolling the dough into a log, you can form it into round balls and poke a hole in the center of each ball with your finger. I find I have more control over the shape when I roll the dough, but some people prefer making them this way. Neither way is wrong!
Frequently Asked Questions
Should I toast air fryer bagels?
Not necessary! These air fryer pumpkin bagels are best served fresh, but if you want to toast them, you certainly can. The bagels also lose their crisp crust over time, so second-day bagels can benefit from a quick trip through the toaster.
Can I make these without the pumpkin?
Yes! Add an extra 1/4 cup of Greek yogurt to replace the moisture that the pumpkin puree would add. Be sure to increase the amount of all-purpose flour as needed if your dough is too wet.
Can I make gluten-free pumpkin bagels?
These bagels come out great if you use a 1:1 gluten-free flour blend (I like King Arthur and Bob's Red Mill, both of which are easy to find at any major grocery store). Add 1-2 more tablespoons of flour while kneading if needed to get your dough the right consistency. Do not attempt to make these with almond flour of coconut flour — it won't work.
Will air fryer bagels taste like fried food?
No – they're just chewy and delicious like a really great bagel should be!
I don't like pumpkin. What else can I use?
I think you could make these bagels with sweet potato puree. I haven't tried it myself, but if you want to experiment leave me a comment and let me know!
Help! My dough is too wet and sticky to roll out.
This can happen sometimes depending on the brand of yogurt you use and the consistency of your pumpkin puree. Knead in additional flour 1 tablespoon at a time until the dough comes together. It should be soft, but smooth.
I don't have an air fryer. Can I bake these bagels?
You can bake these pumpkin bagels at 400ºF for 20 minutes. Keep in mind that the crust won't be quite as crispy as the air fried version.
Are these bagels healthy?
They're pretty healthy compared to other bagels! They're made with simple, whole food ingredients and real pumpkin. Plus, the Greek yogurt adds a little protein. I also love the build in portion control of making these bagels a little on the smaller side.
What should I put on these bagels?
I think the bagels taste best with cream cheese or Nutella. If you wanted to get really decadent you could even go for butter and cinnamon-sugar mixture! But they're delicious all on their own, too.
More delicious pumpkin recipes for breakfast:
More healthy breakfast recipes: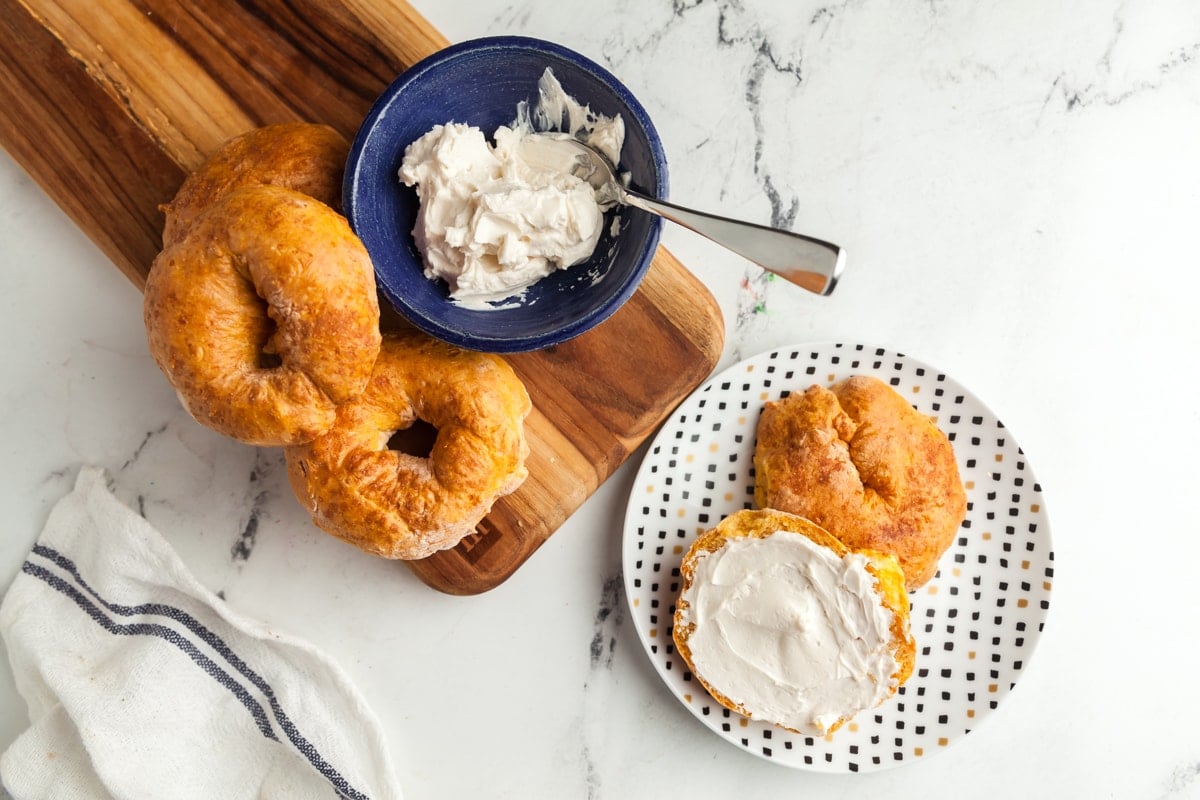 Homemade Pumpkin Bagels
These light and chewy bagels have a subtle pumpkin flavor that goes great with Nutella, cream cheese, or butter and cinnamon-sugar. I also love making my own sweet cream cheese spread with vanilla or maple syrup.
I left the flavor of this recipe simple to maxmize their versatility – try them untoasted, dipped into a hearty vegetable soup! You'll love having these hot and fresh bagels right from your own kitchen!
Print
Pin
Save
Saved!
Ingredients
¼

cup

pumpkin puree

1

cup

all-purpose flour

2

teaspoons

baking powder

1

teaspoon

kosher salt

¾

cup

vanilla flavored Greek yogurt

1

large

egg

1

Tablespoon

water

½

teaspoon

pumpkin pie spice

(optional)
Instructions
Strain the pumpkin puree through a fine mesh strainer or a piece of cheesecloth for 5 minutes or until it's about the same texture as Greek yogurt.

In a marge mixing bowl, combine the flour, baking powder, and salt.

Mix in the pumpkin puree, Greek yogurt, and pumpkin pie spice (if using) to form a sticky dough.

Turn dough onto a floured surface and knead 5-6 times, until smooth.

Divide the bagel dough into 4 pieces. Roll each piece of dough into an 8-inch rope. Bring the ends of each rope together and pinch to seal.

In a small bowl, whisk egg and water together. Brush the top of each bagel with the egg mixture.

Place the bagels in your air fryer basket in a single layer. Air fry at 325ºF for 14 minutes, until criso and golden brown.
Nutrition Facts
Homemade Pumpkin Bagels
Amount Per Serving (1 bagel)
Calories 160
Calories from Fat 18
% Daily Value*
Fat 2g3%
Cholesterol 48mg16%
Sodium 826mg36%
Potassium 136mg4%
Carbohydrates 27g9%
Protein 9g18%
Vitamin A 2452IU49%
Vitamin C 1mg1%
Calcium 175mg18%
Iron 2mg11%
* Percent Daily Values are based on a 2000 calorie diet.