Start your day off on the right foot with these summer vegetable breakfast tacos, filled with soft scrambled eggs, fresh produce, and lactose feee cheese.
I created this recipe for my client, GO VEGGIE. Thank you for supporting the brands that keep me inspired in the kitchen.

The farmers markets have moved back outside and the first summer vegetables are finally starting to make an appearance. By August I always seem to take for granted, but in June it's still all exciting and new – I love this time of year! I love being able to wander around the various stalls outside, bring my imperfect, beat up vegetables home in my canvass tote, and combine them with a few kitchen staples to cook up something amazing. We're lucky that our market is open year-round, but it's just not the same when it's inside.
These summer vegetable breakfast tacos make the most of some of my favorite produce. Zucchini and yellow squash are cooked for just a minutes in a super hot pan to highlight their flavor before getting tucked into charred tortillas with soft scrambled eggs, juicy tomatoes, and my favorite lactose-free cheddar shreds.
Top them off with your favorite taco garnishes. I like cilantro, green onion, and a drizzle of thin, hot sauce-like salsa. I'd normally throw a slice or two of avocado on there, too, but avocados don't grow here in the Northeast and I didn't have time to go to the store.
I was introduced to the concept of soft scrambled eggs a few years ago and quickly fell in love. They take a few minutes longer to make than most eggs, but they're well worth it. Soft scrambled eggs practically melt in your mouth – they're custardy, wobbly, and never tough or dry.
They're so soft that they almost don't even need cheese. But let's be real – pretty much anything can be made even better with the addition of cheese. Right? Right.
I added GO VEGGIE lactose free cheddar shreds to these tacos for some of that great cheesy flavor without any guilt. In addition to being lactose free, GO VEGGIE's cheddar shreds have 35% fewer calories and half the fat of traditional cheddar, plus it doesn't have any cholesterol or saturated fat. The warmth of the eggs and tortilla melts the cheese just enough to make it perfectly gooey.
These summer vegetable breakfast tacos are bright and fresh, thanks to add of that fresh produce. I love making them for a lazy Sunday brunch, but they also work as a fast and easy weeknight dinner. I hope you love them as much as I do!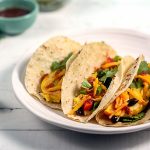 Summer Vegetable Breakfast Tacos with Soft Scrambled Eggs
Print
Pin
Rate
Ingredients
6

large eggs

1

tablespoon

olive oil

1

small zucchini

1

small yellow squash

6

corn tortillas

½

cup

black beans

drained

1

cup

cherry tomatoes

quartered

1

cup

GO VEGGIE cheddar shreds

Cilantro

green onions, salsa/hot sauce, and limes for serving
Instructions
Crack the eggs into a small saucepan. Add 2 tablespoons water and whisk well, until whites and yolk are fully combined. Cook over medium-low heat, whisking frequently, for 10-15 minutes or until the eggs form large curds and are just set. Remove the eggs from the heat while they still look slightly undercooked – the residual heat will cook them the rest of the way. Season with salt and pepper.

While the eggs cook, heat the oil in a large skillet set over high heat. Add the zucchini and yellow squash. Cook 1-2 minutes on each side, or until lightly charred and cooked through. Season with salt and pepper.

Wipe the skillet clean and return to the burner. Sprinkle the tortillas with water. Add the to hot pan and cook for 30-45 seconds on each side, or until lightly charred. Remove form the pan and wrap the tortillas in a kitchen towel or place in a tortilla warmer.

To serve, divide the eggs between the tortillas. Top each taco with beans, squash, and tomatoes. Top with cilantro, green onions, salsa/hot sauce, and lime as desired.
Nutrition Facts

Summer Vegetable Breakfast Tacos with Soft Scrambled Eggs

Amount Per Serving

Calories 207

Calories from Fat 99

% Daily Value*

Fat 11g17%

Cholesterol 186mg62%

Protein 12g24%

* Percent Daily Values are based on a 2000 calorie diet.

By