Is anyone else having a really hard time wrapping their head around the fact that it's Memorial Day weekend already? Where have the first five months of 2013 gone?! Based on the weather, I don't think Mother Nature isn't quite ready for the unofficial kickoff to summer either – it's about 45 degrees outside and pouring rain. Gross. (It's ok, I'm not ready for summer anyway – I need to lose a few pounds first! If you're in the same boat and want some extra motivation, consider joining my diet bet so we can cheer each other on!)
This weekend, the Sunday Supper gang is celebrating summer with a picnic theme. I'm really excited about this theme because I LOVE picnics! We try to go on as many as we can each summer – either at SPAC or Tanglewood or just at the park. They range from super casual, with sandwiches grabbed from Subway at the last minute, to more elaborate affairs with cold fried chicken or "fancy" sandwiches (my favorite has prosciutto, soprasetta, smoked mozzarella, roasted red peppers, and asparagus). There's just something about eating outside that makes food taste so much better!
This week I decided to make a recipe that I've been dying to try for forever: Salmon in a Jar from Dorie Greenspan's book, Around My French Table
. Now that I've tasted it, I'm kicking myself for not trying it sooner! This is classic bistro food, with succulent cured salmon and creamy boiled potatoes swimming in seasoned olive oil.
It takes a little advance planning – you'll need to start the salmon the night before – but it's otherwise effortless and the results are well worth it. This meal is pure decadence, the kind of meal that you'll happily sit over for hours. And, since you prepare and serve the dish in jars, it's very portable – perfect for a picnic! Serve it with crusty bread and some tangy olives and pickles to balance out the fatty fish and oil. A little champagne or prosecco doesn't hurt either. (my picnic basket always, always, always includes a bottle of wine!)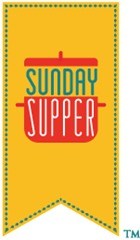 As always, be sure to check out what the other Sunday Supper participants brought to the table and join us from 7-8pm EST for a Twitter chat all about picnics!
Salads and Slaws:
Sandwiches and Mains:
Desserts:
Drinks: