Chocolate cannoli sandwich cookies are greater than the sum of their parts. The crispy chocolate cookies are awesome on their own – they remind me of the chocolate part of an Oreo – and if you're anything like me you'll be tempted to eat the vanilla bean cannoli filling by the spoon full (I won't tell anyone!) Sandwiched together, they're out of this world! This recipe is brought to you in partnership with Nielsen Massey.
When it comes to Easter dessert, there are two ways you can go. First, you can for for something springy and bright like lemon cupcakes or banana cream pie. That's what I usually go for. Or you can go all out and embrace the chocolate frenzy with something rich an indulgent. I don't think I've ever actually eaten a chocolate cannoli on Easter, but it seems like it would be an obvious fit.
Of course by the time you've eaten brunch, dinner, and all the chocolate you could find in between, you might not have room for a heavy dessert. That's where these two-bite chocolate cannoli sandwich cookies cookies come in. They're rich and chocolately and a great way to satisfy your sweet tooth without going completely overboard.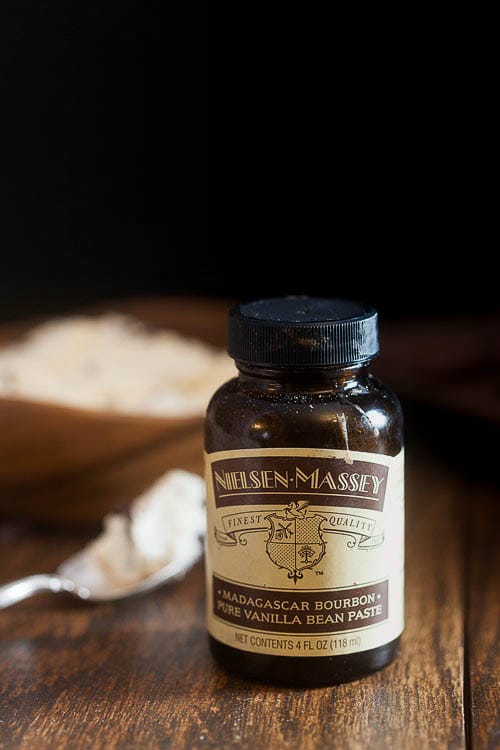 People think of chocolate and vanilla as opposites, but they really come together and make recipes sing. Vanilla has a place in juts about every baked good that I make. In these cookies, it adds an extra layer of deep, earthy flavor that makes the chocolate seem even more intense.
I also added a hefty dose of vanilla to the filling itself, which gives it a little bit more oomph. Traditional vanilla extract would work ok, but I adore this vanilla bean paste from Nielsen-Massey (if you take a close look, you can tell that my jar is well-loved). It adds intense vanilla bean flavor (and those sought after dark flecks) to your recipes, without the hassle of actually having to scrape out a vanilla bean. Plus it seems to last for practically forever!
Since I wanted my cookies to be uniformly sized for these sandwiches, I pulled out my cookie press – it's always nice to have an excuse to make press cookies outside of the Holiday season! If you packed your away, or if you don't have one, you can also make plain rounds by dropping teaspoons of dough onto your baking sheet, then pressing them flat on top, like you would with a peanut butter cookie.
Ingredients
For the cookies
¾

cup

butter

softened

½

cup

sugar

2

teaspoons

vanilla bean paste

such as Nielsen-Massey

1

large egg

1 ¼

cup

flour

⅓

cup

unsweetened cocoa powder

¼

teaspoon

baking soda

1

pinch

salt
For the vanilla bean cannoli filling
1

cup

whole milk ricotta

¼

cup

powdered sugar

1

teaspoon

vanilla bean paste

such as Nielsen-Massey

¼

cup

mini chocolate chips

optional
Instructions
Heat your oven to 375ºF.

In a large mixing bowl, cream together the butter and sugar until light and fluffy. Mix in the egg and vanilla. Stir in the flour, cocoa powder, baking soda, and salt until a thick dough forms.

Using a cookie press fit with a flower shaped disc, pipe the cookie dough onto an ungreased baking sheet (alternatively, form the cookies by dropping teaspoons of dough onto the baking sheet, then press down on the tops to flatten them slightly.)

Bake 8-10 minutes, or until set. Let cool completely.

To make the filling, mix together the ricotta, sugar and vanilla bean paste until smooth. If desired, fold in mini chocolate chips. Refrigerate 15 minutes, or until ready to use.

To assembly the sandwiches, place 1 teaspoon of cannoli filling onto a cookie. Top with a second cookie.
I created this recipe for my client, Nielsen Massey. Learn more about them on their website or follow them on Facebook, Twitter, Pinterest, and Instagram.Thank you for supporting the brands that keep me inspired in the kitchen!
By