Have you guys seen this thing that people have been doing this summer, where they're putting whole grains in their green salads? I first stumbled across it when I was at Disney World, and I've seen it a few times since. It's kind of brilliant! In addition to bulking your salad up and making it more filling (1/4 cup of quinoa will add 6 grams of protein!), it soaks up the dressing really well, taking on tons of flavor and distributing it throughout your entire dish. Not to mention that it's a great way to use any leftover cooked gains that you might have hanging our in your fridge.
Between the quinoa, the grilled peaches, and the awesome jalapeño vinaigrette, this salad takes a little more effort than most, although it's still easier than most entrees. It's worth it though – its bold contrast between sweet, spicy, and creamy flavors and textures will earn it a spot on your list of summertime favorites.
On a side note, you might notice that I've given the site a bit of a facelift. I wanted to streamline things and I'm also trying to get everything to load faster and be more mobile-friendly. I'm still making a few cosmetic changes, but everything should be working fine – if you come across something that seems out of place or that isn't working properly, please shoot me an email and let me know!
(PS: Ever wonder what the best way to halve a peach is? After destroying dozens of them, I think I've finally figured it out! Start cutting vertically from the stem end and follow the natural seam/crease all the way around. The two halves should pop apart with no trouble at all.)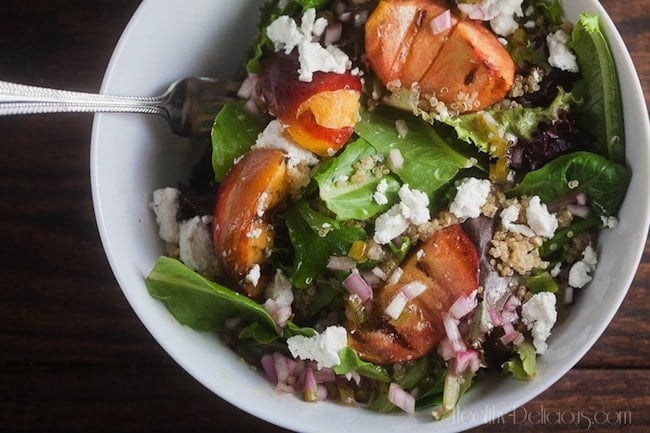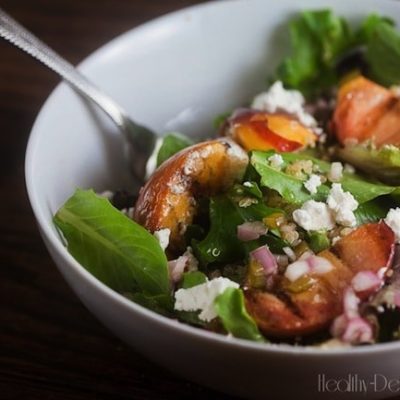 Grilled Peach Salad with Jalapeno Vinaigrette
I made quinoa especially for this salad, but it's also great with any leftover whole grains that you might have in your refrigerator. If you use a bulkier grain like farro, reduce the amount to 1/2 cup.[br]The dressing can be kept covered in the refrigerator for 2-3 days and is also great drizzled over grilled fish.
Print
Pin
Rate
Ingredients
2

cups

water

1

cup

quinoa

rinsed

1

jalapeno pepper

1

small shallot

minced

1

lime

juiced

2

tablespoons

tarragon vinegar or white wine vinegar

2

tablespoons

extra virgin olive oil

4

peaches or nectarines

8

cups

salad greens

2

ounces

goat cheese
Instructions
Add the water and quinoa to a small saucepan. Bring to a boil; simmer 10 minutes or until quinoa is cooked and water is absorbed. Let cool.

Meanwhile, prepare the dressing. Heat a dry cast iron pan or another heavy skillet over high heat. Add the jalapeno Cook, turning occasionally, until blackened and blistered on all sides – about 8 minutes. Let cool. Discard stem and seeds; mince pepper.

Add the pepper, shallot, lime juice, vinegar, and oil to a small jar. Cover and shake well to combine the ingredients.

Heat a grill or grill pan to high heat (500-degrees). Cut the peaches in half and remove the pits. Spray the cut edges lightly with olive oil spray. Place the peaches cut-side down on the grill; cook 5-7 minutes or until slightly softened. Remove from grill and slice.

Toss salad greens with quinoa and vinaigrette. Top with grilled peach slices and crumbled goat cheese.
Nutrition Facts

Grilled Peach Salad with Jalapeno Vinaigrette

Amount Per Serving

Calories 437

Calories from Fat 135

% Daily Value*

Fat 15g23%

Protein 11g22%

* Percent Daily Values are based on a 2000 calorie diet.

By