I've never been into oatmeal. Even when I was a kid, I wasn't interested unless it had those weird eggs things that melted into gummy bears. Those were them best! (Do you remember them? Man, do I miss the 80's!) Otherwise, it was Cream of Wheat for me. Please and thank you.
I tried some steel cut oats the other day. Nope, not for me. I took about two bites and tossed the rest.
Since I already knew I love puffed millet (especially in my earl grey granola bars), I decided to give millet porridge a try – and I loved it!
For this blueberry almond millet porridge, I started by toasting the millet to bring out it's flavor. Then I threw it into my vitamix along with some chia seeds and almonds to grind it up a little.
This makes the porridge creamier and also cuts down on cooking time. I cooked the millet in almond milk and stirred in some frozen blueberries, brown sugar, and a big pat of butter at the end – they make the porridge go from tasting like "health food" to tasting like a delicious breakfast in about 30 seconds.
There's no way I'd ever spend 20 minutes making myself breakfast before work, but luckily this porridge reheats really well!
Divide it into single serving containers and press a piece of plastic wrap directly on top of the porridge before putting the lid on. The plastic will keep it from getting crusty and gross.
To reheat, remove the plastic and add a splash of almond milk. It will heat up on the stove in about 5 minutes, or you can stick it in the microwave for a minute. I also think it tastes great cold.
If you're a blueberry love, you'll also adore these gluten free blueberry scones for an easy breakfast on the go!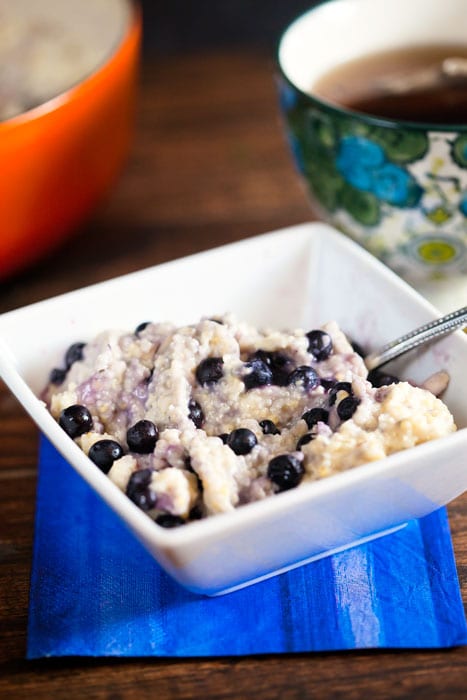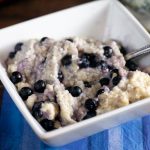 Blueberry Almond Millet Porridge
I used frozen wild Maine blueberries, which are smaller and less sour than regular blueberries, especially in the winter when fresh berries aren't at their peak. Throw them into the pot straight from the freezer – it only takes an minute or two for them to warm up.
Print
Pin
Save
Saved!
Ingredients
1

cup

millet

½

cup

almond slivers

divided

1

tablespoon

chia seeds

1 ½

cups

water

1 ½

cups

unsweetened almond milk

1

pinch

salt

1

cup

frozen blueberries

2

tablespoons

brown sugar

1

tablespoon

butter
Instructions
Toast the millet in a dry saucepan set over high heat for 2-3 minutes, until the color deepens slightly and it starts to smell toasty. Transfer to a blender or food processor. Add the chia seeds and 1/4 cup almond slivers; pulse several times until the millet cracks and has the texture of whole grain flour.

Return the millet mixture to the saucepan, along with the water, almond milk, and salt. Simmer over medium heat 15-20 minutes, stirring frequently, until the millet softens and becomes creamy. Stir in the remaining almonds, blueberries, brown sugar, and butter. Cook until the blueberries defrost and the butter melts, 1-2 minutes.
Nutrition Facts
Blueberry Almond Millet Porridge
Amount Per Serving
Calories 258
Calories from Fat 95
% Daily Value*
Fat 10.6g16%
Protein 7.5g15%
* Percent Daily Values are based on a 2000 calorie diet.