Crunchy homemade granola made in your slow cooker! This crock pot granola recipe has a hint of cinnamon, dried cherries, and almonds. Make it your own by swapping out the fruit and nuts for your favorites!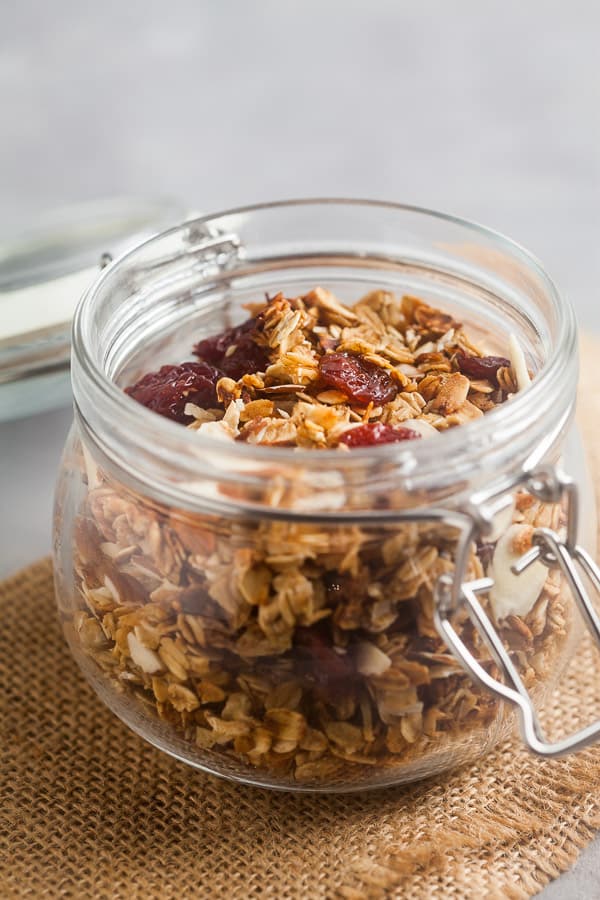 Did you know that you can make crispy, crunchy homemade granola right in your slow cooker?
That's right, your crock pot isn't just for soups and stews! In fact, making crispy slow cooked recipes is one of my favorite tricks. I share a bunch of them in my new Healthy Meal Prep Slow Cooker Cookbook, from an awesome veggie pot pie topped with crispy crust to cranberry-orange scones that are perfect for breakfast on the go.
The naturally sweetened cherry-almond granola is one of my favorite recipes in the book both because it's so tasty and because it's so impressive. It doesn't matter how many times I make it, it still amazes me every time I give it a final stir and hear it shaking around.
(If you love granola as much as I do, you'll also want to be sure to check out my carrot cake granola and these chewy earl grey granola bars.)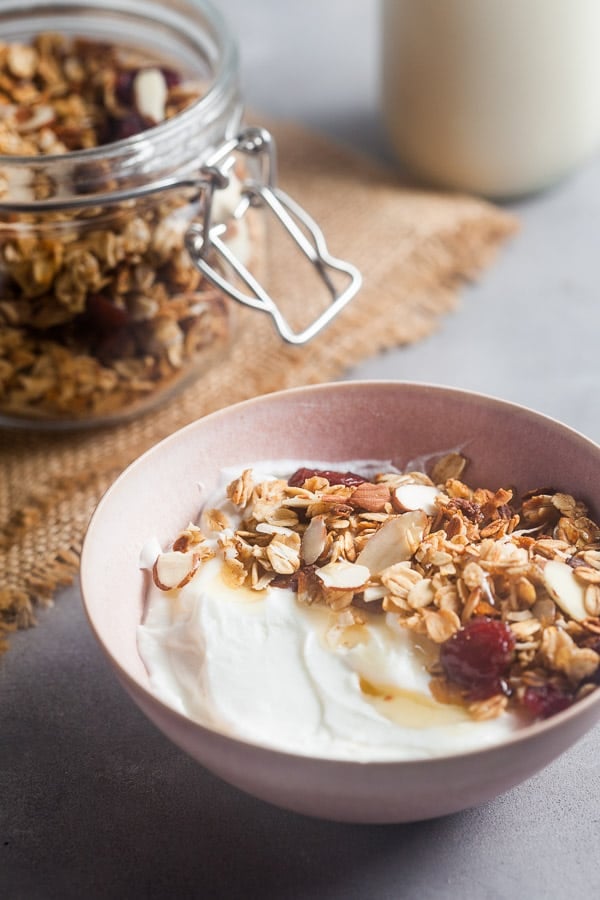 Homemade Granola Ingredients:
To make this crock pot granola you'll need a few pantry staples:
Rolled Oats: Because granola wouldn't be granola without them!
Shredded Coconut: This adds great flavor and texture and gets nice and toasty
Honey: For the perfect touch of sweetness
Cinnamon: So tasty and it smells so good!
Egg Whites: These help the granola form crispy clumps
Mix-Ins: I went with dried cherries and slivered almonds for this granola recipe, but you can use any combination of dried fruit or nuts that you like
Slow Cooker Granola Method:
To make slow cooker granola, start by spraying your slow cooker insert with cooking spray, then mixing the oats, coconut, honey, and cinnamon together.
Next, stir in the egg whites, making sure the oats are evenly moistened.
Put the lid on, but leave it slightly ajar. I stick a wooden spoon into the crock to prop it open a little. This lets the steam escape and helps the oats crisp up instead of getting soggy.
Stir in your favorite mix-ins, then spread the cooked granola out onto a baking sheet to help it cool faster. It will continue to crisp as it cools.
I love eating this healthy granola recipe in a bowl with milk or sprinkled over yogurt with a drizzle of honey or maple syrup. It's also great on top of ice cream, or as the base to trail mix with pretzels and M&Ms or chocolate chips.
Store the granola in an airtight container at room temperature for up to two weeks or freeze for up to 3 months.