Like most of the country, New York has been suffering through a heat wave for the past week. Quite frankly, it's too hot to cook or even to eat anything very substantial. For the first few days I was content eating salads for dinner, but after more than two or three days of salad I start to get cranky so I tried to think of something that would satisfy my raving for real food without requiring me to actually cook (since the 5 minutes I spent over the stove sautéing onions last night left me so hot that I couldn't even enjoy the steak that Shawn grilled for me).
An ice-cold gazpacho seemed like it would hit the spot, but that suggestion was met with a resounding, "No way!" My effort to convince Shawn that gazpacho is basically just pureed salsa (the only way he'll eat raw tomatoes) didn't get me anywhere. Luckily, I had this recipe up my sleeve — a sightly spicy watermelon soup without a single tomato.
Loaded with cucumber and yellow bell pepper and enriched with an almond-cilantro pesto, this gazpacho doesn't have the cloying sweetness of so many other fruit-based soups — you definitely won't mistake it for dessert! Requiring little more than a blender and a refrigerator, it's the perfect way to beat the summer heat. Serve it with a side of store-bought breadsticks for a satisfying dinner that even the staunchest tomato-hater will love.
This gazpacho is delicious on its own, but if you want to go crazy add a dash of angostura bitters or sherry peppers sauce to your bowl. You'll be glad you did! It adds an extra dimension of flavor that takes this soup from great to out-of-this-world.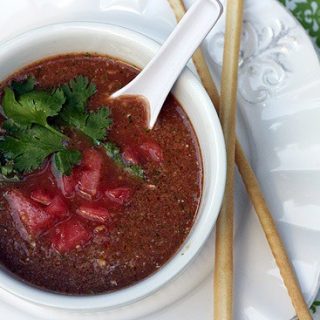 Ingredients
3

pound

Watermelon

peeled and cut into 1-2 inch cubes

1

Cucumber

peeled and chopped

1

Yellow Bell Pepper

seeded

¼

cup

fresh Cilantro

12

raw/unroasted Almonds
Almonds
1

Jalapeno

roughly chopped

1

Tbs.

Olive Oil
Olive Oil
1

Lime

juiced

Black Pepper

to taste

Bitters or Sherry Peppers Sauce plus additional watermelon for garnish

if desired
Instructions
Add the watermelon and cucumber to a food processor or blender, working in batches if needed. Blend until smooth — about 30 seconds in a food processor.

Set a mesh strainer over a large bowl. Pour the watermelon and cucumber puree through the strainer to remove the seeds. Press down gently to extract as much liquid as possible — don't worry if some pulp seeps through.

Add the pepper, cilantro, almonds, jalapeno, and about 1 cup of your strained liquid back into the food processor/blender. Blend until a smooth pesto forms — about 1 minute. Stir the pesto into the reserved soup base. Whisk in the olive oil and lime juice.  Season with black pepper.

Chill at least 1 hour or until ready to serve.

If desired, garnish with additional diced watermelon and chopped cilantro. Allow each diner to season their bowl with bitters or sherry peppers sauce.