The 2010 February Daring Cooks challenge was hosted by Michele of Veggie Num Nums.
Michele chose to challenge everyone to make mezze based on various recipes from Claudia Roden, Jeffrey Alford, and Naomi Dugid.
Mezze is a bunch of small dishes that are all served at once – sort of like a Middle Eastern tapas.
The required parts of the challenge were to make pita bread and homemade hummus. I also chose to make kafta (spiced meatballs) and tabboule salad.
I've made pitas before, but I really loved this recipe and will definitely be making it again.
Homemade pitas are so much better than what you can buy in the store. They're soft, fluffy pillows of goodness.
I found this recipe to be really easy to follow and the result was pure perfection.
They tasted just like the pitas that I get at my favorite Middle Eastern restaurants!
They were really cheap to make too, and I loved how they puffed up in the oven.
Since I was planning to use them as a wrap, I flattened them while they were still warm. But if you want a pocket that you can fill, Leave them in the balloon shape to cool. The inside will be hollow, so you can cut them in half and fill just like a store bought pita pocket. As written, the recipe will yield 16 breads. I halved it and had no problems.
The hummus that was required for the challenge was also a great recipe, although some people felt that it was too lemony.
I love lemon though, so I couldn't complain! I thought it was great – very smooth and creamy.
Instead of adding the garlic that the original recipe called for, I threw in 5 garlic-stuffed olives. The olives gave the hummus a great flavor, and we loved it!
I was worried about the proportions, but it was just right – not too much garlic and just enough olive so that it was a predominant flavor without being overpowering.
Ingredients
2

teaspoons

dry yeast

2 ½

cups

lukewarm water

5-6

cups

all-purpose flour

1

tablespoon

kosher salt

2

tablespoons

olive oil
Instructions
In a large bread bowl, sprinkle the yeast over the warm water. Stir to dissolve. Stir in 3 cups flour, a cup at a time, and then stir 100 times, about 1 minute, in the same direction to activate the gluten. Let this sponge rest for at least 10 minutes, or as long as 2 hours.

Sprinkle the salt over the sponge and stir in the olive oil. Mix well. Add more flour, a cup at a time, until the dough is too stiff to stir.

Turn it out onto a lightly floured surface and knead for 8 to 10 minutes, until smooth and elastic (I found that after 10 minutes of kneading by hand the dough still wasn't ready, so I transferred to my Kitchen Aid with a dough hook for another 5 minutes).

Rinse out the bowl, dry, and lightly oil. Return the dough to the bowl and cover with plastic wrap. Let rise until at least doubled in size, approximately 1 ½ hours.

Place a pizza stone, or two small baking sheets, on the bottom rack of your oven, leaving a 1-inch gap all around between the stone or sheets and the oven walls to allow heat to circulate.

Preheat the oven to 450°F.

Gently punch down the dough. Divide the dough in half, and then set half aside, covered, while you work with the rest.

Divide the other half into 8 equal pieces and flatten each piece with lightly floured hands. Roll out each piece to a circle 8 to 9 inches in diameter and less than 1/4 inch thick.

Keep the rolled-out breads covered until ready to bake, but do not stack.

Place 2 breads, or more if your oven is large enough, on the stone or baking sheets, and bake for 2 to 3 minutes, or until each bread has gone into a full balloon.

If for some reason your bread doesn't puff up, don't worry it should still taste delicious.

Wrap the baked breads together in a large kitchen towel to keep them warm and soft while you bake the remaining rolled-out breads. Then repeat with the rest of the dough.
Nutrition Facts
Homemade Pita Bread
Amount Per Serving (1 pita)
Calories 163
Calories from Fat 18
% Daily Value*
Fat 2g3%
Sodium 439mg19%
Potassium 56mg2%
Carbohydrates 30g10%
Protein 5g10%
Vitamin C 0.004mg0%
Calcium 8mg1%
Iron 2mg11%
* Percent Daily Values are based on a 2000 calorie diet.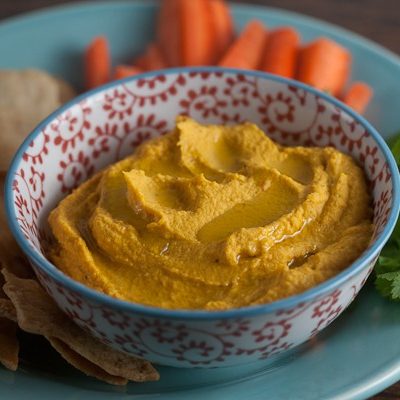 Ingredients
15.5

ounces

chickpeas

drained

2

lemons

juiced

5

garlic-stuffed olives

or 5 cloves garlic and 5 large green olives

¼

teaspoon

kosher salt

4

tablespoons

tahini
Instructions
Puree the beans in a food processor adding water as needed until you have a smooth paste. Add the rest of the ingredients and mix well. Adjust the seasonings to taste.