I know I just posted a breakfast recipe a few days ago, but I've been loving weekend breakfasts lately! You may have noticed that in my post about waffles, I wrote that we've been having them almost every weekend. The rest of the time, we've been eating these shirred eggs. We're pretty much obsessed with them – they're so good! And so easy to make!
As much as I love breakfast, I never really feel like cooking in the morning. The great part about these is that there really isn't much "cooking" that needs to be done: no standing over the stove, no measuring. Just throw them in the oven, set the timer, and a few minutes later you have a delicious breakfast. (If you can conjure the energy to cook a few slices of bacon, you're really set!) For another variation, you can also make baked eggs florentine that are loaded with fresh baby spinach.
Plus there's something so beautiful about eggshells. They never fail to make me smile. Any day that starts with something so beautiful can never be bad.
You'll want to use a shallow dish to bake these. I like to use a quarter cup creme brûlée ramekin, which just barely fits two eggs (I usually make one for myself and two for Shawn). I've tried making this in a deeper cocotte, but they take much longer to cook and the texture isn't as nice. Cooking these eggs in shallow ramekins results in an egg with a texture somewhere between fried and poached. The edges get that crispy-fried goodness but, because the container keeps the white from spreading out too much, it stays soft and chewy like a poached egg. Too deep of a dish though, and you're edges won't get that nice crispness.
The thicker white also keeps the yolk from running all over the place once it's broken – if you're into dipping your toast into your egg yolks, these will be right up your ally. You can also add fresh herbs to the egg before you bake it. My favorite is thyme, but basil or chives are also very good. The fresh herbs really take the egg to the next level and make your breakfast seem a lot more elegant than you would expect being that the recipe is so simple to make. Seriously, I almost feel likeI'm cheating when I make these.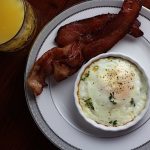 Ingredients
1

small pat of butter

4

large eggs

about 2 tsp skim milk

1

generous pinch of fresh thyme

or an herb of your choice

Sea salt

preferably grey and black pepper
Instructions
Preheat your oven to 425ºF.

Use the butter to lightly grease the bottoms and sides of two quarter cup ramekins or other small, shallow dishes. Crack two eggs into each ramekin and drizzle with the milk. Sprinkle the thyme over the top.

Place the ramekins on a baking sheet and bake for 6 minutes, or until the whites begin to set and the edges just begin to brown. Broil the eggs for an additional 3 minutes or until the center begins to firm up - the eggs will continue to cook slightly when you take them out of the oven. Remove from oven, season with salt and pepper, and enjoy!

The yolks on these will be coked to an "over-medium" level of doneness. Adjust the broiling time up or down by 1 minute if you prefer your yolks cooked to a different level.
Notes
Approx. 160 calories, 12 grams fat, 0 grams fiber, 12.5 grams protein
Nutrition Facts
Shirred Eggs with Thyme
Amount Per Serving
Calories 1
* Percent Daily Values are based on a 2000 calorie diet.