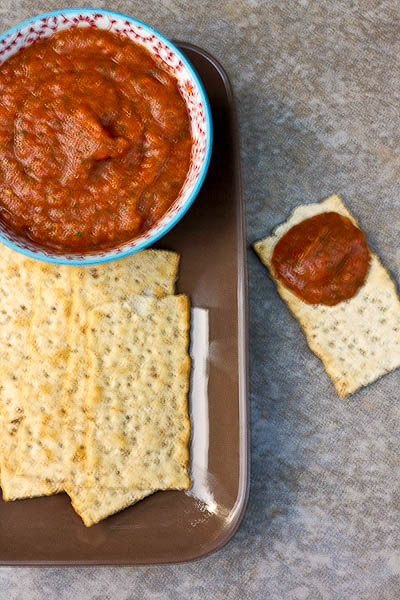 The first time I made baba ganoush was almost exactly two years ago. Since then, I don't think a month has gone by that Shawn hasn't asked me to make it again. I don't blame him; the stuff is good! Roast eggplant is the perfect base for a creamy, low fat dip.
I knew that I wanted to use this technique in the collection of 5 New Eggplant Ideas that I created for Tablespoon.com, but I also wanted to put a new twist on it. I swapped out the tahini and cumin for roasted red peppers and smoked paprika. The resulting dip had a velvety texture and a sweet, smokey flavor. It didn't resemble baba ganoush at all, but it was just as delicious.
Serve this eggplant and red pepper dip with flatbread crackers or vegetables, or use it as a sandwich spread or over pasta. Leftovers (if you have any!) will keep in the refrigerator for about three days.
By