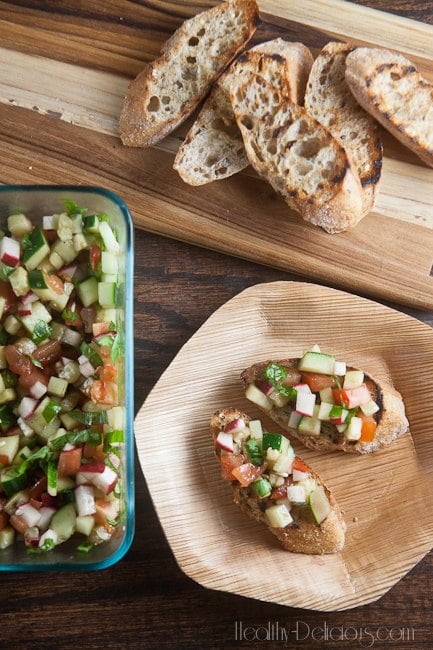 One weekend last summer, we went to visit my parents and my mom had a big bowl of cucumber salad on the table. We ate big scoops of it on garlic bread, and it was so good! Shawn doesn't usually like bruschetta since he hates raw tomatoes, but since this was mostly cucumber, he was able to enjoy it too. I kept saying that I wanted to make it myself, but before I knew it summer as over. I completely forgot about it until the final lunch at Eat, Write, Retreat lat month. The lunch was hosted by Williams-Sonoma, and one of the dishes we sampled was an amazing cucumber salsa that immediately reminded me that I needed to make cucumber bruschetta – stat!
This is a combination of the two dishes, with a tiny bit of tomato, loads of fresh basil, and just enough radish to add a little bit of crunch. It's great as an appetizer, a side dish, or even as a light entree stuffed into a wrap with some hummus. It's easy to make – I made a huge batch in less than 10 minutes – and will keep in the fridge for several days. It will make great, unique addition to your summertime barbecues!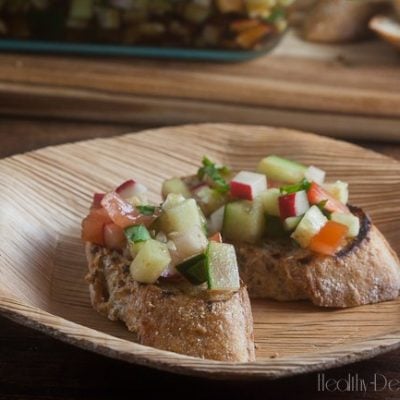 Ingredients
1

cucumber

4

radishes

1 to

mato

¼

cup

loosely packed fresh basil

1

tablespoon

balsamic vinegar

1

tablespoon

olive oil

sea salt

cracked black pepper

2

small whole grain baguettes

olive oil spray

garlic powder
Instructions
Cut the cucumber, radishes, and tomato into a small dice (about 1/4-inch) and place in a medium bowl.

Chiffonade the basil by stacking several leaves on top of each other, then rolling together tightly; slice crosswise into thin strips. Add the basil, vinegar, and oil to the bowl. Toss to combine; season with salt and pepper.

Slice the baguettes into thin rounds. Spritz with olive oil spray and sprinkle lightly with garlic powder. Heat a grill pan or heavy skillet over high heat. Add the baguette, seasoned side down. Cook 3-5 minutes, or until the bread is lightly charred.



By