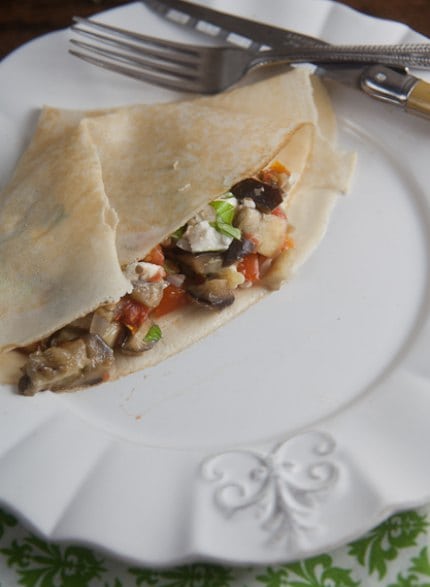 Ratatouille is one of my favorite summertime dishes – the richly layered stew of vegetables is a great way to take advantage of the abundant produce that's available this time of year. It's simple to make and incredibly versatile: toss it into pasta, serve it over soft polenta, stir into an omelet, or pile it onto a pita for an impromptu pizza.
Serving ratatouille in a crêpe is something I never would have thought of on my own – the whole concept of savory crêpes is pretty new to me – so you can thank Sara Moulton for this one.
Sara is going to be the keynote speaker at the Food and Wine Conference later this month and this week the #SundaySupper crew is sharing recipes inspired by hers. (I unfortunately can't attend the conference and I have to admit that I'm a little jealous of my friends who will be there – Sara is one of the first chefs I remember watching on television and I love her straightforward, simple style of cooking.)
Instead of cooking the ratatouille on the stove, Sara came up with the idea of roasting the vegetables. Roasting them concentrates their flavor and makes the ratatouille extra delicious. Plus, you get to add roasted garlic to it, which doesn't even compare at all to regular old garlic. Although it only takes a few minutes of actual work, roasting the dish does mean that this take a little longer than normal to prepare. Luckily, it's easy to split to work over two days by making the ratatouille one night and filling the crêpes the next.
If you don't like goat cheese, try it with feta or mozzarella!