Cauliflower tabbouleh is a healthy summertime staple. This easy, no-cook side dish keeps well in the fridge and goes with everything from burgers to grilled chicken — or serve it with hummus and pita chips for an easy appetizer! It's low cal, low carb, and gluten-free but most of all, it's absolutely delicious.
Tabbouleh salad has been one of my favorite summer side dishes every since I was growing up.
This classic Mediterranean salad is traditionally made with bulgur, which is cracked wheat that has a crumbly consistency and a slightly chewy texture similar to couscous or quinoa.
I noticed that raw cauliflower rice also has a very similar texture and thought it would make a great substitute for a low carb and gluten-free version of this salad. A quick Google search shows that I'm not the first person who thought of this swap, but if you're late to the game like I was, you really should try it!
This cauliflower tabbouleh came out even better than I hoped and was practically indistinguishable from the classic version.
There are so many flavorful herbs in this salad that you don't get any cauliflower taste at all! Plus it soaks up the flavor of the lemony dressing so well. Plus it has the added benefit of making this a no-cook recipe, so it's even faster and easier to make than ever!
It keeps well in the refrigerator for a few days, so it's great to pull out when you're looking for a simple side dish that goes with just about anything.
I've served it on the side of Greek burgers and hot dogs, with grilled chicken, and wrapped up in a tortilla with some hummus as a super easy lunch.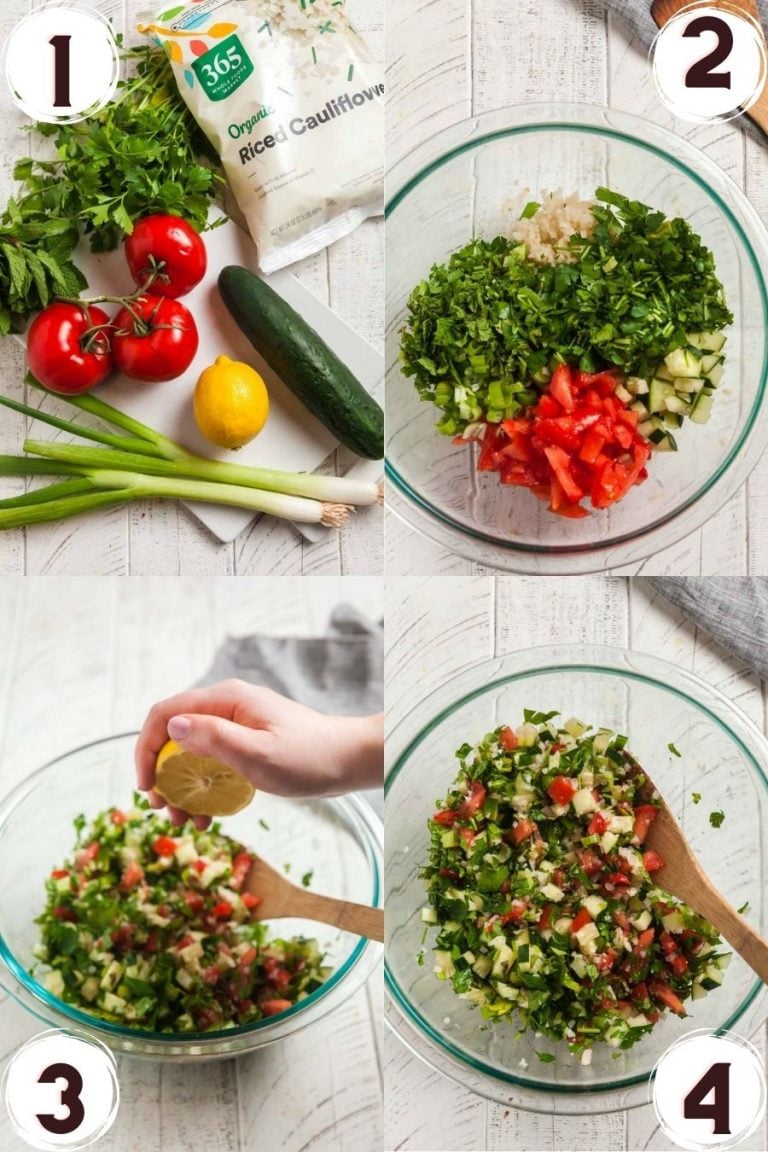 Ingredients for cauliflower tabbouleh
Cauliflower tabbouleh is absolutely loaded with flavor, so you might be surprised by how simple the ingredients list is!
Some tabbouleh recipes I've seen add additional ingredients, but I like to keep it as simple as possible. It really doesn't need anything else if you ask me and I love to let all of the fresh herbs really be the star of this salad. They're so refreshing and are great for cleaning your palate between bites of other things. If you're looking for something a little more unique, you could also try my recipe for Kale and Quinoa Tabbouleh.
To make this cauliflower tabbouleh, you'll need:
Cauliflower Rice. You can buy pre-riced cauliflower or make your own by using a sharp knife or a food processor to finely chop a head f fresh cauliflower. I like to buy mine pre-riced for the sake of ease. Fresh cauliflower rice has the best texture for this tabbouleh, but frozen can work in a pinch. Just be sure to thaw it in a fine-mesh strainer so the water drains away. This will keep the cauliflower from getting too soggy.
Tomatoes. I like to use one medium to large tomato for this recipe. Some recipes call for cherry or grape tomatoes, but I don't like the texture of all of those tomato skins. Dicing a larger tomato instead of halving or quartering cherry tomatoes also gives your salad a more consistent texture throughout.
Cucumber. You can use a regular cucumber or a seedless cucumber for this recipe. If you use a regular one, remove the seeds for the best texture. This is easy to do by cutting the cucumber in half lengthwise, then running a spoon down the seed channel to dislodge them. Give the cucumber a quick rinse to wash the seeds away and dice it up!
Parsley. Parsley is the star of the show when it comes to tabbouleh, so don't skimp out here. I use a whole bunch! I personally prefer the flavor of flat-leaf (Italian) parsley, but some people like to use curly parsley to give their salad a fluffier texture. You can't go wrong either way.
Mint. If parsley is the star of the show, fresh mint is the co-star. A little bit goes a long way toward giving this tabbouleh salad its distinctive flavor. If you leave it out, it just isn't the same at all.
Green Onions. These have a mild flavor and the texture blends in nicely with all of the other herbs.
Fresh Lemon Juice and Olive Oil. When it comes to dressing for this salad, we'll keep things super simple with fresh lemon juice, olive oil, and a little salt and pepper.
Tricks for the best cauliflower tabbouleh salad
To make this salad, simple mix all of the ingredients together, then refrigerate it for an hour or two to let the dressing soak into the cauliflower and give the flavors time to mingle.
It's seriously as simple as that!
Honesty, you don't even need to measure your ingredients for this recipe. I usually just eyeball it until it looks right (and so pretty!) but there are a few tips that can help keep everything balanced.
First, don't use two much cauliflower. A half cup doesn't seem like much but it's all you need for there to be just enough in every bite.
You'll also want to use a LOT of parsley. Seriously, use equal parts parsley to cauliflower. In the bowl, it might even look like there's more parsley than cauliflower! I also use close to this amount of cucumber and tomato. A little more or a little less is fine, so don't go crazy trying to get the measurements exactly right! I let the size of my produce dictate how much I use, so this week's salad might have a little more tomato than last week's but both will e equally as delicious.
Use about half as much mint and green onions as you do parsley.
Tabbouleh or Tabouli?
Tabbouleh and tabouli (and tabbouli and taboulah) are used interchangeably. Tabbouleh is the traditional spelling, but tabouli is a common variation. However you spell it, it's delicious!
What to serve with tabbouleh?
I could seriously eat this tabbouleh every day! It goes well with so many different things. Try it with: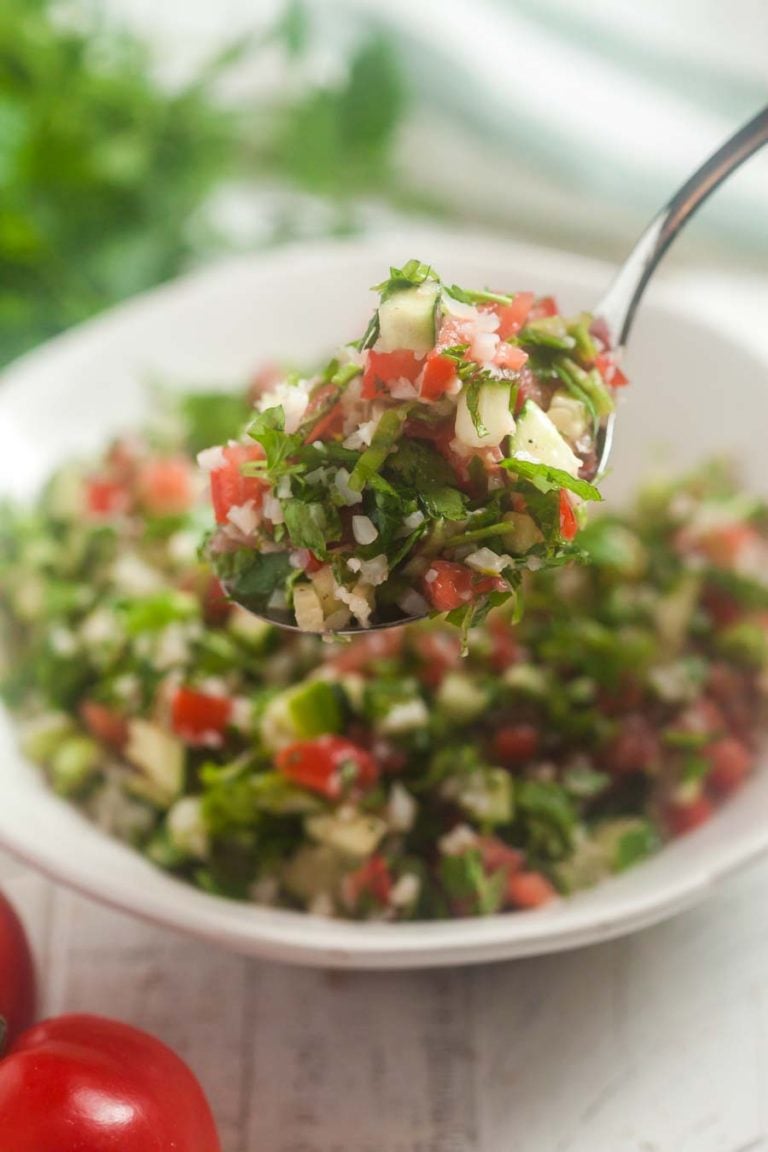 Ingredients
½

cup

cauliflower rice

1

medium tomato

diced

½

cucumber

diced (about 1/2 cup)

½

cup

fresh parsley

finely chopped

¼

cup

fresh mint

finely chopped

4

green onions thinly sliced

3

tablespoons

olive oil

1

lemon

juiced

¼

teaspoon

sea salt
Instructions
Add all of the ingredients in a mixing bowl. Stir well to combine.

Cover and refrigerate for at least 1 hour. Add additional salt to taste.
Nutrition Facts
Cauliflower Tabbouleh
Amount Per Serving (1 /6 recipe (about 1/4 cup))
Calories 74
Calories from Fat 63
% Daily Value*
Fat 7g11%
Sodium 97mg4%
Carbohydrates 3g1%
Protein 1g2%
* Percent Daily Values are based on a 2000 calorie diet.