This creamy mushroom and quinoa soup is one of my favorite soup recipes. It's warm and hearty, with tons of nutrition. Even better, this absolutely delicious vegan mushroom soup is entirely plant-based and gluten-free!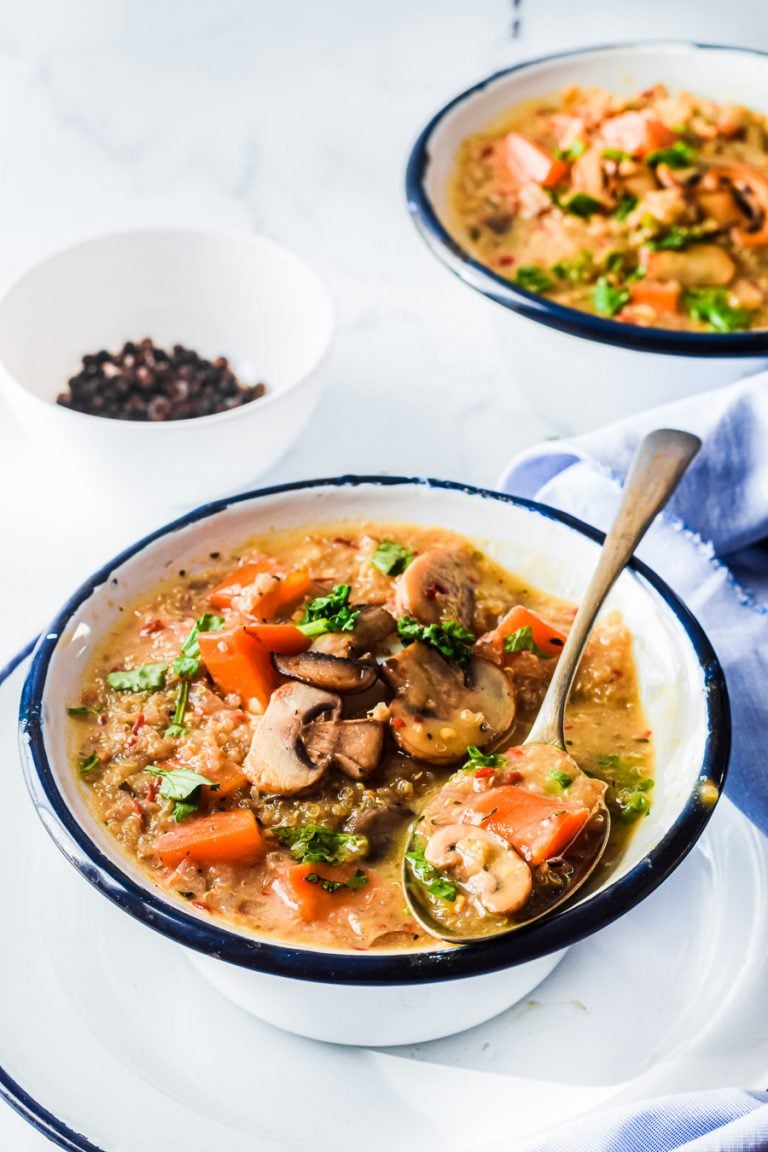 CREAMY VEGETABLE QUINOA SOUP IS A COZY WINTER MEAL
If there's one thing to know about me, it's that I love soup. I could probably eat it every day, especially in the fall and winter, and I have enough soup recipes to fill a book (maybe even two!).
You're going to love this healthy vegetable quinoa soup recipe, I just know it! It's basically the perfect soup for a rainy fall day: warm and cozy with tons of texture and flavor to keep things interesting.
Just like my super popular chicken and cauliflower rice soup, this quinoa soup gets is enriched with coconut milk. This gives the broth a luxuriously silky texture and creamy flavor while keeping the recipe entirely vegetarian.
Ingredients for Homemade Mushroom Soup with Quinoa
This recipe relies on nutritious kitchen staples to give it tons of flavor. This is great because if you keep a well-stocked fridge, you'll be able to throw this healthy soup recipe together any time a craving hits!
To make it, you'll need:
Mushrooms. You can use either white mushrooms or cremini mushrooms in this soup, so grab whichever you're in the mood for.
Quinoa. If you've never tried quinoa in soup before, you're going to love it — it has so much texture and it doesn't break down or get soggy like rice can. For the best results, cook the quinoa separately and stir it in at the end. That way it doesn't soak up all of the broth and make your soup too thick.
Carrots. I like to use pretty big pieces of carrot in this soup for added texture. (In case you haven't noticed yet, this soup is all about texture!) The larger pieces mean it will take a little longer to cook, but I think it's worth it. If you're in a rush, you can cut the carrots into coins so they cook faster.
Onion and Garlic. What recipe is complete without them?
Canned Coconut Milk. This is where the magic happens. You're looking for canned coconut milk here, not refrigerated coconut milk beverage like you'd pour onto a bowl of cereal. Shake the can well before opening it in case the solids have separated from the coconut water. Once you add the coconut milk, don't return the soup to a boil as this can cause it to separate and curdle.
Vegetable Broth. This will form the base of your soup. I always keep a few cartons in my cabinet, but Better Than Bouillon works in a pinch. You can buy it online or in most grocery stores. Trader Joes also makes their own version which is also really good.
Cornstarch. This helps thicken the broth and give it a silky texture. It also helps stabilize the coconut milk and helps prevent it from breaking down.
Lemon Juice. For that bright pop of flavor every soup needs! If you don't have a lemon on hand, you can also use a teaspoon of apple cider vinegar.
Dried Herbs. I love adding dried crushed rosemary, thyme, and red pepper flakes to give this hearty soup recipe fons of flavor. Crushed rosemary has a nice texture than regular dried rosemary, so it doesn't feel like you're eating pine needles. If you only have regular rosemary, you can use a knife to finely dice it until it has the consistency of ground pepper.
Cooking with quinoa
Quinoa is great in everything from soups like this one. You can also use it as a base for grain bowls, a filling for stuffed mushrooms or peppers, or even as a gluten-free breading for chicken fingers! If you haven't tried it yet, I highly recommend it.
While often used as a grain, quinoa is actually a seed from a plan native to Peru. It's related to beets, chard, and spinach — but it definitely doesn't taste like any of them!
Quinoa is a good source of protein, iron, and fiber, and is often called a superfood for its robust nutritional profile.
In nature, quinoa seeds are coated with bitter substances called saponins. These help keep the plant safe by deterring animals from eating them as well as protecting them from bacteria, fungi, and viruses.
Removing saponins from quinoa
These saponins are extremely bitter and can leave you with an upset stomach. Luckily, they can be removed easily by rinsing the quinoa well before you cook it.
To remove the saponins, add the quinoa to a fine mesh colander and place it under running water. Swish the quinoa around to help loosen it up and ensure the water flows between each seed. It will look foamy and cloudy at first, but once the quinoa is thoroughly rinsed, the water will be clear.
A lot of commercial quinoa these days is sold pre-rinsed, but it never hurts to give it a good rinse just in case. I accidentally bought unrinsed quinoa once and didn't rinse it myself — trust me, I'll never make that mistake again!
Can I use lite coconut milk instead of full fat?
Coconut milk is a great way to add a creamy element to dairy-free soup recipes but a lot of people ask if they can use lite coconut milk instead so cut calories and far.
Here's the deal: Lite coconut milk is just watered down coconut milk.
Seriously! Look at the nutrition label and you'll see the ingredients are just coconut milk and water. Some brands will also add gums and stabilizers to make it resemble the texture of full-fat coconut milk, but those can throw off both the flavor and texture.
Does putting watered-down coconut milk in your soup sound good? It would be like adding skim milk instead of cream! It will just water it down and dilute the flavor.
Of course, you could use it and then boil the soup down the make it thicker, but at that point you could have just started with a smaller amount of full-fat coconut milk in the first place since you're basically just cooking the water back out of it.
Lite coconut milk definitely has it's place, but you can make it yourself by adding water to full fat coconut milk. You'll end up getting twice the amount for the same price.
TLDR? Just use full fat coconut milk. Your taste buds will thank you.
Also, be sure not to confuse coconut milk with coconut milk beverage, coconut cream, or cream of coconut. Here's a great article outlining the different types of canned coconut that are available.
More healthy vegetable soup recipes: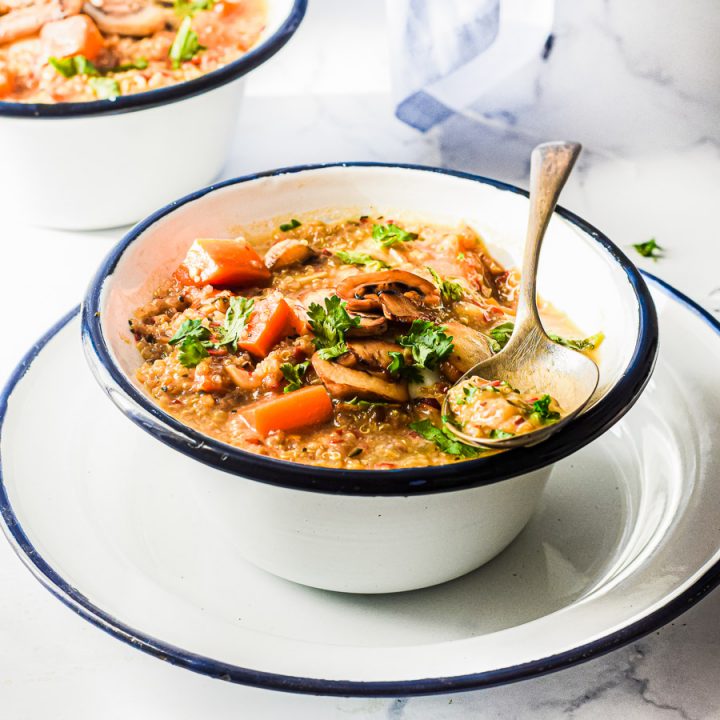 Ingredients
1

Tablespoon

olive oil

1

yellow onion

diced

4 – 5

garlic cloves

minced

8

ounces

fresh white or cremini mushrooms

2

carrots

cut into 1.5-inch pieces

½

teaspoon

dried thyme

¼

teaspoon

dried crushed rosemary

¼

teaspoon

red pepper flakes

2

Tablespoons

cornstarch

1

cup

full fat coconut milk

canned

3

cups

vegetable broth

½

cup

cooked quinoa

1

teaspoon

lemon juice

Fresh parsley for garnish

if desired
Instructions
Heat the oil in a saucepan over medium heat; add onion, garlic, and pinch of salt. Cook until they being to soften, 3-5 minutes.

Add the mushrooms, carrots, thyme, rosemary, and red pepper flakes; cook, stirring occasionally, until the vegetables begin to soften, about 5 minutes.

Stir in the cornstarch.

Pour in the broth and bring the soup to a boil. Cover and let simmer for 10-15 minutes, or until the vegetables are very soft.

Stir in the coconut milk and cooked quinoa.

Stir in the lemon juice. Season to taste with salt and pepper. Garnish with fresh parsley or grated parmesan, if desired.

Nutrition Facts
Creamy Mushroom + Quinoa Soup
Amount Per Serving (1 /4 recipe)
Calories 232
Calories from Fat 144
% Daily Value*
Fat 16g25%
Carbohydrates 20g7%
Protein 5g10%
* Percent Daily Values are based on a 2000 calorie diet.
More healthy soup recipes you'll love: