Quinoa bowls loaded with roast winter vegetables, soft boiled egg, brown butter-lemon sauce, and walnuts – winter vegetables never tasted so good!
When I told Shawn that we were having quinoa bowls for dinner, he made one of the most pathetic faces I've ever seen. But then I said the magic words – brown butter – and all was happy again. As we were eating, I even got a surprised "wow, this is delicious!" out of him. I love when I get that sort of reaction from something that's as healthy as this!
These easy to make grain bowls are full of cozy winter flavors and textures, from toasty roast Brussels sprouts and squash to creamy soft boiled eggs, to crunchy walnuts. All that goodness gets piled on top of quinoa and drizzled with nutty brown butter and lemon juice. This recipe serves four – perfect for a dinner for two with leftovers for the next day's lunch.
How to make winter vegetable quinoa bowls:
There are a few components to these bowls but each one is pretty hands-off.
Start by roasting your vegetables – I used a combination of Brussels sprouts, butternut squash, and acorn squash. Drizzle them with olive oil, sprinkle them with salt and pepper, and spread them onto a baking sheet. Make sure you give them a little room (use two baking sheets if you need to) and place the cut sides down for maximum browning.
While the vegetables roast, cook the quinoa and boil some eggs. I use this electric egg cooker – it was $18 on Amazon and the eggs come out perfect every time. If you'd rather boil your eggs the traditional way, I'd recommend a seven minute egg for these bowls. The soft yolk is amazing with the roast vegetables.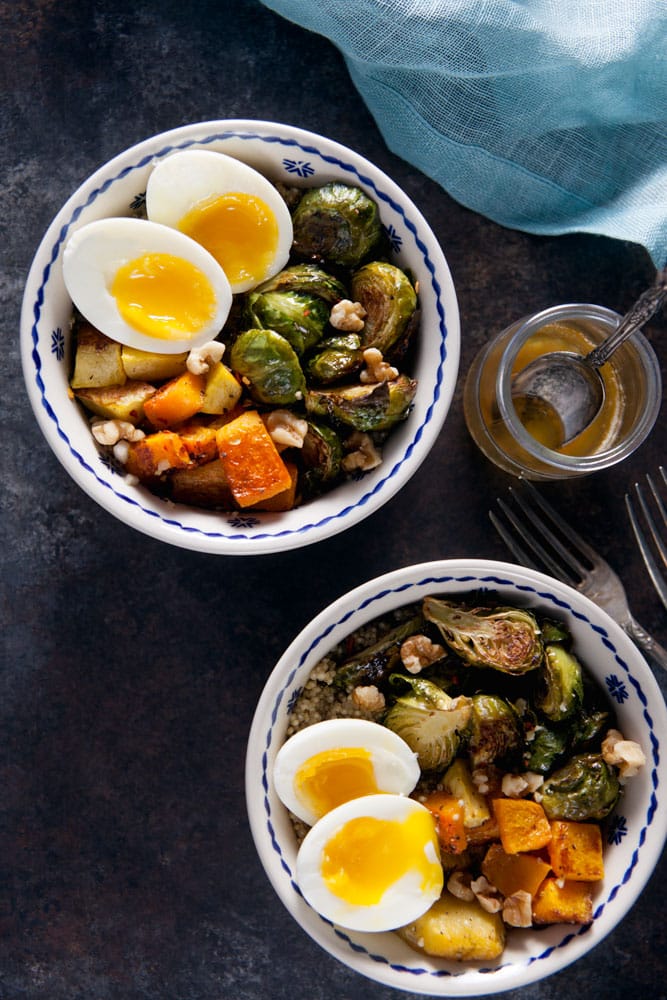 You can make the brown butter lemon sauce just before serving. Melt some butter in a light colored saucepan (it makes it easier to see what's going on) set over medium heat. Once the butter melts, it will start to foam. Watch it closely and pull it off the heat as soon as the butter starts to brown and smell nutty, then pour it into a small jar to stop the cooking process. Whisk in 2 tablespoons of lemon juice and get ready to fall in love.
If you time everything right, it should all be done at the same time. Scoop it all into a bowl, drizzle it with the sauce, and sprinkle some chopped walnuts on top.
Posted by
https://www.healthy-delicious.com/winter-vegetable-quinoa-bowls-brown-butter/
Winter Vegetable Quinoa Bowls with Brown Butter
Ingredients
2 cups Brussels sprouts, halved (quartered, if large)
3 cups cubed butternut squash (or other winter squash, like acorn)
1 tablespoon olive oil
1 small shallot, minced
2 cups chicken or vegetable broth
1 cup quinoa, rinsed
2 tablespoons unsalted butter
1/2 lemon, juiced
4 medium boiled eggs (7 minutes)
2 tablespoons chopped walnuts
Directions
Heat your oven to 400ºF.
In a mixing bowl, combine the Brussels sprouts and squash. Drizzle with oil and season with salt and pepper. Toss well so everything is lightly coated with oil. Arrange the vegetables cut sides down on a baking sheet, leaving a little space between them. Roast for 30 minutes, stirring halfway through. Remove the pan from the oven and mix in the minced shallot.
Meanwhile, add the broth and quinoa to a small pot. Bring to a boil, then reduce the heat to low and simmer for 15 minutes. fluff the quinoa with a fork.
In a second saucepan, melt the butter over medium heat. As soon as the butter begins to brown, remove the pot from the burner and pour the butter into a small heat-proof jar or bowl. Mix in the lemon juice.
Divide the quinoa between four bowls. Top with roast vegetables and boiled eggs. Drizzle with brown butter and sprinkle with walnuts.
Recipe Notes
To make 7 minute eggs, bring a saucepan of water to a boil. Fill a bowl with ice water. Add cold eggs to the boiling water and cook for 7 minutes. Use a slotted spoon to transfer the eggs to the ice water; let them sit for 2 minutes or until cool to the touch. Peel. Slice with a sharp knife, wiping it clean in between cuts.
© 2017 Healthy. Delicious.. All rights reserved.
Like this recipe? Use the icons the share it with your friends! You might also want to check out my spring vegetable grain bowls with pistachio pesto.