Did you know that you can roast frozen vegetables? It's true! They come out perfectly browned, caramelized, and absolutely delicious. Next time you need an easy side dish idea, look no further than your freezer!
I used to be the kind of person who would go to the grocery store 3 times a week to grab whatever I felt like making for dinner that night. I never really had to plan ahead, could make whatever it was that I was craving, and didn't have to worry about my ingredients being fresh.
Like so many things, that completely changed over the last year.
Now, I get groceries delivered once a week or so which means planning ahead is crucial. And no matter how well I plan, my produce starts to look pretty sad by the end of the week.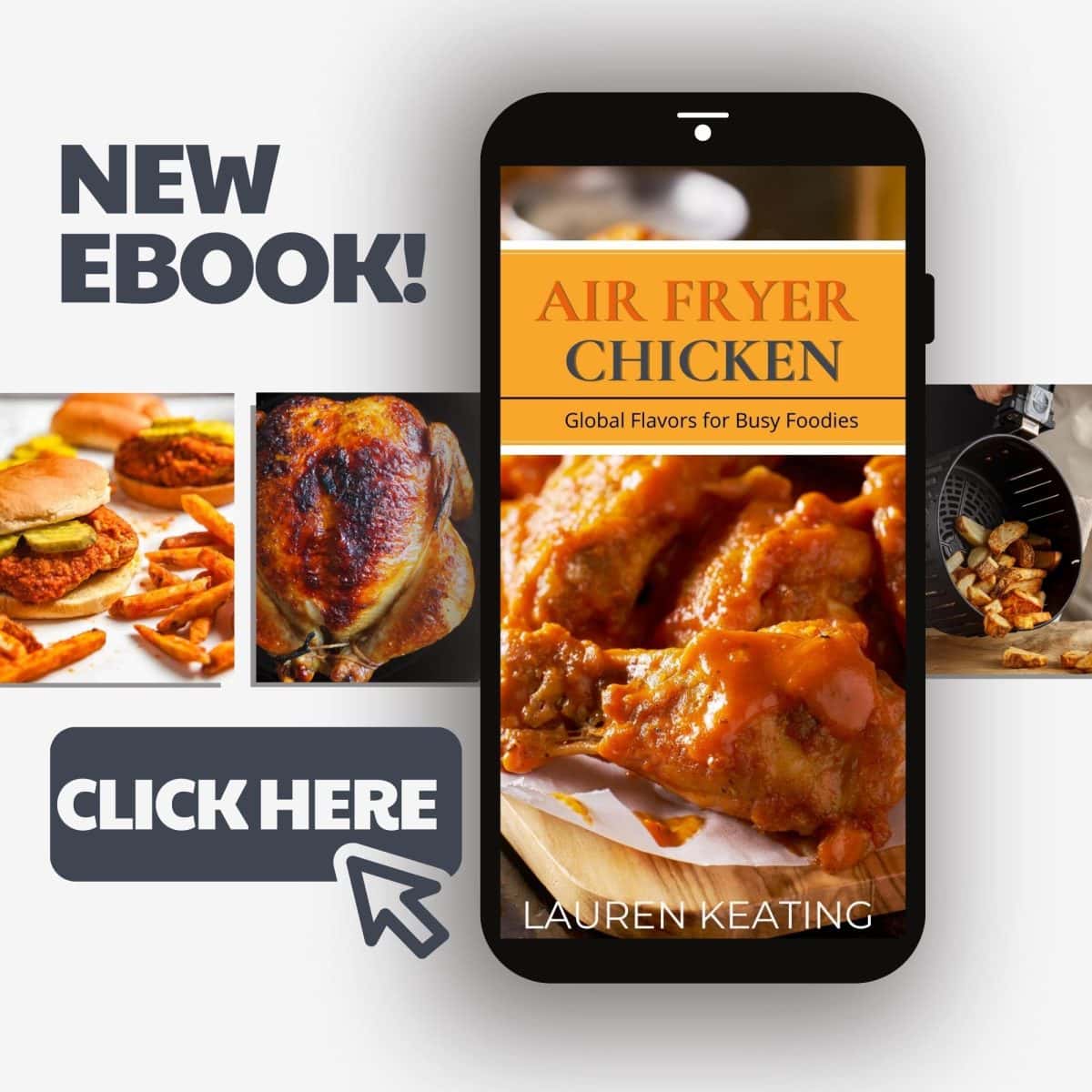 One night not too long ago I was staring at the fridge wondering what on earth I was going to make for dinner. My eyes landed on a bag of frozen mixed vegetables that had been in the freezer for who knows how long.
I thought to myself… can you roast frozen vegetables?
It turns out you can! Roast frozen vegetables are super easy to make and very convenient.
You don't have to worry about fresh produce going bad and since most vegetables are frozen at peak ripeness they can be better than what's languishing in your refrigerator drawers.
I know, frozen vegetables might bring back some not-so-great memories.
I promise you these aren't the waterlogged, bland boiled frozen vegetables that we grew up with. Roast frozen vegetables are surprisingly tasty!
They're still softer than fresh vegetables are, but their flavor gets concentrated and they caramelize and brown better than I would have guessed.
Pro Tip: Like anything, different quality products will give you different results.
I loved the way Whole Foods 365 organic root vegetables roasted and could happily eat them every day.
I also had great luck with locally grown frozen broccoli that's available at our neighborhood co-op.
The store-brand mixed vegetables shown here were tasty but did come out much softer and with less flavor than the more premium products did. They also had a thicker layer of ice on them straight from the bag, which resulted in them steaming a little more than roasting. They didn't get quite as browned or crispy as the other vegetables did.
How to roast frozen vegetables in 3 easy steps
Step 1: Lightly coat the frozen vegetables with oil
Like I explained in my roast carrots recipe, coating the vegetables with oil helps increase their surface temperature and insulated them so they don't dry out in the hot oven.
You can do this by tossing them with oil in a mixing bowl or by using an oil spray to lightly mist them.
You do not need to defrost the vegetables first.
Step 2: Spread them in a single layer on a preheated baking sheet
Stick your baking sheet in the oven while it preheats to help speed up the cooking process and get those veggies nice and hot!
Be sure the spread the vegetables in a single layer so they have plenty of space around them. If you crowd them together, they'll steam and won't get those terrific browned bits that make roasted vegetables so good.
Step 3: Flip them after 15 minutes
After about 15 minutes, the vegetables should start to brown. Flip them over so both sides can get nice and caramelized.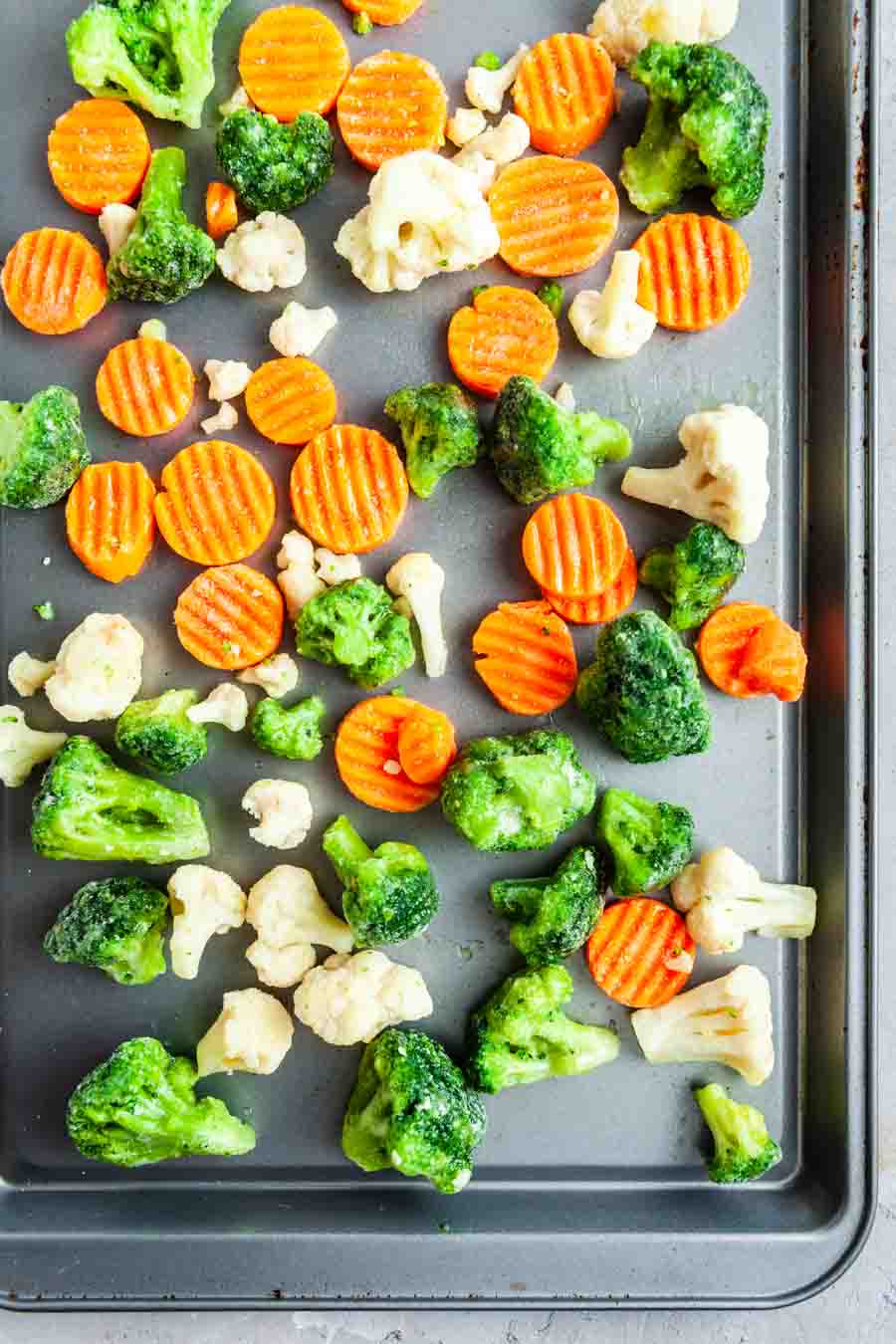 Seasoning ideas for frozen vegetables
When it comes to seasoning roast vegetables, there are so many options!
Try:
Curry powder
Chili powder
Za'atar and lemon zest
Lemon pepper
Garlic and red pepper flakes
You can also add flavor to these roast frozen veggies after they come out of the oven by:
Tossing them in your favorite vinaigrette
Drizzling them with a balsamic reduction
Mixing them with lemon zest and fresh parsley
Using them as a base for another recipe, like this roast cauliflower with pomegranate seeds
Serving suggestions
These roast vegetables are perfect as a side dish when you need something in a pinch. I love serving them on the side of roast chicken thighs.
But you can also get creative!
Try piling roasted root vegetables on top of baby spinach and pouring on some citrus vinaigrette to make a hearty winter salad.
You can also add them to broth to make an easy but flavorful soup. I love adding leftover roast butternut squash to store-bought coconut-lime broth for an easy lunch.
More vegetable side dish ideas
How to Roast Frozen Vegetables
If you're like me and love roasting veggies but don't always have fresh vegetables on hand, I've got great news for you. You can roast frozen vegetables! Frozen veggies are picked at the peak of their ripeness and flash-frozen to lock in those flavors and roasting them straight from the freezer is so easy.
Print
Pin
Save
Saved!
Ingredients
1

16 ounce bag

frozen vegetables

1

Tablespoon

olive oil

Salt and Pepper
Instructions
Preheat your oven to 450°F. Place a baking sheet in the oven while it heats up.

In a mixing bowl, toss the frozen vegetables with the oil. Sprinkle with salt, pepper, and any other seasonings you want to use.

Spread the vegetables in a single layer on the hot baking sheet. Roast for 15 minutes, then give them a good stir. Return them to the oven and bake for another 10-15 minutes, or until the edges are golden brown and crisp. (Note larger cuts and sturdier vegetables will take longer to roast than more delicate vegetables. Some, like green beans, may be done after the first 15 minutes.)
Nutrition Facts
How to Roast Frozen Vegetables
Amount Per Serving (1 g)
Calories 77
Calories from Fat 63
% Daily Value*
Fat 7g11%
Sodium 82mg4%
Carbohydrates 3g1%
Protein 1g2%
* Percent Daily Values are based on a 2000 calorie diet.