Grilled zucchini is a simple, nutritious summer side dish that goes with just about anything! You'll love this version with lemon and Italian herbs.
Is it even summer if you're not throwing vegetables on the grill for a quick and easy summer side dish?
Zucchini makes an appearance on our table at least once a week this time of year. I love the texture that grilled zucchini has and its neutral flavor means it goes well with everything from chicken to burgers.
Zucchini is mild, which means its a blank slate for whatever seasonings you're in the mood for. You can use lemon, garlic, and Italian seasonings like I do in this recipe, or even just toss it in oil and balsamic vinegar. Zucchini acts like a sponge, so it will soak all of that flavor right up!
Depending on the seasonings you use, this side dish can be low carb, gluten-free, whole 30, paleo, and/or dairy free. (And yes, you can totally make this recipe with yellow squash, too!)
How to grill zucchini, step by step:
1. Gather your ingredients. Besides the zucchini, you'll need fresh lemon juice, garlic, and some dried herbs.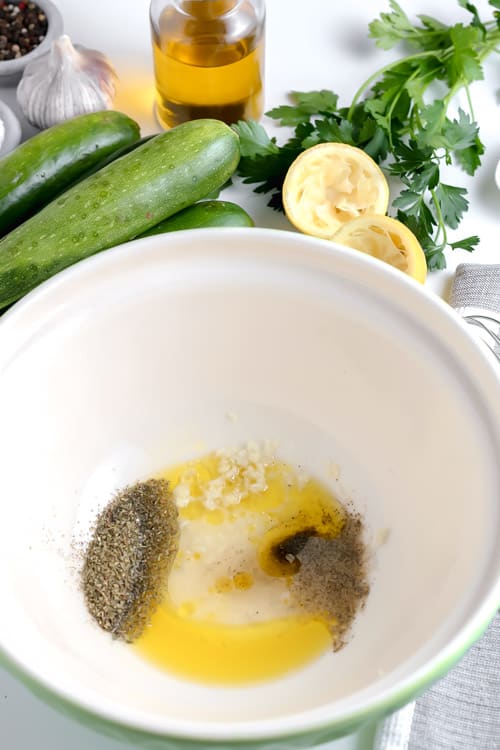 2. Whisk together the marinade in a large bowl. Add the zucchini and turn to coat. This gives it so much flavor!
3. Add the zucchini and turn to coat. This gives it so much flavor!
4. Grill on medium-high for 3-4 minutes per side, under tender.
Tips for the best grilled zucchini:
Chose small, firm zucchini. Big zucchini have lots of seeds and can be kind of mushy inside — no one wants that!
Cut it evenly so it all cooks at the same rate. For grilled zucchini, I like to cut it into wedges. This way the pieces are big enough not to fall through the grates and there's plenty of surface area to get nice and charred.
Don't worry about peeling the zucchini – the skins are tender and taste great! It also helps give the zucchini spears some structure.
If you want, you can salt the zucchini before marinating it. This isn't necessary, but it will draw some moisture out, resulting in a firmer vegetable. After cutting the zucchini, sprinkle it with salt and set it in a colander in the sink. After about 10 minutes, wipe the salt (and any accumulated moisture) off with a towel.
Make sure your grill is clean and well oiled to prevent the zucchini from stick to the grated. A grill basket is also helpful here
If you don't have a grill, or if the weather is bad, you can use a grill pan inside or follow this method for broiled zucchini.
Ingredients
2

small zucchini

about 1 pound total

2

Tablespoons

olive oil

1

lemon

juiced

½

teaspoon

sea salt

¼

teaspoon

fresh ground black pepper

2

garlic cloves

minced

1 ½

teaspoons

Italian seasoning

1

Tablespoon

fresh Italian parsley

chopped (optional)

Lemon wedges

for serving
Instructions
Heat your grill to medium-high.

In a small bowl, whisk together the olive oil, lemon juice, salt, pepper, garlic, and Italian seasoning until well combined.

Cut zucchini into spears.

Add the zucchini to a large bowl and pour the marinade over it. Turn to coat evenly .

Brush grates of grill with olive oil.

Place zucchini on grill and cook for 3-4 minutes per side, or until tender.

Remove from the grill and sprinkle with parlsey, if using. Season to taste with salt and pepper. Serve with lemon wedges.








Nutrition Facts
Grilled Zucchini
Amount Per Serving (1 /4 recipe)
Calories 84
Calories from Fat 63
% Daily Value*
Fat 7g11%
Sodium 269mg12%
Carbohydrates 6g2%
Protein 1g2%
* Percent Daily Values are based on a 2000 calorie diet.