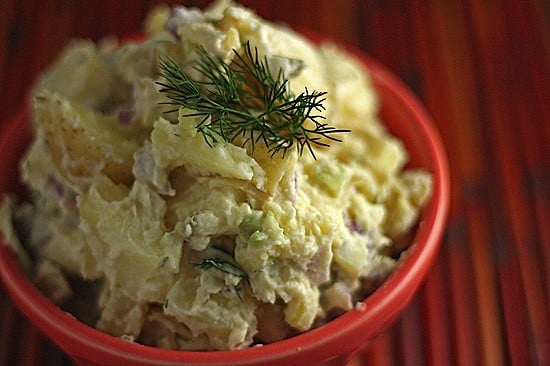 There's a first time for everything: Eating rhubarb. Making steamed buns. Eating cool, creamy potato salad.
Yeah, you read that right. I only recently had my first bite of creamy potato salad. My aversion to mayonnaise (sorry, I know some of you think it's good, but I find it repulsive!) had always prevented me from enjoying this delicious salad. Until now.
I was flipping through a recent issue of Food+Wine when I saw this idea. It looked like a normal potato salad, but it used hummus and yogurt. And, most notably, no mayo. It immediately got added to my "to try" list.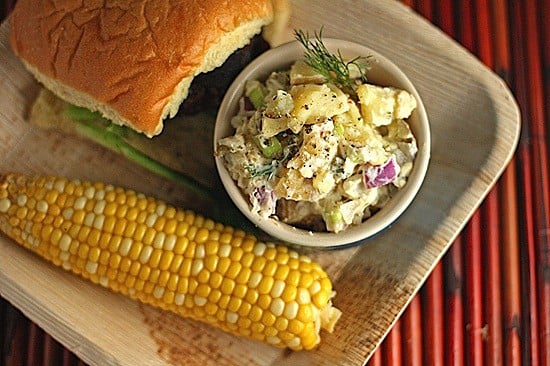 So one night we decided to grill up some burgers, and I knew that it was the perfect time to try this salad. I mixed it up, but I have to confess it looked so much like the potato salads that I've been avoiding all these years that I was a little hesitant to take a bite. (Which was ridiculous, since I made the stuff and I knew that there was absolutely no mayonnaise in it.)
So I took a small nibble. And it. was. awesome. I mean, we were lucky that there was any left by the time the burgers were done – I couldn't keep out of it! For those of you who hate mayo, this is a great substitute. Those of you that do eat mayo will enjoy it too – Shawn said that it actually tastes very similar. It's cool, creamy, and slightly tangy. The hummus flavor isn't nearly as pronounced as you might imagine it would be, and it has a whole lot less fat (about 5 grams of fat in mine, compared to over 20 grams in traditional versions.)