This warm fingerling potato salad is a super simple side dish that seems way more elegant than it really should be given how easy it is to make. It's chock full of bright spring flavors like radishes, peas, and celery leaves, plus briny capers and a zippy sherry vinaigrette.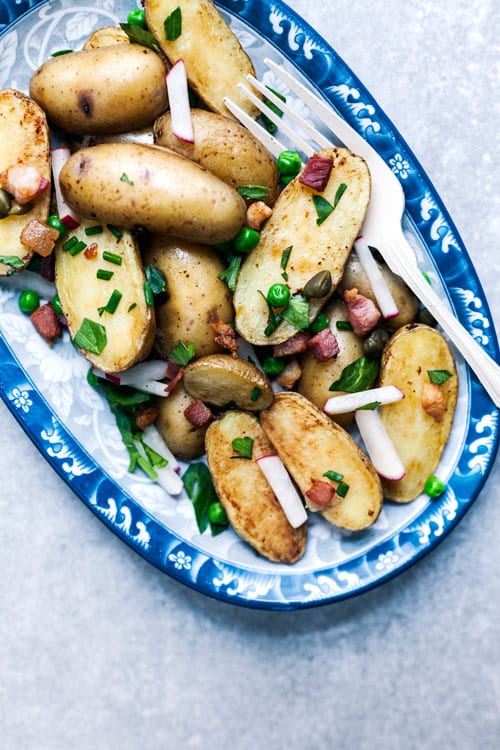 I can't believe it's already mid-March. I have a million things planned for this month, and I'm stressing out a little bit over how to fit it all in. Combine that with a super early Easter (just about two weeks away!) and it's time to get a move-on.
As much as March caught me by surprise, I'm definitely ready to move away from heavy winter recipes and start enjoying spring flavors again. It's so nice to see quality fresh produce start popping back up – the smell of the strawberries last weekend literally stopped me in my tracks.
This warm fingerling potato salad is a nice way to bridge the two seasons. The warm potatoes and crisp pancetta are rich and hearty, while spring vegetables and a vinaigrette keep the dish feeling light. It will go great with your Easter ham, but would also be amazing on the side of lamb chops or roast chicken.
I was introduced to the idea of cooking with celery leaves at a photography workshop that I attended last month. They brought in a chef to cook for us, and the meals he prepared were mind-blowingly delicious. One meal in particular really stood out to me – some of the freshest fish I've ever eaten topped with a celery leaf and radish salad. I could have eaten an entire bowl of that salad! The celery leaves have the same flavor as celery stalks, but without the stringy texture. I couldn't wait to get back to my kitchen to play!
I love the firm texture and buttery flavor of fingerlings in salads like this one, so I started by using half of a small bag of Idaho® fingerling potatoes. I par-boiled them, then crisped up the cut side in a hot pan with pancetta. That one crisp edge adds a ton of textural interest to the salad!
Then I tossed the potatoes with tons of spring vegetables, like peas, radishes, and chives plus the leaves from 1/2 bunch of celery (save the stalks for soup or add them to a veggie and dip platter.) A smattering of capers and a tangy vinaigrette add a final pop of brightness to the dish and bring all of the flavors together.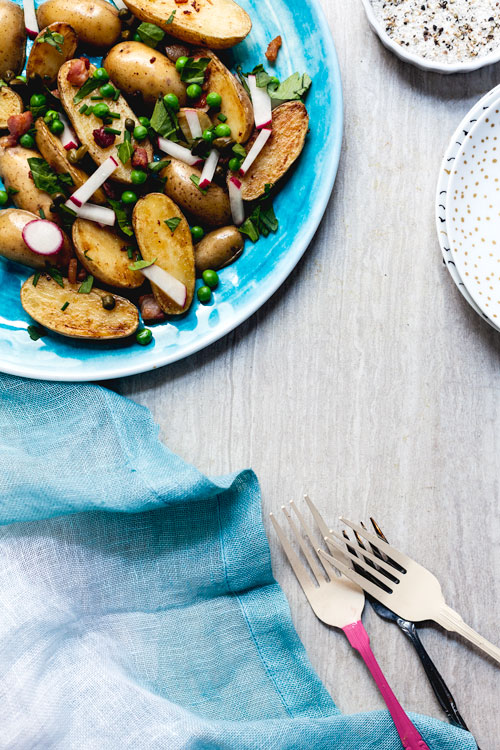 For more potato salad recipes, try: Nicoise-style potato salad//hummus potato salad//Dijon potato salad with crispy ham
I created this fingerling potato salad recipe for my client, Idaho® potatoes. Thank you for supporting the brands that keep me inspired in the kitchen!