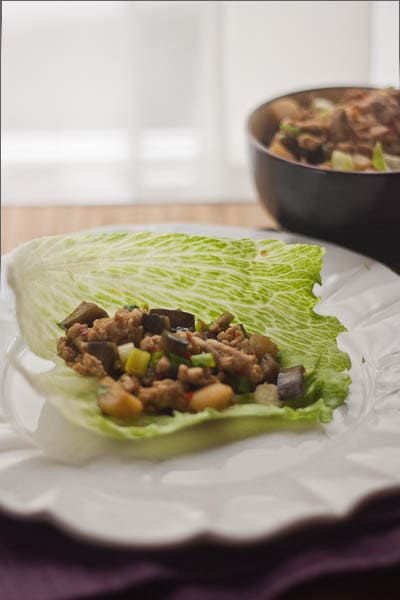 Are you sick of eggplant recipes yet? It's my third one so far this month, but I'm surprisingly not tired of it yet! It really is a versatile vegetable. Tired of it or not, this is the last recipe from my collection of 5 New Eggplant Ideas that I'll be posting here on this blog. If you want to see out the rest of the collection (which includes a fabulous recipe for eggplant stuffed with picadillo) you'll have to check it out over on Tablespoon.com.
This recipe for ground chicken and eggplant lettuce wraps was inspired by the menu at P.F. Changs. They have a similar chicken and eggplant dish that's one of the best things I've ever ordered at a Chinese restaurant. My recipe is pretty different from theirs, but it captures my favorite components of the original — especially the contrast of sweet, spicy, and salty flavors and the way the tender eggplant practically melts in your mouth. Adjust the amount of chili paste to suit your desired level of spiciness, or leave it out and allow each diner to add it directly to their own portion to accommodate a variety of tastes.
My favorite way to eat this dish is wrapped in crisp leaves of iceberg lettuce. It adds a great fresh flavor and a lightness to the heavier, fragrant filling. Plus it's fun! Of course, if lettuce wraps aren't your thing, it's also great over steamed white or brown rice.
Ingredients
1

pound

Ground Chicken Breast

Low 1/4 cup Sodium Soy Sauce

Fish 3 Tbs Sauce

Olive 2 Tbs Oil

2

Tbs

Water

Chili 2 Tbs Paste

Freshly 1 Tbs Grated Ginger

Clove

1 Garlic

minced

Globe 1 Eggplant

diced

Diced 1 can Water Chestnuts

Cilantro

1/4 cup chopped

Scallions

2 chopped
Instructions
Heat a large skillet over medium-high heat. Add the chicken and cook, breaking it up occasionally with a spoon, until nearly cooked through - about 7 minutes.

While the chicken is cooking, prepare the sauce: Whisk together the soy sauce, fish sauce, oil, water, chili paste, ginger, and garlic. Add the sauce, eggplant, and water chestnuts to the skillet with the chicken. Cook until the eggplant is soft and the chicken is cooked through.

Remove the skillet from the heat and stir in the cilantro and scallions. Serve over rice or in lettuce leaves.