Cheesesteak Stuffed Peppers are a mash-up of two classic recipes that will satisfy everyone at the dinner table. Perfectly cooked peppers stuffed with tender bits of beef, onions, mushrooms, and covered in melty cheese are the perfect way to stay low-carb without sacrificing flavor.
Keto Cheesesteak Stuffed Peppers
Do you ever find yourself gravitating toward one specific food or eating basically the same thing over and over again without even realizing it? That's how am I with stuffed peppers.
Maybe it's just because the natural shape of bell peppers is perfect for filling with your favorite ingredients, or because their flavor goes with so many different things. Maybe it's just because they're so fun. I don't know! But I do know that 9 times out of 10 when I want to make up a new healthy recipe, I at least consider some sort of stuffed pepper.
Maybe it's just something about stuffed foods in general. I also love this low carb Cubano stuffed pork loin and sausage stuffed acorn squash. A few years ago I even thought about starting a second blog all for stuffed foods – I even bought a URL for it! Maybe I should have gone forward with that plan after all.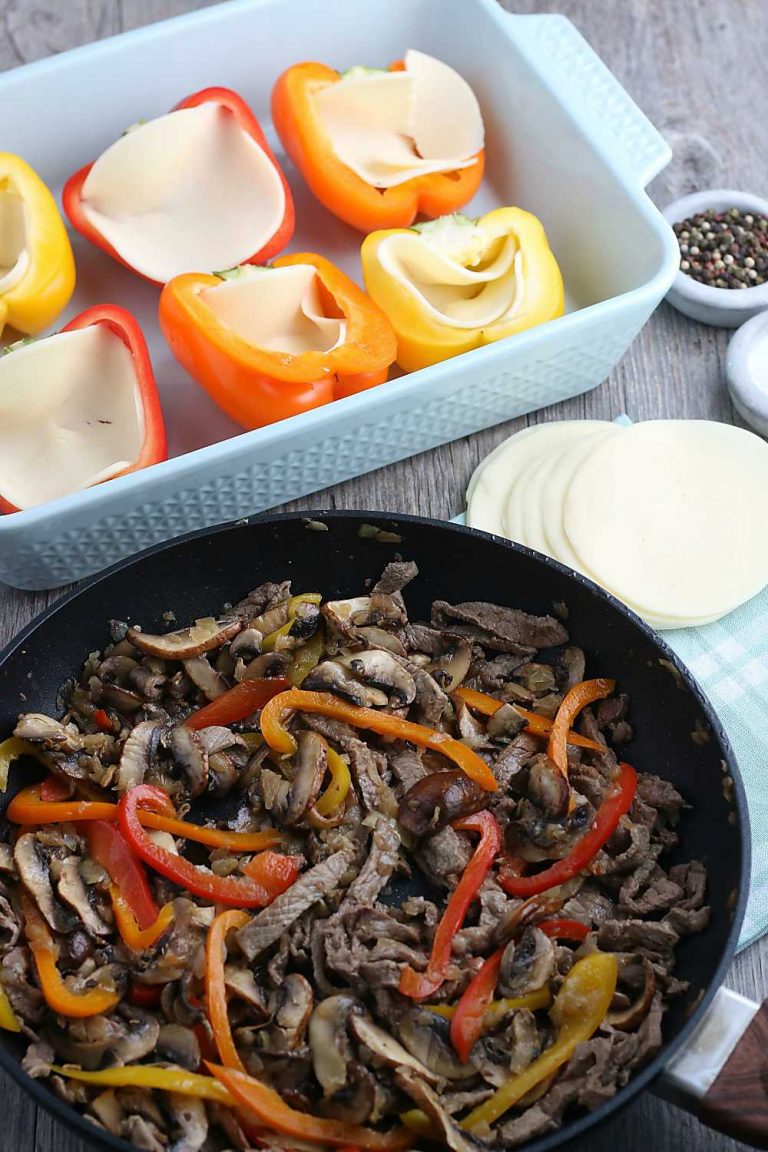 What goes on a traditional cheesesteak?
Cheesesteak Stuffed Peppers seemed absolutely brilliant to me. All of your classic cheesesteak ingredients stuffed inside a roasted pepper? Yes, please!
Then I found out that peppers in cheesesteaks are super controversial. It's a funny thing. So many cheesesteak-inspired recipes include them but think about an actual cheesesteak. Are there peppers on it? Probably not. If you're in Philadelphia, it's pretty much a guaranteed no.
Mushrooms? Yes, Onions? Sure. Steak and cheese? A given. Maybe some hot cherry peppers. But not so much with the bell peppers.
Anyway, I sincerely apologize to the cheesesteak purists for bastardizing your recipe. But not really, because these are pretty darn delicious. Let's just agree that they definitely aren't traditional, ok?
Do I Have to Use Mushrooms in Low Carb Stuffed Peppers?
Of course not! If you don't like mushrooms, or if you're allergic, you can definitely leave them out.
They're a great way to add bulk, fiber, protein, and flavor, but people can definitely have strong opinions on them. I personally refused to tough them myself until I was in my 20s! I love them now, but I won't judge if you're in the "no mushrooms" camp.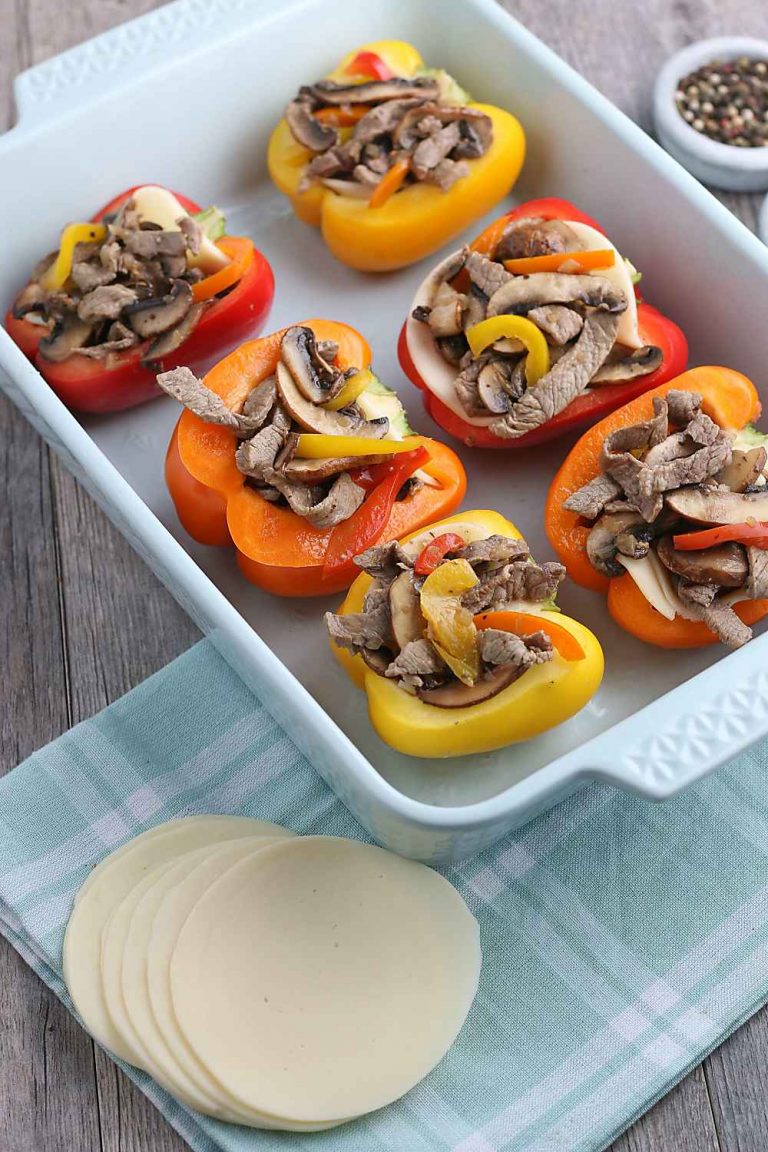 What's the Best Cheese For Philly Cheesesteak Stuffed Peppers
Personally, I love provolone. It adds a perfect creaminess, melts well, and is readily available. American cheese is another great option that's traditional for cheesesteaks. Skip the singles and go for freshly sliced cheese from the deli counter – you won't think of American cheese the same way again!
Of course, Cheese-Wiz is also a traditional cheesesteak topping. That's not exactly very healthy though so I'd probably skip it.
You can get fancy with mozzarella or muenster but use caution. I still remember the weeks of flack that John Kerry got for ordering a cheesesteak with Swiss! Of course, you probably aren't running for president and you're making these in the privacy of your own home, so go with whatever makes you happy.
Variations on Cheesesteak Stuffed Peppers
This keto cheesesteak stuffed pepper recipe is pretty straightforward. However, you might want to mix things up a bit with different ingredients. Why not give one of these ideas a try?
Use shredded or cubed chicken in place of stir fry beef. This is also great with Buffalo sauce!
Substitute ground turkey, ground beef, or ground chicken in place of steak.
Mix in a teaspoon of taco seasoning mix for a kick of flavor, like these turkey taco stuffed peppers.
Add a bit of Worcestershire sauce for a richer flavor.
Dice extra bell pepper and cook in with the meat and onions to stuff the peppers.
If not following a low-carb diet, make it stretch further by mixing in 1 cup of cooked brown rice.
How do I Keep My Peppers From Falling Over?
I always look for wide, flat peppers when I want to stuff them. But sometimes your options are limited. If you end up with wobbly bell peppers, there are two easy methods for keeping them upright in your pan:
Use a knife and shave off just a little of the bottom of the paper so the "bumps" on the bottom are flat.
Use aluminum foil pieces to build a small circle to put into the pan and place your bell pepper inside to hold in place.
Ingredients
3

large bell peppers

halved

1

Tablespoon

olive oil

8

oz

cremini mushrooms

sliced

½

onion

diced

1

pound

sirloin steak

trimmed and cut into strips

12

slices

Provolone cheese

Salt and pepper
Instructions
Preheat your oven to 400 F. Arrange the peppers cut-side up in a large baking dish.

Heat the oil in a large skillet over medium-high heat. Add the mushrooms and cook 3-5 minutes, until deeply browned. Add the onions and cook until golden brown.

Transfer the mushrooms and onions to a plate and return the skillet to the stove. Add the steak and season with salt and pepper. Cook 2-3 minutes per side, until browned. Stir the peppers and onions into the steak.

Place one slice of cheese inside each pepper. Top with the steak mixture and another slice of cheese.

Bake for 25-30 minutes, until the peppers are soft and the cheese is melted and gooey.
Nutrition Facts
Cheesesteak Stuffed Peppers
Amount Per Serving (1 g)
Calories 428
Calories from Fat 252
% Daily Value*
Fat 28g43%
Cholesterol 108mg36%
Sodium 586mg25%
Carbohydrates 7g2%
Protein 36g72%
* Percent Daily Values are based on a 2000 calorie diet.