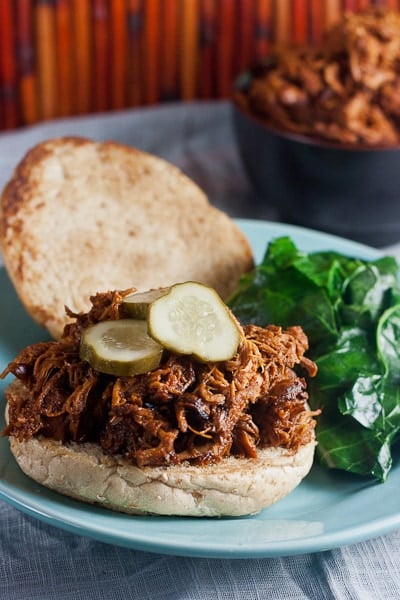 Between the Three Bean Chili I made the other day and this Honey-Bourbon Pulled Chicken, I can already tell that my slow cooker is going to get a work out this winter. I'm not sure why it's taken me this long to fall in love with it – it's so easy and I love having dinner ready and waiting for me when I get home at night.
To make this recipe even easier, you can throw all of the ingredients together in a tupperware container the night before you want to eat it. That way, it only takes about 30 seconds to set up in the morning before work.
While you can always use your favorite prepared barbecue sauce to make pulled chicken, I love to make my own. I typically use a base of ketchup, tomato paste, and molasses and then add whatever additional flavors I'm in the mood for. This time, I based my sauce on the "Whiskey Barrel" wing sauce served at the sports bar around the corner from my house. While my version of the sauce isn't an exact replica of theirs, it's delicious in its own right. The long, slow cooking process gives it slightly sweet, caramelized flavor but without the stickiness that is the one downside of the restaurant wings. It's rich and complex, with a subtly spicy tang to it.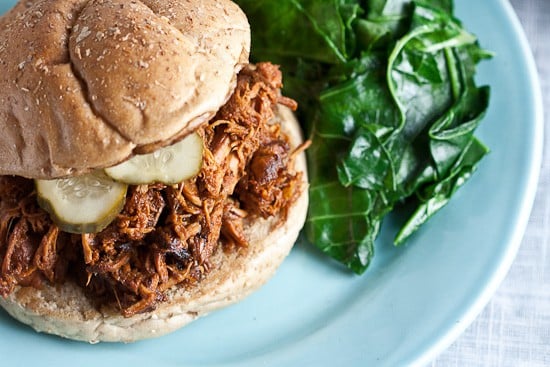 Honey-Bourbon Pulled Chicken
Low fat chicken breasts sop up every morsel of the honey-bourbon sauce that they're cooked in, pulling in tons of moisture and flavor that rivals some of my favorite barbecue restaurants. In fact, it was so flavorful that I kept forgetting it wasn't pork! If you don't have a slow cooker, this recipe can also be made in a dutch oven or similar oven safe pot with a lid. Simply combine all of the ingredients in the pot and bake at 350 for 2 hours, or until the chicken falls into shreds when you press on it gently with a wooden spoon.
Print
Pin
Save
Saved!
Ingredients
1

cup

Ketchup

¼

small Onion

minced

¼

cup

Bourbon

1

Tablespoon

Honey

1

Tablespoon

Apple Cider Vinegar

1

Tablespoon

Molasses

1

teaspoon

Tomato Paste

1

teaspoon

Worcestershire Sauce

2

Garlic Cloves

smashed

¼

teaspoon

Ground Ginger

1

pinch

Cayenne Pepper

1

pinch

Salt

2

approx. 1 lb. boneless, skinless Chicken Breasts

1

teaspoon

Butter

4

Sandwich Rolls

preferably whole wheat

Pickle Slices for serving

optional
Instructions
Combine all ingredients except chicken in your slow cooker. Mix well. Add the chicken breasts, turning so they are coated with the sauce.


Cover and cook on low for 8 hours. Use the back of a wooden spoon to gently shred the chicken. Stir so that they shredded chicken is evenly coated with the sauce. Set slow cooker to warm and let chicken stand for 15 minutes to soak up the sauce.


While the  chicken is resting, melt the butter in a large saute pan set over medium heat. Add the sandwich rolls, cut side down, and cook until lightly toasted – about 3 minutes.


Serve the pulled chicken on the toasted rolls. Top with pickle slices, if desired.