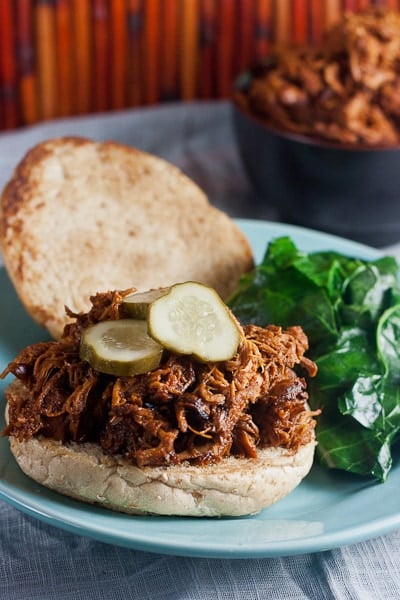 Between the Three Bean Chili I made the other day and this Honey-Bourbon Pulled Chicken, I can already tell that my slow cooker is going to get a work out this winter. I'm not sure why it's taken me this long to fall in love with it – it's so easy and I love having dinner ready and waiting for me when I get home at night.
To make this recipe even easier, you can throw all of the ingredients together in a tupperware container the night before you want to eat it. That way, it only takes about 30 seconds to set up in the morning before work.
While you can always use your favorite prepared barbecue sauce to make pulled chicken, I love to make my own. I typically use a base of ketchup, tomato paste, and molasses and then add whatever additional flavors I'm in the mood for. This time, I based my sauce on the "Whiskey Barrel" wing sauce served at the sports bar around the corner from my house. While my version of the sauce isn't an exact replica of theirs, it's delicious in its own right. The long, slow cooking process gives it slightly sweet, caramelized flavor but without the stickiness that is the one downside of the restaurant wings. It's rich and complex, with a subtly spicy tang to it.