A hearty salad topped with sautéed potatoes, onions, and green beans tossed with a bright basil vinaigrette – plus a great giveaway to help you make healthy choices in the new year!
[shareaholic app="share_buttons" id="4705936″]
I must have overdone it a little on the doughnuts last week, because I'm suddenly craving salads like they're going out of style. We went out to eat this weekend and I had a simple side salad with my dinner – just a normal house salad with balsamic dressing – and I swear it was one of the best things I've eaten in ages. I clearly need to up my vegetable intake.
Anyway, this week I'm joining with 11 other bloggers to post a recipe related to "Healthy Living in the New Year" with red potatoes from Black Gold Farms. Black Gold and Body Media also sponsored an amazing giveaway that will help you enjoy all different aspects of healthy living. There's more on that after my recipe. We'll also be on twitter tonight at 8pm EST, talking about all things red potatoes, recipes, and healthy living. We'll be giving away more prizes then, so you won't want to miss it! Follow the hashtag #HealthyChoices to join in.
I was originally planning to go in a very different direction with my recipe and make something like hash or pizza, but then I decided to give potatoes on salad a try. And it was kind of amazing! I love the chewy texture they add to the salad. The warm sautéed vegetables wilt the spinach base the tiniest bit, helping it seem a little more appropriate for winter. I topped it off with a bright basil vinaigrette that reminds me of summer. (And yes, I made the vinaigrette in that Vitamix I mentioned yesterday.)
Spinach Salad with Potatoes, Olives and Feta
4
adjust servings
Instructions
Wash the spinach and put it in a large salad bowl.
In a medium skillet, heat 1 tablespoon of olive oil over medium-high heat. Add the potatoes and cook, stirring once or twice, until they begin to brown, about 5-8 minutes. Reduce heat to low and cook another 4-5 minutes, or until the potatoes are tender and cooked through. Add the onion and green beans to the pan; cook 5 minutes. Pour the warm vegetables onto the spinach. Let the salad sit while you make the vinaigrette (the spinach will wilt very slightly.)
Add half the tomatoes, feta, olives, and half of the basil vinaigrette. Toss to combine. Serve the salad with the remaining vinaigrette.

To make the basil vinaigrette:

Add the vinegar, lemon juice, mustard, garlic, and basil to a blender. Cover and blend on medium speed for about 5 seconds (just to break up the basil). With the blender running, drizzle in the olive oil. Blend until the dressing is smooth, 15-20 seconds. Season to taste with salt and pepper.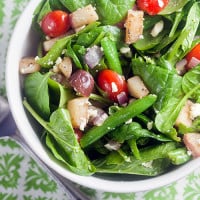 MAKING ONE OF MY RECIPES?
 Share a photo on
my Facebook page
or tag
@HealthyDelish
on Instagram. Nothing makes me happier than seeing people enjoy my recipes!
And don't forget to
sign up for email updates
so you'll never miss a new recipe.
***
So, how about that giveaway? I really wish I could win this one myself, since it includes so many of the things I like to pamper myself with.
In the package is everything you need to make cooking and moving a little more exciting:
Bodymedia Core Armband & Online Activity Subscription
Sur la Table Multi Pan
$50 iTunes Giftcard
$100 Athleta Gift Card
Just follow the directions below and use the rafflecopter widget below to enter.
For more healthy recipes featuring red potatoes, check out Big Bears Wife / Dinners, Dishes, & Desserts / Kasey's Kitchen / Climbing Grier Mountain / With Food + Love / Cook the Story / Neighborfood / Bakeaholic Mama / A Zesty Bite / Mrs. Happy Homemaker
Disclosure: Black Gold Farms send me some potatoes to inspire my recipe and, along with Body Media, is supplying the prizes to our giveaway winner. I was not compensated for this post in any other way.