After I posted about BBQ Baked Lentils, a few people noted that they had never used lentils except for in salads and soups. To be honest those — and Indian dishes — are where my mind immediately goes when I think about lentils too. But you probably won't see much in that respect as I continue explore the world of lentils over the next two weeks. First, because two weeks worth of soup, salad, and Indian food would be boring — both to read and to eat. Second, because I wanted to look at this as an opportunity to challenge myself. To think outside the box and come up with some really fun and creative recipes. Rest assured, if the recipes aren t delicious you won't see them here.
Since lentils are so often used in Indian and Middle Eastern cuisine, I decided to mix things up and try using them in a southwest style dish. I also wanted to play with texture a little, so these southwest lentil cakes were born! I really loved the way these turned out — they actually reminded me a little of falafel. I was nervous that they might be dense and dry, but I shouldn't have worried. The slightly crispy outside gave way to a light and fluffy center that was full of moisture. The creamy lime dressing played up the Southwest flavor of these patties ad balanced out some of the heat from the jalapenos that I added to them.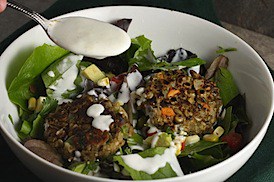 The patties and dressing were great on their own – I also think they would make a fantastic wrap-style sandwich — but to make them into a healthy dinner I built a salad around them. Some chopped romaine hearts tossed with fresh corn, diced tomatoes, creamy avocado, and a little extra cilantro topped with the lentil cakes and dressing made a wonderfully light yet filling dinner.
Southwest Lentil Patties with Creamy Lime Dressing
Lentils take a trip to the Southwest with these patties flavored with jalapeno and cumin. The cool, creamy lime dressing adds a little bit of zing while balancing out the heat. Eaten alone, these are a great snack, but they can also form the foundation of a healthy and satisfying meal.
1 Tbs olive oil
1 jalapeno, minced
2 cloves garlic, minced
1 small onion, chopped (about 1/4 cup)
1 carrot, peeled and cut into a small dice
1 cup cooked lentils
1 egg + egg white, beaten
2 Tbs cilantro, chopped
1/4 cup breadcrumbs
1 Tbs + 1 tsp cumin, divided
2 limes, juiced
4 Tbs reduced fat sour cream
salt
To make the patties: Heat the oil in a large skillet or frying pan. Sauté the jalapeno, garlic, onion, and carrot until they are soft, about 3 minutes. Add the cooked vegetable mixture to a large bowl and mix in the lentils, egg, cilantro, breadcrumbs, and 1 Tbs cumin. The mixture should be pretty wet and a little sticky.

From tablespoon sized portions of the lentil mixture into rounds, then use your hand to press them into a patty shape that's about the size of a half-dollar coin around and a half inch high (you should get about 9 patties). Place your frying pan back over medium-high heat and add the patties. Cook for about 2 minutes or until the bottom has browned and formed a thin crust. Flip and cook for another 2 minutes.

To make the dressing: Whisk together the lime juice, sour cream, 1 tsp cumin, and salt to taste.

Serves 3.
Approx. 175 calories, 7 grams fat, 6 grams fiber, 10 grams protein

******
Don't forget to enter my latest giveaway, featuring a 5.5 quart enamel cast iron dutch oven!

******
Through June 15, I will be blogging healthy and unique recipes featuring lentils and dried peas under a sponsorship agreement through the USA Lentil and Dy Pea Council. I will then be choosing my favorite recipe to be in a contest that will be held at RecipeRivalry.com. Although these posts are sponsored, opinions in them are my own and all recipes are original unless otherwise noted.

By