I love blogger get-togethers, and I've been looking forward to this one for what seems like forever. I think we might have actually started talking about it back at the
Foodbuzz Festival
in November!
Mardi
and her husband, Neil, were going to be in New York City and wanted to get a group (including Andrea from High/Low Food/Drink, Mary Ann from
Puff and Choux
, and Christine from
Fresh, Local and Best
) together for brunch. Since New York is only a short drive from us, there was no way that I was going to miss out on that!
As it turns out, arranging a brunch for a group of 9 isn't as easy as you'd think it would be — a lot of places don't take reservations! Seeing the size of the restaurants, it was understandable though. Our small group took up a good third of the restaurant. If they took reservations and ended up with no-shows, that would seriously cut into their profits! Anyway, Andrea managed to arrange for us to get a table at
Northern Spy Food Company
, a small farm to table restaurant in the East Village. While they don't normally take reservations, they were happy to accommodate our group, and even let us in before seating their other guests when they opened. It was very VIP. 🙂 It's apparently also the place to be on a Sunday morning! Even taking into account the restaurant's small size, it was surprising how quickly it filled up! I suggest getting there a little before they open if you want to snag a table. Which you do. Believe me.
It only takes a quick glance at their menu to know that you're in for a treat at this place. There aren't a ton of options, but everything sounded excellent — the dishes are "classics with a twist" and feature fresh produce, much of which is sourced from the Hudson Valley.
I started out with coffee, which was served with milk and sugar cubes. No espresso drinks here, but the coffee was very good (and organic, which makes me happy). The blood orange mimosas looked awesome, but I wasn't feeling like alcohol. I didn't sleep well the night before (probably had something to do with that fact that I was
gorging myself on meatballs
at midnight!) and I knew it would just make me tired. Andrea has a blood orange seltzer though, and had I seen that on the menu I probably would have gotten one of those too. It looked amazing! (Shawn and Andrea's husband got stout floats made with vanilla semifreddo. I had a sip of Shawn's and didn't like it at all, but I'm not a fan of stout.)
We all started out with some bread for the table — we ordered the griddles corn bread with sweet onion yogurt and the house-made biscuits and jam. I had a piece of the corn bread and found it to be moist and delicious, although I wasn't a huge fan of the yogurt spread.
Deciding what to order was quite the task. I almost ordered the oatmeal (with almond-apricot butter, mascarpone, and brown sugar, this surely wasn't your standard bowl of oats!). I also had my eye on the corned-beed hash with poached eggs (funny story, every singly guy at the table ordered this. Every one.). But I finally settled on the polenta & eggs. It was a great choice! The dish seemed so familiar, even though I've definitely never had anything like it before: two eggs baked over a bed of creamy polenta.The menu said that it came with braised mustard greens and for some reason I was expecting them to be on the side, but they were actually mixed into the polenta. Once I tasted it, I couldn't imagine it being served any other way. It just seemed like what breakfast should be — hearty but light, fresh and authentic. I'll definitely be recreating this at home!
The hash entree also surprised everyone a little bit — the menu described it as being beef brisket, so we were all expecting something more shredded than the dice-sized cubes of meat that were served. It was delicious though — very tender and with a subtle corned beef flavor. This dish was incredible with a dash of the piri piri sauce that it was served with.
Andrea ordered the chicken & poached egg sandwich with chimichurri, which also looked great and which she enjoyed a lot. The bread looked nice and soft, and the breading on the chicken looked perfectly light and crispy. Mardi has the slow-whisked scrambled eggs, which looked custardy and delicious. I didn't get a picture of them, but this was a huge serving that she couldn't even finish. And while the eggs were good, the real star of the dish was the flatbread that it came with — tender, soft bread with thinly sliced potato baked onto the top. The potatoes got a little bit crispy like potato chips!
We also got the kale salad for the table, since we had heard rave reviews about it — for good reason! The textures in this salad were fabulous!Very thin strips of crispy kale (I couldn't tell if it was raw or if it has been fried, but it wasn't soft or wilted at all) with kohlrabi, cheddar, and almonds. We didn't get the optional poached eggs on top, but I bet that would be an amazing entree!
Mary Ann had the same polenta and eggs that I had, and unfortunately Christine arrived late and we were already finishing up, so she didn't order anything.
The food was all amazing and the only minor complaint that I had was that the eggs were all a little overcooked — mine had a tiny bit of runniness left to it, but it would have benefitted from a minute less in the oven. Shawn's eggs were even more cooked than mine were, and Andrea said that her yolk was fully cooked too. Everything still tasted great though, and a slightly overcooked yolk certainly isn't a deal-breaker… it may have also had something to do with the size of our party. Oh and the prices? Not bad at all. In fact, much cheaper than you'd expect for a meal in New York – let alone something as fresh, sustainable, and amazing as this! If I lived closer, I would definitely eat there often. In fact, I'll be in the city a few more times this summer (for the National Fancy Food Show and BlogHer) and I might just find myself eating there again then.
The food was complimented by great conversation, and I was so happy to see Mardi and Andrea again and to meet Mary Ann, Christine, and the guys. I have to say, this was a really great group and I had a ton of fun. We'll have to do it again!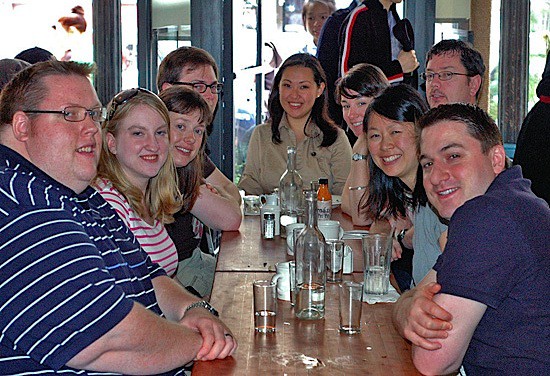 By