Vegan BBQ Lentil Sloppy Joes are an easy new spin on classic comfort food that can be on your table in under 45 minutes.
I created this recipe for my client, GO VEGGIE. Thank you for supporting the brands that make Healthy Delicious possible.
March is always a stressful time for me at the office. Combine that with the fact that winter finally decided to show up (at this rate, we'll have snow on the ground until June) and I'm craving comfort food like crazy. Creamy macaroni and cheese, roast chicken, pasta – I'll take it all!
I was thinking about making a pot of my lentil and pumpkin chili, when I had the idea of using the lentils for sloppy joes instead. Lentils are a great alternative to meat in recipes like this. They're hearty and full of fiber, protein, and iron but their flavor is relatively mild. Paired with a quick homemade barbecue sauce and piled on top of a soft burger bun, these barbecue lentil sloppy joes will take you straight back to childhood.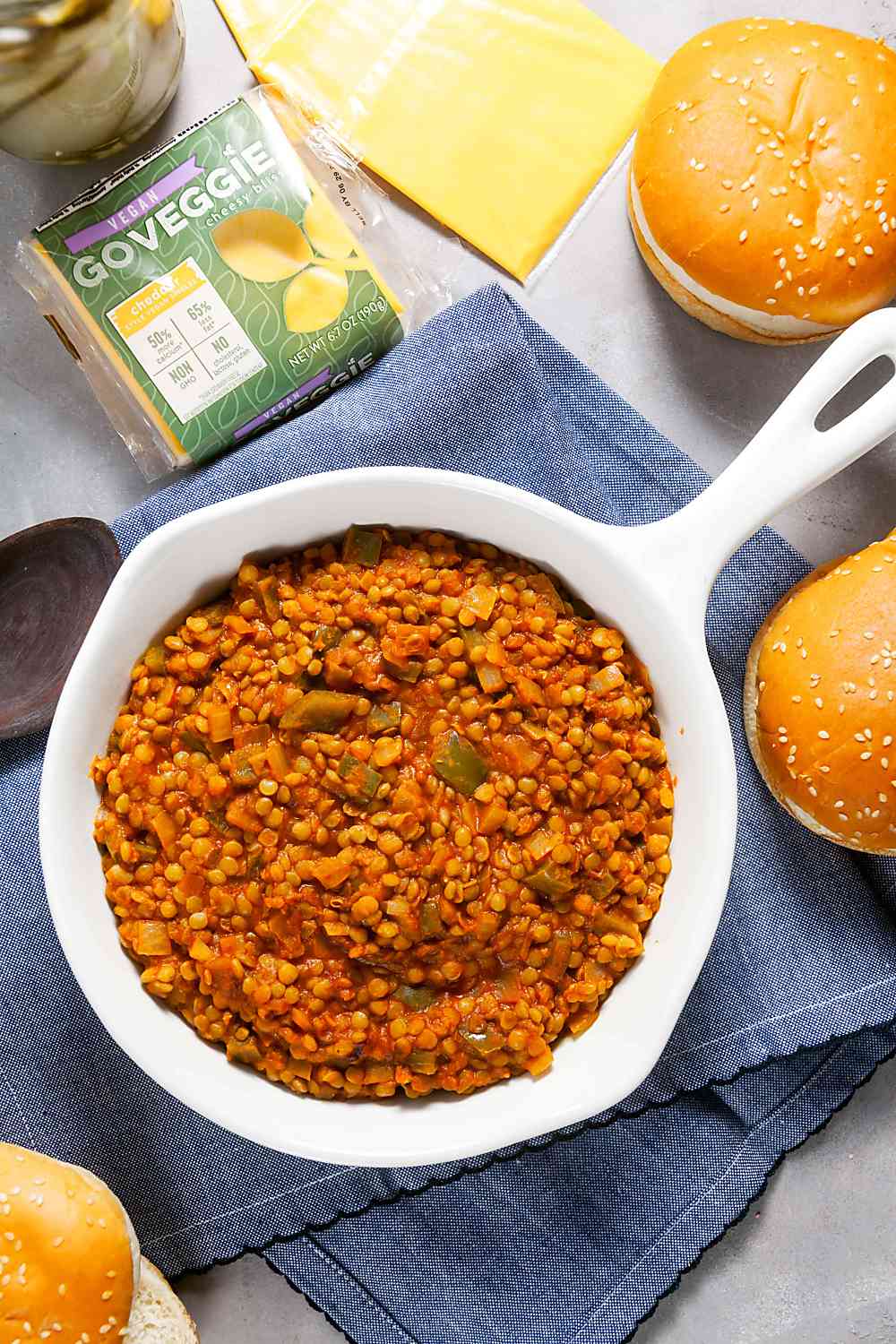 Cheese isn't a traditional component of sloppy joes, but what isn't better with a slice of cheddar? GO VEGGIE's cheddar singles complement the barbecue flavor of these sloppy joe's perfectly. I used their vegan cheddar singles for these sloppy joes, which kept the whole recipe vegan-friendly, but you can also use the lactose free version. Either way, you can't go wrong! I love how these singles melt, and the vegan version has 65% less fat and half the calories of ordinary cheese.
You can use your favorite store bought barbecue sauce for these lentil sloppy joes, but it's definitely worth it to take a few minutes to make your own. The flavor can't be matched and it's made with standard pantry items. I start with a combination of ketchup, mustard, vinegar and Worcestershire sauce – just like mom used when I was a kid – but I sweeten it with maple syrup instead of brown sugar and add a good pinch of cayenne pepper. The result is subtly sweet, tangy, and a little spicy. If you prefer a sweeter sauce, omit the cayenne and add more maple syrup to taste.