Warm up this winter with Pot Roast Stuffed Baked Potatoes topped with Gremolata.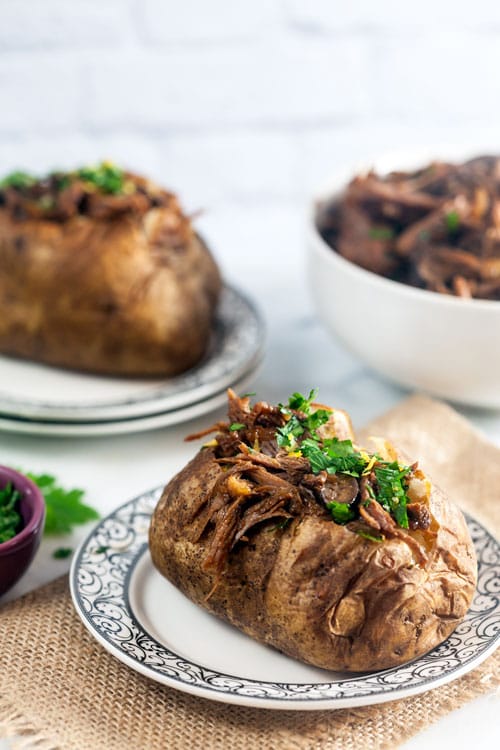 It snowed this weekend. Not flurries – I can live with those. I'm talking about big, fat snowflakes. They didn't stick, but they did incite some yelling and a few not-so-nice words. I guess summer is really over.
On the plus side, that means I can finally share this recipe for pot roast stuffed baked potatoes. I photographed it back when it was still way to nice outside to be at home with the oven on all afternoon, but it's perfect for this time of year. It's pretty much the ultimate cozy weekend comfort food.

I've always been a huge fan of pot roast – I grew up eating it every week – but serving it stuffed inside of fluffy baked potatoes was a new idea for me. It makes so much sense though! It's so easy to overeat when you serve pot roast over mashed potatoes, but this way it's like built-in portion control. You get one baked potato and about 1/4 cup of pot roast – just enough to leave you satisfied but no stuffed.
The pot roast recipe I'm sharing here is full of delicious, earthy flavors like caramelized onions, mushrooms, and red wine. I also throw in a palm full of whole black peppercorns. They soften as they cook and give you little bursts of peppery flavor as you eat. In my world, no pot roast is complete without them.
A generous splash of balsamic vinegar stirred in at the end adds a touch of bright flavor to the recipe. I also love to top it with gremolata, a mixture of finely chopped parsley, lemon zest, and shallot. It picks everything up and prevents the flavors of the dish from getting to muddled. A dollop of sour cream or plain Greek yogurt is also a welcome addition.
Since you're putting to much thought and care into the pot roast, it's important to make sure your baked potatoes are perfect, too.
For baking, Idaho® Russetts are a perfect choice. They're low-moisture, so they bake up nice and fluffy inside and the skins get shatteringly crisp.
I rub the potato skins with oil and sprinkle them with sea salt to highlight the flavor of the skins, then bake them directly on the rack of my oven. They take about an hour, which means if you add them when the pot roast is halfway done everything will be ready at the same time.
For more potato recipes, try this, this, or this.

I developed this recipe for my client, Idaho® potatoes. Be sure to check out their web site for tons of amazing potato recipe ideas!