The October 2009 Daring Cooks' challenge was brought to us by Jaden of the blog Steamy Kitchen. The recipes are from her new cookbook, The Steamy Kitchen Cookbook. I'll be honest here – I wasn't particularly excited about this challenge. I've made pho before, and I love it, but I didn't want to do a second post on it. Plus, the main recipe presented to us was for chicken pho, and I don't usually care for chicken soups. So I dragged my feet on completing this challenge and didn't make it until last night. I'm glad I did though, because it was really good, and really EASY. Crazy easy! 90% of the ingredients are things that I generally have on hand (and the other 10% could be omitted or swapped) so this is a great recipe to keep in the back of your mind for when dinner hasn't been planned. And the best part is that it makes very few dishes, so cleanup is a breeze!
Jaden's recipes calls for either store-bought or homemade (in advance) stock. This worked out really well for me, since I had actually just made a huge batch of stock that I didn't have any plans for (the result of accidentally defrosting a chicken carcass instead of chicken breasts last week). I didn't make the stock with this recipe in mind, and actually did it as a brown chicken stock (recipe coming up soon) which was a little different than what you would normally want to use in this recipe, but it worked. Once you add the spices and the charred onion and ginger, you couldn't really tell that I used brown stock except for the fact that my completed soup was very dark. The timing was also great because in the past few days, the temperature has plummeted. It feels like winter all of a sudden! Slurping down a nice steamy bowl of soup and noodles made the weather much more bearable.
In addition to using the brown stock, I made a few other changes based on what I had on hand: I used chicken thighs instead of chicken breasts, white onion instead of red, and udon instead of rice noodles. Nothing major, but it did change the flavor of the completed dish slightly. was also able to find fresh bean sprouts, so used those instead of canned. Love them! They have a nice crunch when you bite into them. Don't forget the sriracha and hoisin at the table! The sriracha adds some nice spice and the hoisin gives it a delicious, earthy flavor that keeps it from tasting like any old chicken soup.
If you have leftovers that you want to take for lunch, store the broth, chicken, noodles, and sriracha/hoisin together and the toppings in a separate container. That will prevent your toppings from getting soggy or cooking and changing the flavor of the soup when you reheat it
Thanks again, for sharing this recipe with us, Jaden! I can't wait to check out your book!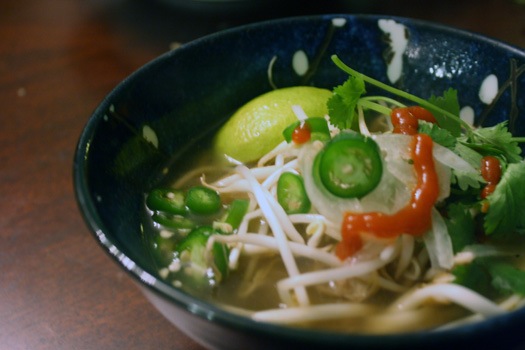 Quick and Easy Chicken Pho

Adapted from The Steamy Kitchen Cookbook
2 tbsp. whole coriander seeds

4 whole cloves

2 whole star anise

8 cups chicken stock (store bought or homemade)

2 boneless chicken thighs

½ onion

1 3-inch chunk of ginger

1 Tbs sugar

1 to 2 Tbs fish sauce

8 oz udon noodles, prepared according to package

2 cups bean sprouts, washed and tails pinched off

Fresh cilantro

½ cup shaved onion

½ lime, cut into wedges

Sriracha chili sauce

Hoisin sauce

Sliced fresh chili peppers
To make the Broth: Place onion and ginger under the broil to char it. Broil for about 10 minutes, or until the skin of the onion is dark and the ginger is soft. Peel the onion. Peel the ginger and cut it into several chunks. Meanwhile, heat a frying pan over medium heat. Add the coriander seeds, cloves and star anise and toast until fragrant, about 3-4 minutes. Immediately spoon out the spices to avoid burning.

In a large pot, add ginger, onion, spices, stock, chicken, sugar, and fish sauce. Bring to a boil, then reduce and simmer for 20 minutes, skimming occasionally. Remove chicken and shred with your fingers or with two forks. Strain the broth and discard the solids. Diving chicken and noodles into bowls and ladle the broth over them.
Serve the remaining ingredients at the table, so each diner can customize their own bowl.
Serves 4.